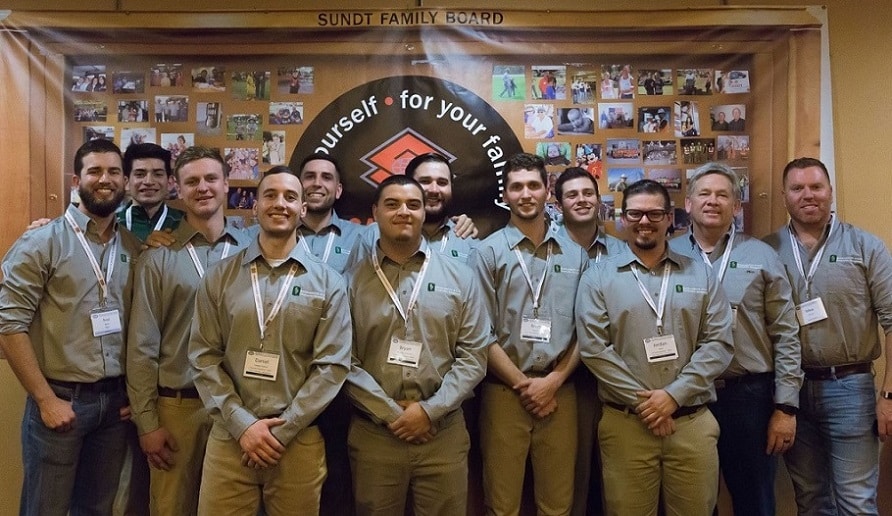 It's a competition that has enabled us to find some of the best young talent in construction. It's important enough for us to sponsor for eight consecutive years and our Chief Operating Officer attends to meet with dozens of university students.
This past weekend, a team of Sundt employee-owners participated in the Associated Schools of Construction's (ASC) Regions 6 & 7 competition. ASC is the professional association focused on the development and advancement of construction education, and we are one of only two contractors who sponsor the event at the Platinum Level. As part of our sponsorship, each year Sundt submits a concrete "problem" for the participating teams to solve. This year's competition included teams from 13 universities.
Solving the Sundt-provided problem required teams to provide a complete execution plan – including scope, cost, schedule, logistics and safety recognition – for the structural concrete components of a high-rise hotel tower in the Southwest. We awarded bonus points for identifying and providing solutions for complexities within the project.
The students had 12 hours to produce a quantity take-off, budget and safety recognition plan, and drew numbers to determine the order in which they would present the rest of their plan (schedule, logistics, execution strategy and risk analysis) the next day. Teams could have six members working on the problem and three alternates. The final six had to be selected prior to the problem presentation meeting on the first morning.
Sacramento State won the competition with an all-around impressive performance and by creating a safety recognition plan that was detailed, affordable and effective.
"It was something we would implement on our own projects," said Project Executive Chandra Reilly, one of Sundt's representatives at the conference in Sparks/Reno, Nevada.
Five of the top six teams had scores within one point of each other, and only a tenth of a point separated our second- and third-place finishers, Arizona State and Virginia Tech.
The advantages of self-performing concrete, which include control of cost, quality and schedule, benefit every division of our company, and we wanted to make sure our panel reflected a diverse set of perspectives. To that end, our problem creation team and judging panel consisted of employee-owners from concrete, building and transportation.
"We have committed to giving detailed feedback to all the teams so they can grow and build off this experience for future competitions and their careers," Chandra said.
Our Concrete Division has a long history of emphasizing safety on the jobsite. As a company, we have won the Associated General Contractors of America Grand Award twice, an achievement which left a strong impression on some of the more than 1,400 students who attended the competition from campuses across the nation.
"We had several students compliment us on the way we addressed safety at our company, to the point where they said that even though they already had several full-time job offers they'd still like to talk to us, because it struck such a strong chord with them," Chandra said.