SAN DIEGO (June 27, 2022) – Sundt Construction recently broke ground on two projects for the San Diego Unified School District (SDUSD). The company will be modernizing both the Marston Middle School and Morse High School campuses.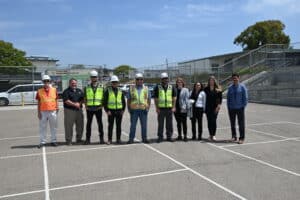 "We are excited to join SDUSD again to modernize their schools across the city," said Mike Casey, Sundt's project executive. "Both of our project teams are looking forward to completing the transformation of these schools."
The Marston Middle School whole site modernization will include modernization of existing classrooms and restrooms, renovations to the student services and food services. Additionally, Sundt will construct a new gymnasium and a joint-use grass playfield.
Sundt's project team started on the third phase of modernization at Morse High School after completing phase two of the project, which included renovating fifteen buildings. The new phase consists of constructing a new two-story, 12,000-square-foot administrative building, a 24,000-square-foot performing arts building, extensive site work and utility upgrades throughout the campus.
Both projects are expected to be completed in 2024. The site modernizations are funded through local school bond measures, Propositions S & Z, and Measure YY, approved by San Diego voters to improve San Diego Unified schools.
Sundt has over 70 years of diverse project work throughout California and is a premier builder in education construction. Sundt's work in K-12 education includes science labs, libraries, classrooms, auditoriums, performing arts theaters, gymnasiums, multi-use facilities and entire campuses. The company recently completed the site modernization at SDUSD's Emerson Elementary School. Sundt has offices in San Diego, Orange County and Sacramento.
About Sundt 
Sundt Construction, Inc. (www.sundt.com) is one of the country's largest and most respected general contractors. The 132-year-old firm specializes in transportation, industrial, building, concrete and renewable energy work and is owned entirely by its approximately 1,500-plus employees. Sundt is distinguished by its diverse capabilities and experience, unique employee-ownership culture and depth of self-perform expertise in nine major trades. Much of Sundt's workforce is comprised of skilled craft professionals who, together with the company's administrative employees, enable Sundt to fulfill its mission to be the most skilled builder in America. Sundt has 12 offices throughout Arizona, California, North Carolina, Oregon, Texas and Utah and is currently ranked the country's 58th largest construction company by ENR, the industry's principal trade magazine.
### 
Media Contact:
Kimberley Hoidal
Sundt Construction, Inc.
480.293.3001 (office)
520.282.3018 (mobile)
kahoidal@sundt.com