By Project Directors Brad Kirsch and Jeff Hamilton
After a turbulent two years, the aviation market is hungry for a comeback. Industry leaders are approaching 2022 with cautious optimism, and it's becoming clear that the time to renovate, rebuild and expand airports is now. The recently passed Bipartisan Infrastructure Law allocates $25 billion for airport improvements over the next five years, including over $2 billion for California, Arizona and Texas alone.
Airport operators have some big decisions to make, not the least of which is selecting the right contractor for their capex projects. The following strengths are critical for an aviation contractor to add value in today's market. We've seen firsthand how our teams' skills in these areas lead to predictable and successful outcomes. In 2022 and beyond, these will make even more of a difference as airports take on larger and more complex projects.
1. Cross-Market Experience
Airports function like miniature cities. Beyond terminals and runways, they have their own transportation networks, utilities, communications, and in some senses even their own economies. Selecting a builder with experience in both vertical and horizontal construction offers major advantages. Selecting one that also has résumé in areas like power, water treatment, solar and flood control allows airport project teams to go even further in consolidating decision-making and streamlining critical-path scopes.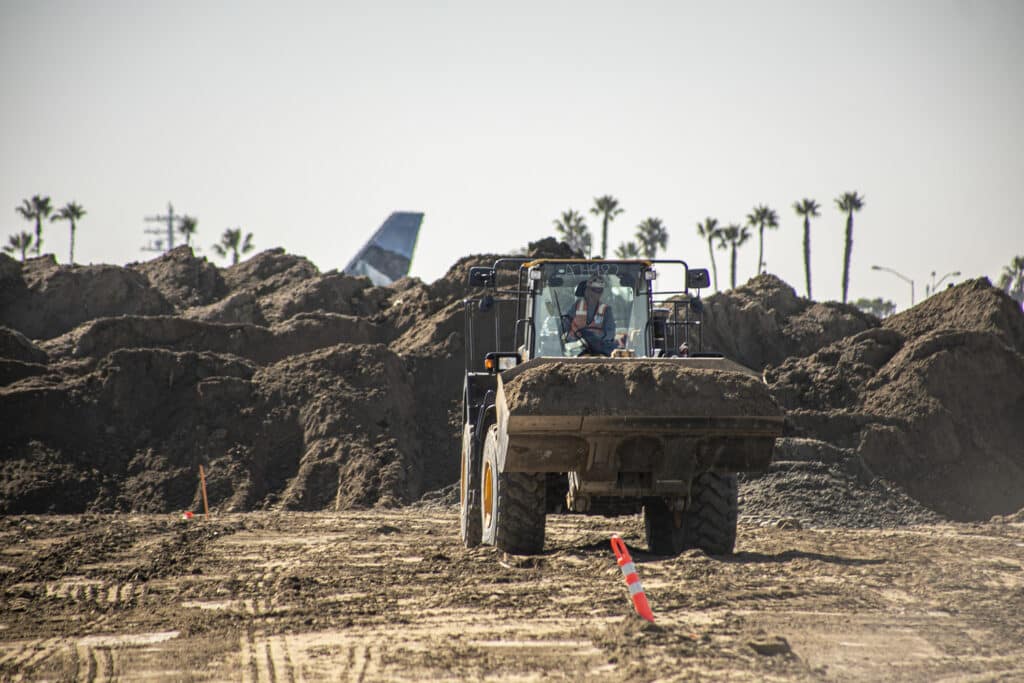 On our recent Airport Support Facilities (ASF) project at San Diego International Airport (SDIA), Sundt performed building, civil, and concrete scopes, all involving highly complex special systems. Our project team worked with three distinct stakeholder groups, spread out over three sites across the airport to successfully upgrade and consolidate facilities, while also moving support operations away from the footprint of the upcoming replacement of Terminal 1. Because of our integrated approach, we were able to do this without disrupting airport operations, and we had the capacity to work around certain project bottlenecks.
The cross-market skill our team brought to the ASF project was the difference-maker for multiple complex scopes. Everything in aviation work is integrated; nearly every building, with the exception of parking garages, has some kind of tie-in to the airside infrastructure. In bringing together different in-house expertise, we avoided potential slowdowns and miscommunications.

– Brad Kirsch, Aviation Project Director, Sundt Building Group California District
2. Flexibility to Change and Right-Size Projects
Over the past decade of aviation construction, alternative project delivery methods have been gaining ground on the traditional design-bid-build model. Progressive design-build in particular continues to stand out as the most flexible option for the aviation market. Other delivery methods can silo off the design or set it in stone too early, leaving little room for change without incurring major costs. In a progressive design-build model, the design-builder has time to sit down with the design and communicate with the client and other stakeholders, and then set a guaranteed maximum price (GMP).

Within a more collaborative and flexible model, the right people can ask the right questions at the right time. During our validation process for the ASF project, a progressive design-build, we discovered that the client's programmatic square footages were based on increasing square foot allocation from their old, rehabilitated and less-efficient department spaces. These new square footage allocations, when analyzed, exceeded their future department needs.
Essentially, the project was over budget because it was over-programmed. We redesigned and right-sized certain spaces to make them more efficient, saving money that was needed elsewhere. The progressive design-build model gave us the ability to sit with the client, listen to their needs, and vet ideas in advance of design.
3. Precon Expertise to Quantify and Qualify Scopes for Grant Funding
As airport operators consider how to fund improvement projects, it's increasingly important to select a contractor well-versed in identifying grant-eligible scopes of work. Finding a partner who not only recognizes opportunities for grant funding, but can model these accurately using the latest Building Information Modeling (BIM) technology, and track how they're built (Davis-Bacon wages, Buy American Act, etc.), creates a greater chance of securing FAA reimbursement.
Partnering with clients and keeping the FAA in the loop during final design as cost-benefit analyses are completed is key. It's also crucial to hold frequent check-ins with the Airport Improvement Program during the design phase, ensuring competitive pricing is received from qualified subcontractors within active airside environments.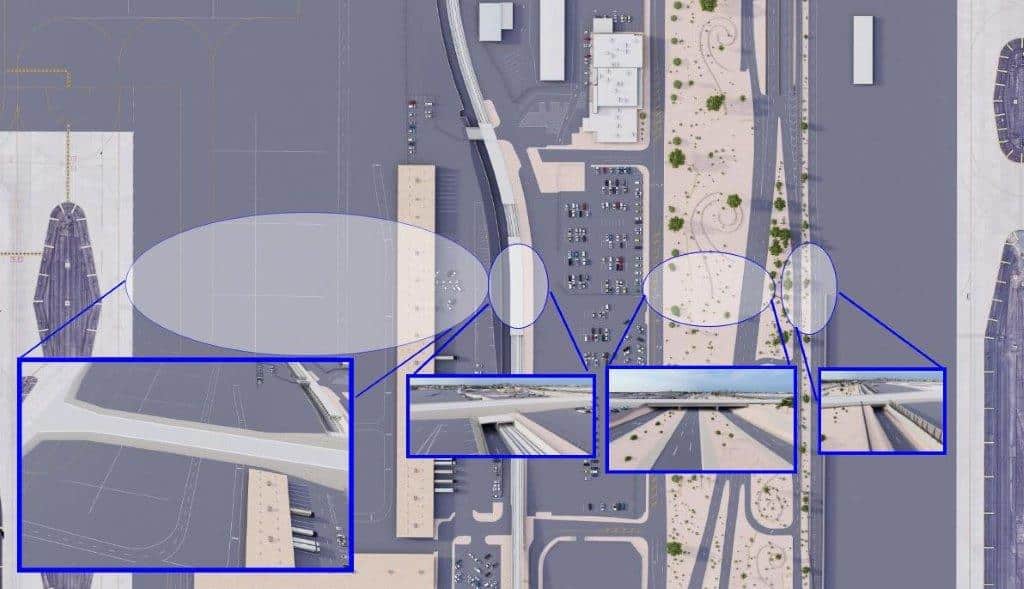 Sundt has experience in maximizing federal funding for airport improvement projects, beginning in the early phases of design. We work closely with clients to identify enabling scopes of work, quantify exact volumes and areas for unit pricing, and build a cohesive case for how and why these elements qualify, which can be used in grant applications.
FAA funding is designated for several purposes, whether it's updating infrastructure, improving sustainability, increasing equity, or creating new jobs—which speaks to the impact airports have on our communities. What our clients need, in many cases, is a partner who can demonstrate the ways their project will help connect those dots.

– Jeff Hamilton, Project Director, Sundt Transportation Group Southwest District
4. Self-Perform Skill and Trade Partner Relationships
Construction's skilled labor shortage is estimated by industry groups at roughly 500,000 workers. The ability to staff up in the current market is a make-or-break for projects across the country. Sundt has a large and diverse force of skilled craft professionals who perform critical-path work, including PCC paving, concrete, structural steel, excavation and grading, underground utilities and drainage systems. For flat work specifically, we have the self-perform capacity to pave over 40 feet wide for roadways, runways, taxiways and aprons, as well as barrier elements.
Sundt's Transportation Group and joint-venture partner MRM recently completed a $47 million runway, apron and shoulder repair project at Biggs Army Airfield in El Paso, Texas, totaling nearly 15,000 linear feet. Our self-perform paving team used an innovative, technically challenging method called double strike-off paving to comply with USACE and FAA quality standards and to meet the project's expedited schedule.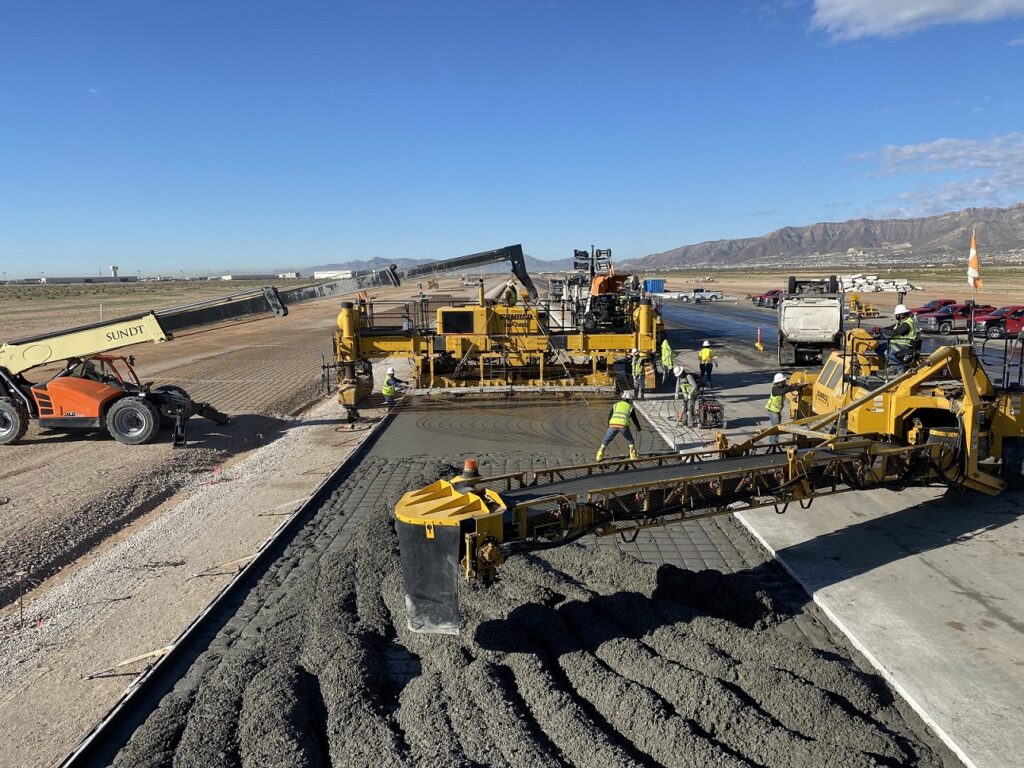 For the projects and trades where we don't self-perform, Sundt approaches major scopes as if building them ourselves. We work with our trade partners as an extension of our project team, specifically in how to approach BIM modeling, scheduling and safety. This leads to a shared understanding of project challenges. That is to say: we don't let problems sit until our subcontractors encounter them in the field.
Furthermore, Sundt has a long history of supporting qualifying local, small, and diverse-, veteran- and women-owned business enterprises (XBEs). Our XBE relationships begin both with awarding work directly to these firms, as well as encouraging our key trade partners to hire XBE partners within their subcontracts. This approach helps us to place XBE partners in the best position for them to be successful: either in a relationship where we can help onboard and coach them to meet project needs, or in a direct relationship with a trade partner that is better equipped to help train them for success.
Demand for qualified aviation builders is growing, and will continue to grow in the coming years. We're working with several partners in our core markets to build up a professional, self-sufficient and qualified subcontractor base. This work is fundamental to upgrading our nation's most vital infrastructure.
Please contact us to discuss how Sundt Construction can help you plan for and deliver complex aviation projects.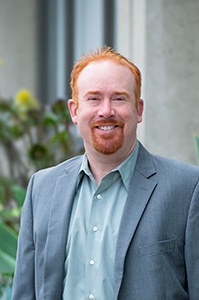 Brad Kirsch, DBIA, CPC, LEED AP
Aviation Project Director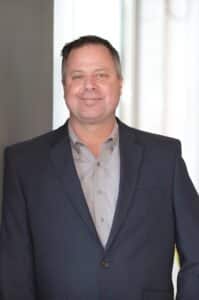 Jeff Hamilton
Project Director & Preconstruction Services