EL PASO, Texas (May 6, 2020) – Sundt Construction, Inc., recently completed the Beast Urban Park on the East side of El Paso, located along Jason Crandall Drive.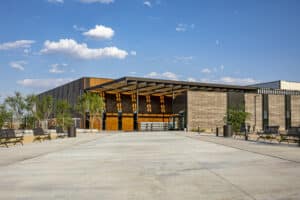 "We are very proud to have built this project," said Joseph Riccillo, project director and El Paso region leader. "It will be such a great addition to the community on the east side."
The recently completed phase of the 92-acre park includes a three-part facility with a state-of-the-art natatorium, community center and waterpark. The project is a part of the city's 2012 Quality of Life bond measure.
The natatorium holds a 50-meter competition-ready pool with all the required amenities to host regional meets, including seating for up to 800 spectators and pool deck space for 400 competitors. The facility also includes a recreational pool, splash pad, lazy river and rock-climbing wall. The Sundt project team also added a parking lot, landscaping and developed the associated streets for the project.
Sundt has completed millions of dollars in project work in the El Paso region. Currently, the company is working on projects for the Housing Authority of the City of El Paso (HACEP), including the revitalization of the historic Blue Flame building in downtown El Paso the Connect 10 project. The company has offices in El Paso, Dallas and San Antonio and over $3 billion of work throughout the lone star state.
About Sundt
Sundt Construction, Inc. (www.sundt.com) is one of the country's largest and most respected general contractors. The 130-year-old firm specializes in transportation, industrial, building, concrete and renewable power work and is owned entirely by its 2,000-plus employees. Sundt is distinguished by its diverse capabilities and experience, unique employee-ownership culture and depth of self-perform expertise in nine major trades. Half of Sundt's workforce is comprised of skilled craft professionals who, together with the company's administrative employees, enable Sundt to fulfill its mission to be the most skilled builder in America. Sundt has 11 offices throughout California, Arizona, Texas and Utah and is currently ranked the country's 52nd largest construction company by ENR, the industry's principal trade magazine.
###