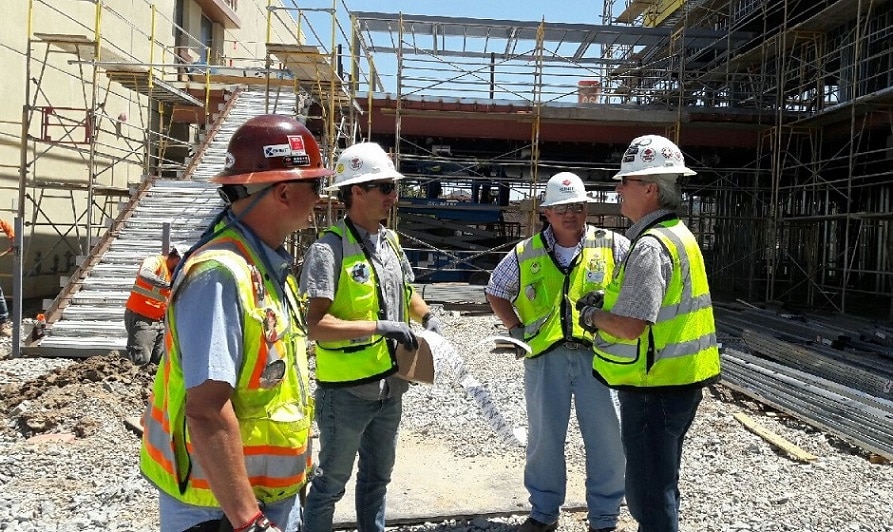 Paul Sprecco didn't get into the construction industry to pursue a career in safety. By his own admission, safety chose him.
While running Sundt's warehouse in San Diego in the 1990s, Paul and his staff purchased materials, equipment and tools for our job sites. There was a natural connection between the warehouse manager and sales people providing safety products. He eventually was assigned to the local safety task force, a group whose duties included performing safety audits on one job per month.
"I enjoyed the interaction with the job sites on safety issues and I was able to help with solutions to problems that they faced because, as the Warehouse Manager, I had vendors constantly showing off the latest products and services that were being developed for those issues," Paul said. "The position developed into a full-time Area Safety Manager for Southern California."
Paul has since been promoted to Safety Manager for our Building Group, making him responsible for safety activities at all our building projects. Most of that work is occurring in Arizona, California, New Mexico and Texas.
"Through continued education in safety, and membership in peer groups such as the Associated General Contractors (AGC) San Diego Safety Committee, I was able to continue to develop my knowledge and skills as a safety professional," he said.
Paul said career options in safety range from line-level safety technicians to corporate risk managers. His own path proves career changes can include a switch to safety.
"Safety is a catch-all title for anyone who keeps people from getting injured and property from getting damaged," Paul said. "All industries have safety professionals and careers in safety that are very rewarding."
Paul and the rest of our safety team have built a strong track record. Sundt is the only general contractor in the country to win the AGC Grand Award twice (2006 and 2016). Each year, the honor recognizes the safest construction company in America.
Much of that success can be attributed to our Safety By Choice approach that focuses on "why" we should remain safe, not just "how."
"Nobody comes to work thinking they're going to be injured, let alone planning to get injured," Paul said. "But when accidents and injuries happen, we find that choices were made that put people or property in danger. Choices about processes, tools, systems or just trying to get it done faster. Safety By Choice is all about rewarding positive safety choices and recognizing unsafe choices, stopping the activity and adjusting the plan to eliminate the hazard."
Paul has an interesting analogy when people ask about his career. In this case, safety starts with the most important meal of the day.
"When people ask me about a career in safety, I like to talk to them about breakfast, bacon and eggs in particular," Paul said. "There are two animals involved in that breakfast: a chicken and a pig. The chicken contributes to the breakfast, but the pig, he's all in! If you are interested in a career in safety, you have to be the pig … you have to be 'all in.' "
For more information on careers with Sundt, please click here.