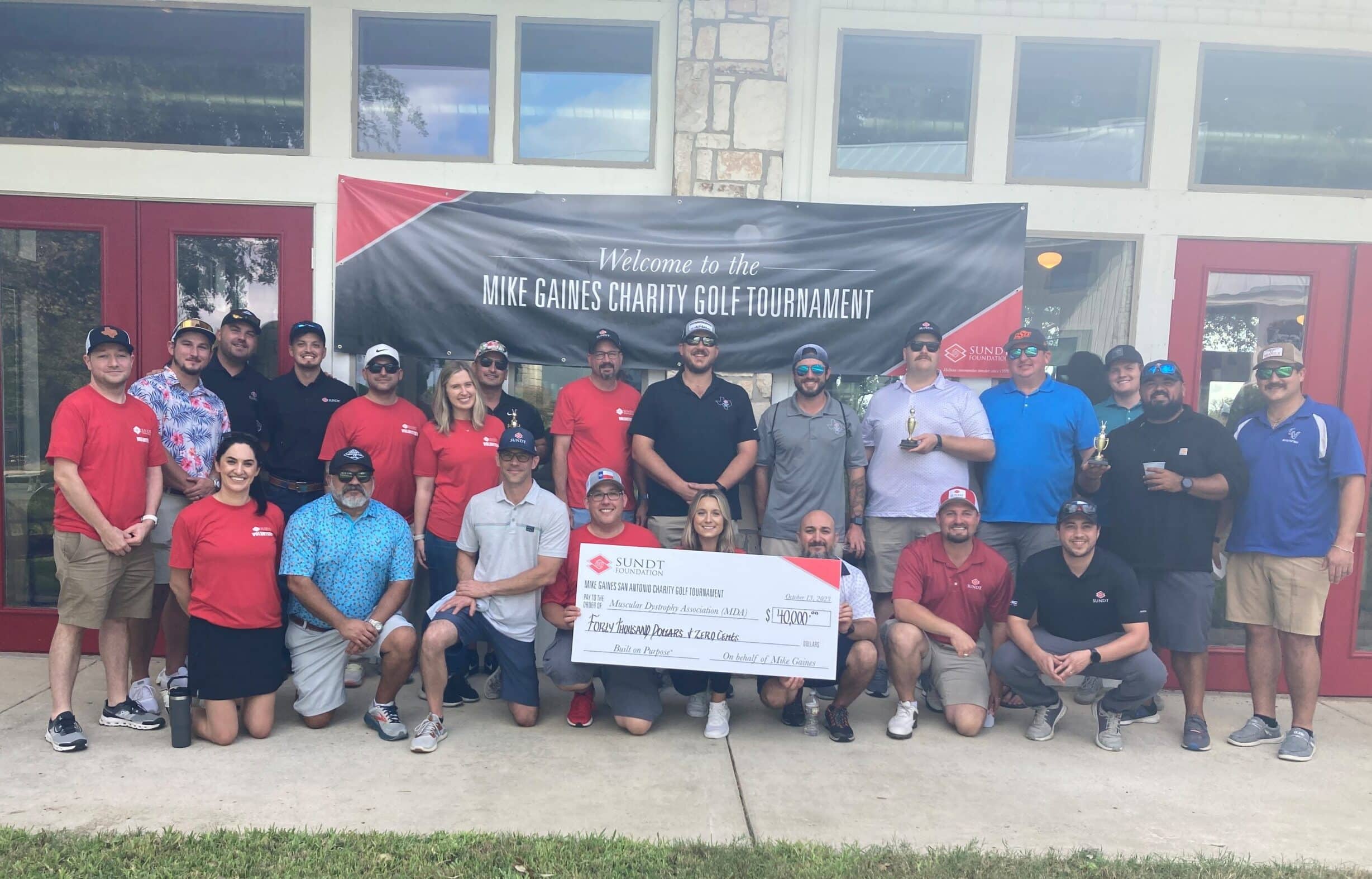 San Antonio, Texas (October, 27 2023) – Sundt Construction hosted its 11th annual Central Texas Mike Gaines charity golf tournament, raising $40,000 for the Muscular Dystrophy Association (MDA).
"It was a beautiful day for a game of golf in honor of Mike Gaines," said Senior Project Engineer Clinton Witherell. "Thank you to our sponsors and employee-owners for making this year's event a huge success."
Founded in 1950, MDA's mission is to empower people living with neuromuscular diseases to live longer, more independent lives. Since 2001, Sundt has hosted a suite of sporting competitions in Arizona, California and Texas to raise money for ALS research in honor of Mike Gaines. Mike was a longtime Sundt employee-owner who lost his life to ALS, also known as Lou Gehrig's disease. The events have raised over $2 million to date.
About the Sundt Foundation
Sundt's purpose is to build environments where its clients, employee-owners, and communities prosper. The Sundt Foundation was established in 1999 as a way for employee-owners to give back to the communities in which they live and work. The organization is funded primarily by contributions from Sundt employees, which are matched by the company. To date, the Foundation has awarded more than $14 million in donations. Nonprofit organizations interested in applying for a grant may call (480) 293-3000 or visit www.sundtfoundation.org for more information. Sundt has offices in Tempe and Tucson, Arizona; Salt Lake City, Utah; Charlotte, N.C., San Antonio, Dallas, and El Paso, Texas; Sacramento, San Diego, and Irvine, California; Vancouver, Washington; and Tampa, Florida.
About Sundt
Sundt Construction, Inc. (www.sundt.com) is one of the country's largest and most respected general contractors. The 133-year-old firm specializes in transportation, industrial, building, concrete and renewable power work and is owned entirely by its approximately 2,000-plus employees. Sundt is distinguished by its diverse capabilities and experience, unique employee-ownership culture and depth of self-perform expertise in nine major trades. Much of Sundt's workforce is comprised of skilled craft professionals who, together with the company's administrative employees, enable Sundt to fulfill its mission to be the most skilled builder in America. Sundt has 13 offices throughout California, Arizona, North Carolina, Texas, Utah and Florida and is currently ranked the country's 62nd largest construction company by ENR, the industry's principal trade magazine.
Media Contact:
Stefanie Teller
Sundt Construction, Inc.
520.750.4611 (office)
media@sundt.com