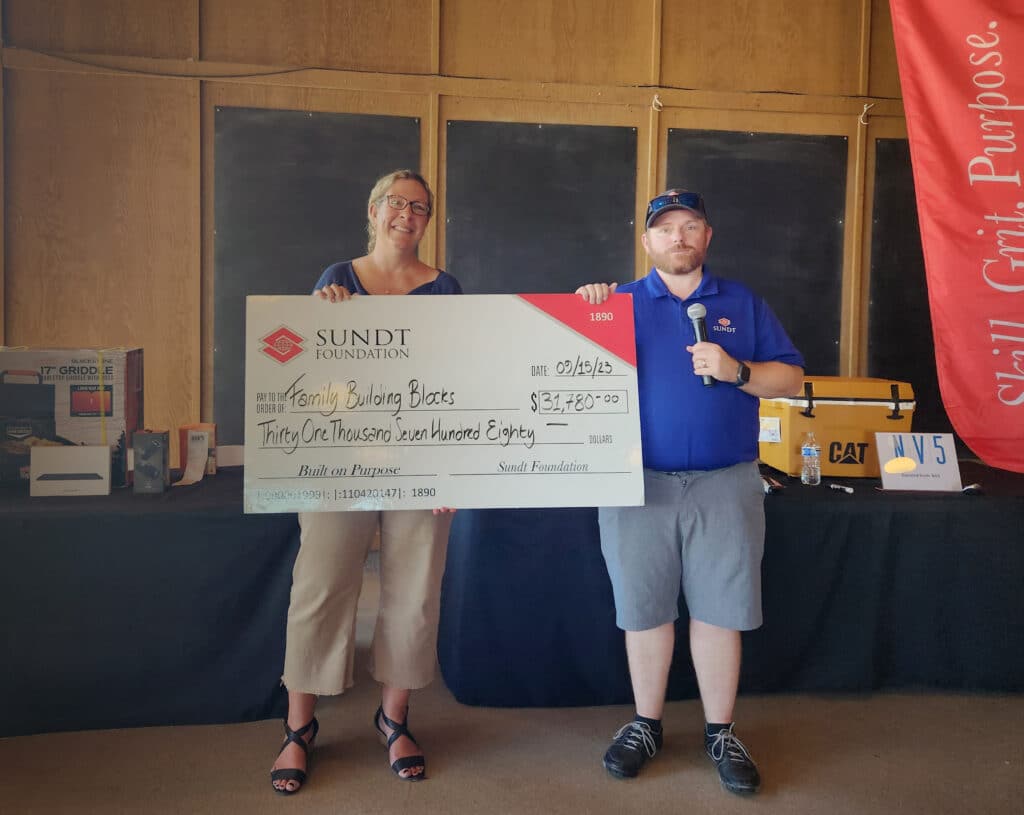 Sundt Foundation presented Family Building Blocks with a check for $31,780.
Portland, Ore. (October 19, 2023) – Sundt Construction raised more than $30,000 for nonprofit Family Building Blocks through its inaugural Sundt PNW Partner Appreciation Golf Tournament last month.
"A core value at Sundt is service, and we are thankful to our trade partners for their support in helping us fulfill this value," said Michael Neher, Sundt project manager. "Family Building Blocks is doing amazing work giving families the support they need to overcome challenging life circumstances."
Family Building Blocks offers therapeutic early childhood programs and services to families in Marion and Polk counties. The nonprofit partners with parents raising children under the age of five by providing therapeutic classroom and home visiting services. Therapeutic Classrooms provide a safe, nurturing environment to support healthy development and healing from trauma for children ages six weeks to five years. Home visitors bring age-appropriate information and activities to engage the family while also providing referrals to community partners, which ensure access to medical services, resources for meeting basic needs and helping parents identify and accomplish goals leading to self-sufficiency.
"We want to thank Sundt Construction for seeing the immense power and benefit of investing long-term in families with the very youngest children, at the most critical time in their lives," said Family Building Blocks Director of Development Julie Duran. "This gift supports Family Building Blocks in providing full wrap-around services to two families in our most intensive services, our Therapeutic Classrooms, and providing home visits to strengthen the bond between parent and child."
Sundt hosted 146 golfers at Langdon Farms from 38 companies. The contractor is currently working on the Willamette Water Supply System Water Treatment Plant for the Tualatin Valley Water District and the Boeckman Road Corridor Improvement project in Wilsonville, Oregon.
About Sundt
Sundt Construction, Inc. (www.sundt.com) is one of the country's largest and most respected general contractors. The 133-year-old firm specializes in transportation, industrial, building, concrete and renewable power work and is owned entirely by its approximately 2,000-plus employees. Sundt is distinguished by its diverse capabilities and experience, unique employee-ownership culture and depth of self-perform expertise in nine major trades. Much of Sundt's workforce is comprised of skilled craft professionals who, together with the company's administrative employees, enable Sundt to fulfill its mission to be the most skilled builder in America. Sundt has 13 offices throughout California, Arizona, North Carolina, Texas, Utah and Florida and is currently ranked the country's 62nd largest construction company by ENR, the industry's principal trade magazine.
Media Contact:
Stefanie Teller
Sundt Construction, Inc.
520.750.4611 (office)
media@sundt.com