TEMPE, Ariz. (February, 23, 2023) – During the 2023 Associated Schools of Construction (ASC) Regions 6 & 7 student competition, the Sundt Foundation presented the Women's and Children's Center of the Sierra (WACCS) with a special grant of $2,500, along with donations of diapers and baby wipes.
Each year during the ASC Regions 6 & 7 student competition, teams of students from universities around the country participate in problem-solving construction challenges based on real-world scenarios and presented by sponsoring contractors. Sundt, a longtime sponsor for the competition, hosted 15 teams. As part of the event, Sundt's university teams participated in a teambuilding activity benefiting an area nonprofit. The student teams, comprised of six students per team, worked together to sort donations of diapers and baby wipes for the center, which was followed by a presentation of the donations and grant check.
"Each year, I am completely blown away with the excitement that the students have in giving back to local communities," said Mike Canter, Pre-Construction Project Manager for Sundt's Concrete Division. "The charity event is one of the highlights for the students at the three-day ASC event and gives them an up-close and personal view of what Sundt and the Sundt Foundation is all about."
The Women's and Children's Center of the Sierra is a 501c3 nonprofit, founded in 2008, and gives resources to women who are at or below 185% of the poverty level. Their mission is to support women as they navigate poverty and improve their lives and the lives of their children.
"Our diaper bank is one of our most important services. Donations, such as the amazing gifts from Sundt, impact a child's development and moms' ability to give their child a healthy start," said Pam Russell, Executive Director for the WACCS. "We have already begun distributing the bounty of diapers we received from Sundt to families needing a hand up. We are so grateful to have had the opportunity to work with Sundt and were surprised and delighted to receive such a generous monetary donation."
There are many ways to give back to the WACCS. The center accepts volunteers, diaper donations via mail or drop off and monetary gifts. Gifts can be made by check to WACCS or on their website, waccs.org.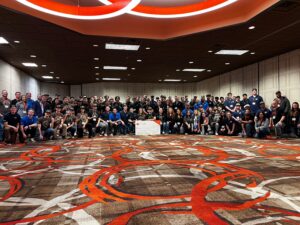 About the Sundt Foundation
Sundt's purpose is to build environments where its clients, employee-owners and communities prosper. The Sundt Foundation was established in 1999 as a way for employee-owners to give back to the communities in which they live and work. The organization is funded primarily by contributions from Sundt employees, which are matched by the company. To date, the Foundation has awarded more than $12 million in donations.
About Sundt
Sundt Construction, Inc. (www.sundt.com) is one of the country's largest and most respected general contractors. The 133-year-old firm specializes in transportation, industrial, building, concrete and renewable power work and is owned entirely by its approximately 2,000-plus employees. Sundt is distinguished by its diverse capabilities and experience, unique employee-ownership culture and depth of self-perform expertise in nine major trades. Much of Sundt's workforce is comprised of skilled craft professionals who, together with the company's administrative employees, enable Sundt to fulfill its mission to be the most skilled builder in America. Sundt has 12 offices throughout California, Arizona, North Carolina, Texas and Utah and is currently ranked the country's 61st largest construction company by ENR, the industry's principal trade magazine.
Media Contact:
Stefanie Teller
Sundt Construction, Inc.
520.750.4611 (office)
media@sundt.com