PHOENIX (June 23, 2022) – Sundt Construction recently promoted Mike James in its Transportation Group. He will serve as the vice president and preconstruction manager.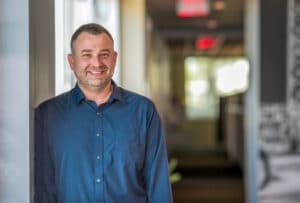 "Mike's talent in preconstruction is exemplary. He will continue to provide leadership and oversight for preconstruction across all four of the Group's regions," said Jeff Williamson, President of Sundt's Transportation Group.
James joined Sundt in 2008 as an estimator in the Transportation Group and most recently held the chief estimator role for the Group. He has over 20 years of specialized transportation construction estimating  experience on complex bridges and highway projects. James has estimated many high-value projects, notably his work on the Sellwood Bridge replacement in Portland, Ore. He was an integral part of the team that innovated the bridge 'slide' idea to maintain multimodal traffic during construction, saving the client over $10 million.
His other noteworthy projects include the San Pedro Creek in San Antonio, Texas and the Arizona Department of Transportation's Ina Road. James obtained a bachelor's degree in finance from the University of Alberta and a master's degree in construction science from the University of Oklahoma.
Sundt has been building critical infrastructure across Arizona for more than 90 years. Headquartered in Tempe, the company continually ranks in the top five of ENR Southwest's Top Contractors. Sundt's Transportation Group has been recognized as one of the safest contractors in transportation construction. It has shaped the southwest infrastructure, including delivering key roadways, bridges, rail and transit and aviation projects.
About Sundt
Sundt Construction, Inc. (www.sundt.com) is one of the country's largest and most respected general contractors. The 131-year-old firm specializes in transportation, industrial, building, concrete and renewable power work and is owned entirely by its approximately 2,000 plus employees. Sundt is distinguished by its diverse capabilities and experience, unique employee-ownership culture and depth of self-perform expertise in nine major trades. Much of Sundt's workforce is comprised of skilled craft professionals who, together with the company's administrative employees, enable Sundt to fulfill its mission to be the most skilled builder in America. Sundt has 11 offices throughout California, Arizona, North Carolina, Texas and Utah and is currently ranked the country's 61st largest construction company by ENR, the industry's principal trade magazine.
###
Media Contact:
Kimberley Hoidal
Sundt Construction, Inc.
480.293.3001 (office)
520.282.3018 (mobile)
kahoidal@sundt.com