CHARLOTTE (October 6, 2021) – Sundt Construction, Inc., one of the nation's largest and most respected general contractors, has expanded into the Southeast by opening an office in Charlotte, N.C. The move will enable the company to focus on the rapid growth in industrial construction opportunities throughout the Southeastern United States.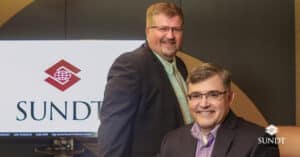 "The Southeast is one of the fastest-growing industrial markets in the nation, with significant needs in power, water/wastewater, forest industries, bioethanol, biomass and other sectors," said Mike Hoover, Sundt's CEO and Chairman of the Board. "Sundt's expertise and experience in these areas, combined with growing market demand, made Charlotte a clear choice for us."
Sundt has built a reputation as one of the top constructors of industrial projects. Annually ranked one of the nation's best industrial contractors by Engineering News-Record, the industry's leading publication, the company has constructed and installed major systems for coal- and gas-fired plants, hydroelectric power plants, solar generating facilities and biomass plants, as well as multiple water and wastewater facilities. The new office leverages that long track record of success as well as the company's ability to perform work in multiple trades with its own highly skilled crews.
Sundt's Industrial Group President Rich Keil is leading the expansion efforts in Charlotte. Since joining Sundt in 2014, the group has flourished under Keil's leadership, with annual revenues growing by more than $700 million. Keil has over 30 years of experience in industrial construction, including 24 years in leadership roles with several major national contractors throughout the South and Mid-Atlantic regions.
"The Southeastern United States is home to numerous companies and municipalities looking for contractors to meet their complex industrial construction needs," said Keil. "This requires highly specialized skillsets – areas where Sundt excels."
Keil leads a team of experienced professionals who joined Sundt to help form the new Charlotte office after many years working together for another large industrial contractor in the Southeast.  Pat Bulman, an industrial construction veteran with over 30 years of experience, will serve as the regional manager for the Southeast office. Bulman brings a wealth of expertise in process industries, power generation, pulp and paper and manufacturing facilities across the region.
"We felt very fortunate to be able to join Sundt as a team," said Bulman. "Our proven track record of success in the Southeast will nicely complement Sundt's diverse capabilities and skillsets in producing the highest quality work."
David Rieken, another recent addition to Sundt's growing water and wastewater treatment plant presence in the Southeast, will focus on construction opportunities in water and manufacturing in Florida and the surrounding region. Rieken brings 25 years of experience in construction and engineering in large water and wastewater resource and infrastructure facilities nationwide. Sundt is a national leader in expanding this vital infrastructure across the country. The company is ranked No. 3 by ENR in wastewater treatment plants and has completed over 60 plants in the last 15 years.
"Sundt is a nationally recognized leader in delivering reliable water and wastewater facilities and critical infrastructure projects that our communities rely on daily. I look forward to introducing Sundt's capabilities to new clients and partners in the Southeast and building upon our existing reputation here locally," said Rieken.
Sundt's history in the Southeast dates back more than 50 years. Some of the firm's notable area landmarks include Launch Pad 39A at Florida's Kennedy Space Center, where NASA first launched US astronauts into space, and the concrete core of One Atlantic Center in Atlanta, Ga., built using an innovative "slipform" technique pioneered by Sundt and later used all over the country.
About Sundt
Sundt Construction, Inc. (www.sundt.com) is one of the country's largest and most respected general contractors. The 131-year-old firm specializes in transportation, industrial, building, concrete and renewable power work and is owned entirely by its approximately 1,500-plus employees. Sundt is distinguished by its diverse capabilities and experience, unique employee-ownership culture and depth of self-perform expertise in nine major trades. Half of Sundt's workforce is comprised of skilled craft professionals who, together with the company's administrative employees, enable Sundt to fulfill its mission to be the most skilled builder in America. Sundt has 11 offices throughout Arizona, California North Carolina, Texas and Utah and is currently ranked the country's 58th largest construction company by ENR, the industry's principal trade magazine.
###
Media Contact:
Kimberley Hoidal
Sundt Construction, Inc.
480.293.3001 (office)
520.282.3018 (mobile)
kahoidal@sundt.com