If you're familiar with the Sundt|PCL joint venture performing a $710 million, five-year reconstruction of Salt Lake City's Water Reclamation Facility (WRF), you know there's no I in Team on this project. You might find a VDC in there somewhere, though, if you look behind the scenes.
Sundt's Industrial Virtual Design and Construction (VDC) team is working together to coordinate construction models and the skilled trades who use them, with the goal of making each facility on the 30+ building campus as constructible, high-quality and cost-effective as possible.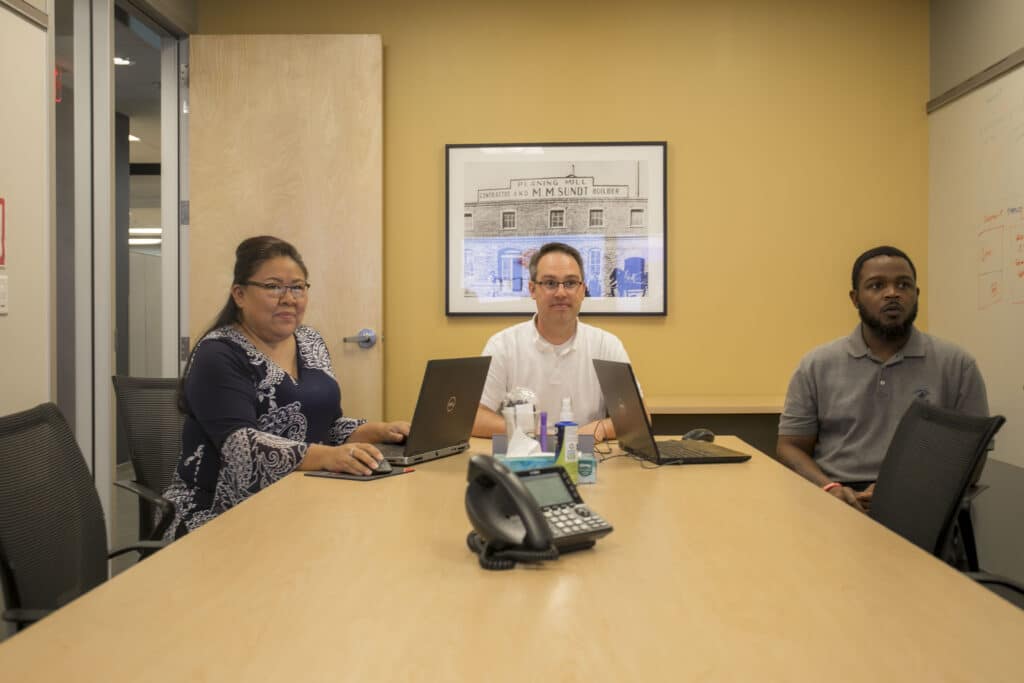 It's surprising how many stakeholders a Sundt VDC team interacts with over the course of a project. Virtual construction engineers are some of the few "cradle-to-grave" personnel outside of core project team members. On a CMAR project this large, with multiple phases and multiple buildings, the need for coordination between contractor, owner, designer, and subcontractors is paramount. As with any successful team effort, it starts with strong leadership.
Engineer Jerilyn Edison Leads with a Listening Ear
"We coordinate with the entire project team including owner, design team, subcontractors, plant operations staff, and our self-perform crews," said team lead Jerilyn Edison. "It can be a steep learning curve for subs, using software like Navisworks and BIM Track. We've taken time to build relationships and listen to people's needs. We have employee-owners on site giving extra support, like Sr. VDC Engineer Dennis Patnode who is teaching classes to the subs on these programs."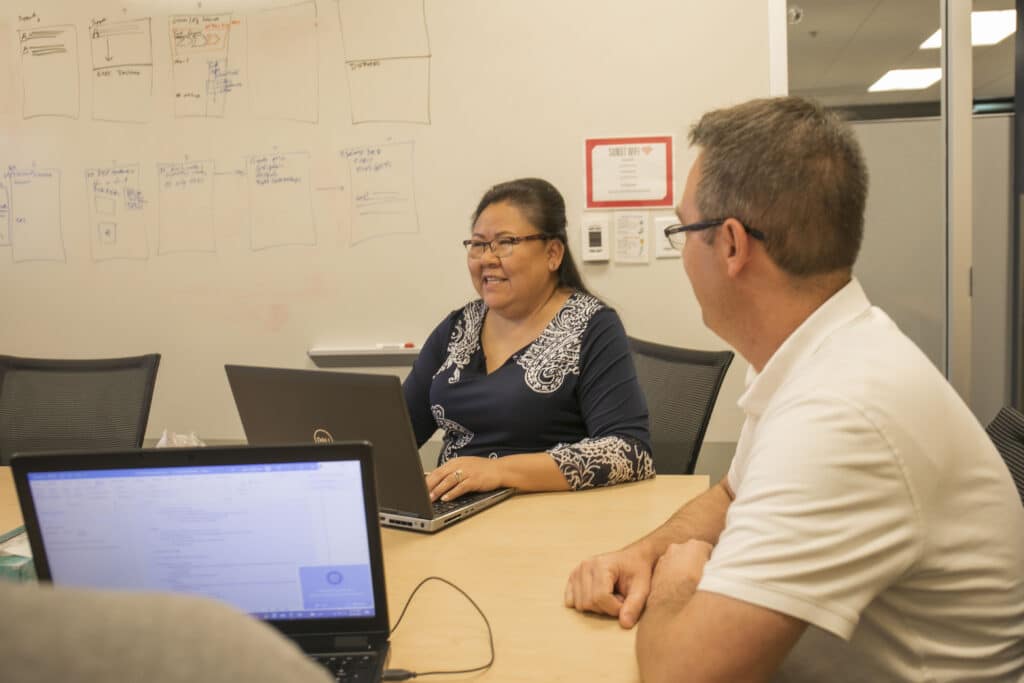 Jerilyn is a 20-year industry veteran and civil engineer by background, who has experience in mining and more recent work in process piping. Her leadership ability stems from her willingness to learn and make others around her better. "With the support and training I've received on the water/wastewater side, I've been able to jump in quickly and help solve some of our constructability challenges," she said, which may be a bit of an understatement.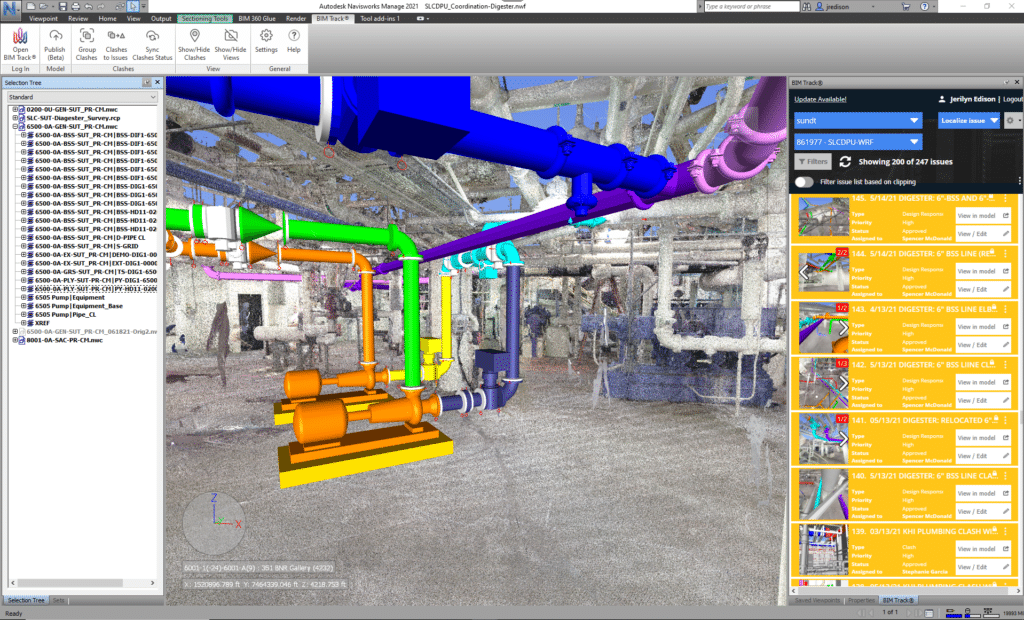 Part of VDC's role is taking a project's design "across the goal-line"—ensuring models are constructible in real life before they get to the field. That said, sometimes you trust your quarterback to go out and make a play.
Working with a 3D laser scan of the Digester facility, Jerilyn used Navisworks to compare existing conditions on site to the designer's 3D model. When the team encountered clashes or constructability issues, she leveraged her design and process piping background to completely revamp the model with the help of the Project Engineer Spencer McDonald and Plant Manager Jose Rubalcaba.
Updates ranged from fixing safety issues—"head-knockers" where pipes are too low—to providing constructable pipe alignments from new pumps through crowded existing pipe corridors. Her work saved the project considerable delays and potential rework.
Coming from design to construction, what I enjoy about VDC is interacting more with people from all sides of the project. You see their roles and their needs, and you're in a place to set them up for success, fixing problems virtually before they become problems in the field.

– Jerilyn Edison, Virtual Construction Engineer, Sundt Industrial Group
The Clash (Resolved): Adam Andersen Rocks the BIM Casbah
Adam Andersen may not look very punk rock, but he's not afraid to go against the grain if it leads to better outcomes for our clients. With his background as a mechanical engineer, Adam brings a wealth of knowledge on process piping design to what can feel like a Tetris puzzle of mechanical, electrical and plumbing (MEP) components.

On the WRF's dewatering facility, Adam's Building Information Modeling (BIM) coordination work revealed limited access to pumps within the original pipe support design. "It was problematic because the pipe supports obstructed the space needed to perform long-term maintenance," said Adam.
"It doesn't seem like a big difference when you look at it on a screen," he said. "But in real life, it can have a long-term impact for the facility's maintenance staff." Working together with SAC Incorporated and the project team, the proposed solution eliminated the clutter surrounding the pumps.

Since joining the company earlier this summer, Adam has played a big role in expanding Sundt's capabilities, not only by adding his own experience to the team but by training others as well. The team's most recent addition is Virtual Construction Tech McArthur "Mac" Smith, who started with Sundt in 2018 but recently switched over to join Industrial VDC.
Under guidance from Adam, Jerilyn, and VDC Manager Wes Vaden, Mac is now adding a much-needed boost, taking on new scopes and freeing up his teammates to take on other challenges. There will be plenty more to tackle with the project scheduled to wrap up in 2024, and this team is ready for whatever comes next.
We just have great people here, in the office and out on the jobsite, who are willing to support you and answer questions. And we enjoy what we do. There's a real family feeling to this team; we know when one of us succeeds, all of us are reaping the benefits.

– Adam Andersen, Virtual Construction Engineer