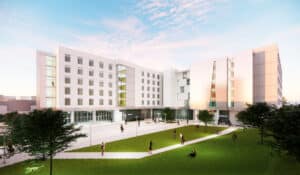 FULLERTON, Calif. (January 11, 2021) – Sundt Construction, Inc. recently started work on California State University, Fullerton's student housing expansion on the south edge of the existing housing units on the east side of campus.
"Our preconstruction team has worked collaboratively to set our project team up for success," said Jamie Frye, Sundt's California Preconstruction Manager for the Building Group. "Providing students with a safe and comfortable environment on campus is what Sundt's purpose is about."
The 182,000-square-foot complex will house 600 sophomore and junior students in a six-story building comprised of a four-bedroom, two-bath apartments surrounding a central courtyard.  Additionally, the ground-floor amenity spaces include a student lounge, multi-purpose room, mailroom, laundry room and a series of residence life offices, workspaces and meeting rooms.
The $106 million project, designed by HMC Architects and part of the campus' master plan, is Sundt's fourth collaborative design-build student housing project within the California State University (CSU) system and estimated to be complete in 2022.
Sundt has over 70 years of project work throughout California. The company has worked extensively with the California State University system to develop collaborative and sustainable approaches to higher education projects. This project marks the 14th CSU campus where Sundt has built a project. The company has offices in Orange County, San Diego and Sacramento.
About Sundt
Sundt Construction, Inc. (www.sundt.com) is one of the country's largest and most respected general contractors. The 130-year-old firm specializes in transportation, industrial, building, concrete and renewable power work and is owned entirely by its 2,000-plus employees. Sundt is distinguished by its diverse capabilities and experience, unique employee-ownership culture and depth of self-perform expertise in nine major trades. Half of Sundt's workforce is comprised of skilled craft professionals who, together with the company's administrative employees, enable Sundt to fulfill its mission to be the most skilled builder in America. Sundt has 11 offices throughout California, Arizona, Texas and Utah and is currently ranked the country's 52nd largest construction company by ENR, the industry's principal trade magazine.
About Cal State Fullerton
The largest university in the CSU and the only campus in Orange County, Cal State Fullerton offers 110 degree programs, and Division 1 athletics. Recognized as a national model for supporting student success, CSUF excels with innovative, high-impact educational practices, including faculty-student collaborative research, study abroad and competitive internships. Our vibrant and diverse campus is a primary driver of workforce and economic development in the region. CSUF is a top public university known for its success in supporting first-generation and underrepresented students, and preparing all students to become leaders in the global marketplace. Our It Takes a Titan campaign, a five-year $200 million comprehensive fundraising initiative, prioritizes investments in academic innovation, student empowerment, campus transformation and community enrichment. Visit fullerton.edu
###
Media Contact:
Kimberley Hoidal
Sundt Construction, Inc.
480.293.3001 (office)
520.282.3018 (mobile)
kahoidal@sundt.com