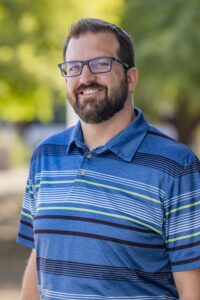 Steve Bradford began his career at Sundt Construction right as the Great Recession hit, but it didn't slow him down one bit. In the 12 years that followed, our Industrial Group grew, and Steve advanced from field engineer to estimator, to senior estimator, to preconstruction project manager, and finally to his current role as preconstruction manager for the entire department. Looking back, Steve feels the same excitement now that he felt when he started. The sheer size and complex nature of industrial construction, as well as the chance to learn new things, keep his passion for the industry going strong. Recently named one of ENR Southwest's Top Young Professionals, Steve spoke with us about lessons he's learned along the way and his outlook going forward.
Steve, our Industrial Group has seen immense success in recent years. Much of the work to reach this point, though, is done behind the scenes. On the precon side, what's the key to a successful project?
Attention to detail and organization. We need to have a shared understanding of the client's needs—and then manage those needs intentionally. That's one of the biggest things that sets us apart. When we get in the room with a client, we focus on their definition of success, and we work to make that our definition. . Internally, we have to manage the details and remember a lot of critical factors and how those factors contribute to our definition of success.
What's unique about Sundt's Industrial Group, and your role within it?
I think we're unique in our ability to adapt to new challenges. The Industrial Group works across so many industries, mining, water, power, and others, and we have a combination of specialized people and jacks of all trades. But the key is knowing the different environments where we operate. There's a broad range of variables—and related expertise that you need on your team. For example, we have crews working on smelters who need to wear respirators so they're not exposed to lead, cadmium or arsenic; on other projects, we have crews working in clean rooms, where there's nothing in the air, where you have to protect the air from yourself. I mean, sometimes the process of getting into a clean room takes more time than the actual work you're doing inside. That's a crucial detail for schedule. So, my job is to make sure our estimators understand those key differences, and then create teams where people can complement each other's areas of expertise.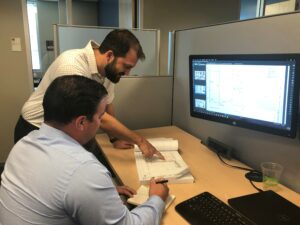 Speaking of expertise, you've probably had a steep learning curve with such an accelerated career path. What's something notable that you've learned or are learning?   
My entire career, I've been a details guy. Now stepping into a management position, I've learned the meaning of the phrase, "What got you here won't get you there." I've been working a lot on management and leadership skills, getting guidance from people who've been doing this a long time. I'm finding the best ways to motivate my team, making sure they're detail-oriented in areas that I can't be any more. You know, learning how to manage people is a totally different animal compared to estimating. This isn't the first management capacity I've served in, but it's the first time there's been so much at stake. There's a lot involved in doing it well. It means working on things like strategic thinking, delegation, and listening more than I talk. It means showing your people that you care, treating them as a person and not just a resource. It's a process, and it takes time. The longer I work in this role, the more I realize how important it is to invest in our people—they're the most valuable asset we have.
What are you looking forward to in the new year?
I'm looking forward to seeing some of the fruits of our labor from the past year. We have a lot of projects getting built in 2020. Two of our jobs in San Francisco are ramping up now. We'll have a water job here in Phoenix very soon. There's a lot happening. Also, just chasing more work. We've been very competitive this past fiscal year, and we've been winning jobs. So, I really look forward to maintaining that momentum.