SAN BERNARDINO, Calif. (November 27, 2019) – Sundt Construction, Inc. (www.sundt.com) recently completed California State University, San Bernardino's College of Extended Learning Center for Global Innovation, located by the John M. Pfau Library near the north boundary of campus.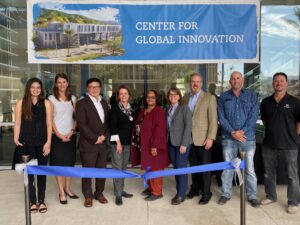 "This project was truly a team effort," said Sundt Project Executive Betty Lynn Senes. "And to help CSUSB better equip students of all ages and backgrounds really exemplifies Sundt's purpose to build prosperity in our communities."
The $55 million project involved the construction of a new building that will provide a centralized location for international students, providing opportunities for them to integrate more with the general student population and will enrich student and academic life.
The building is directly connected to Coyote Walk by a large outdoor shade plaza. The 71,000-square-foot building includes three stories of classrooms. It also features a 250-seat auditorium, reconfigured multi-purpose rooms, student lounges, retail food services and spaces for hosting indoor and outdoor special programs. The facility boasts sustainable building features including extensive use of natural lighting and ventilation, energy-efficient LED lighting with smart controls, water-efficient plumbing and energy-efficient windows.
Sundt served as the construction manager at-risk on the project, starting in early 2018. The building welcomed students this past September, and a formal ribbon-cutting was held recently to celebrate the completion. LPA Inc. served as the architect on the project.
Sundt has over 70 years of project work throughout the state of California. The company recently completed the new STEM Center building at Coast Community College District's Golden West College and is currently working on the new Science, Engineering and Math (SEM) building and Veterans Resource Center (VRC) at the Cypress College campus. Sundt has offices in Irvine, San Diego and Sacramento.
About Sundt
Sundt Construction, Inc. (www.sundt.com) is one of the country's largest and most respected general contractors. The 129-year-old firm specializes in building, transportation, industrial and concrete work and is owned entirely by its 2,000-plus employees. Sundt is distinguished by its diverse capabilities and experience, unique employee-ownership culture and depth of self-perform expertise in nine major trades. Half of Sundt's workforce is composed of skilled craft professionals who, together with the company's administrative employees, enable Sundt to fulfill its mission to be the most skilled builder in America. Sundt has 11 offices throughout California, Arizona, Texas and Utah and is currently ranked the country's 54th largest construction company by ENR, the industry's principal trade magazine.
###
Media Contact:
Kimberley Hoidal
Sundt Construction, Inc.
520.750.4623 (office)
520.282.3018 (mobile)
kahoidal@sundt.com