Sundt, DPR, McCarthy and Hensel Phelps are four of the largest general contractors operating in the greater Phoenix area. At times part of joint ventures, very often intense competitors, it's unheard of to have all four working together shoulder-to-shoulder on the same project. But when you've heard the story behind New Pathways for Youth and their need for a new facility, and you're familiar with the character of Phoenix's philanthropic community, the pieces of the puzzle begin to align.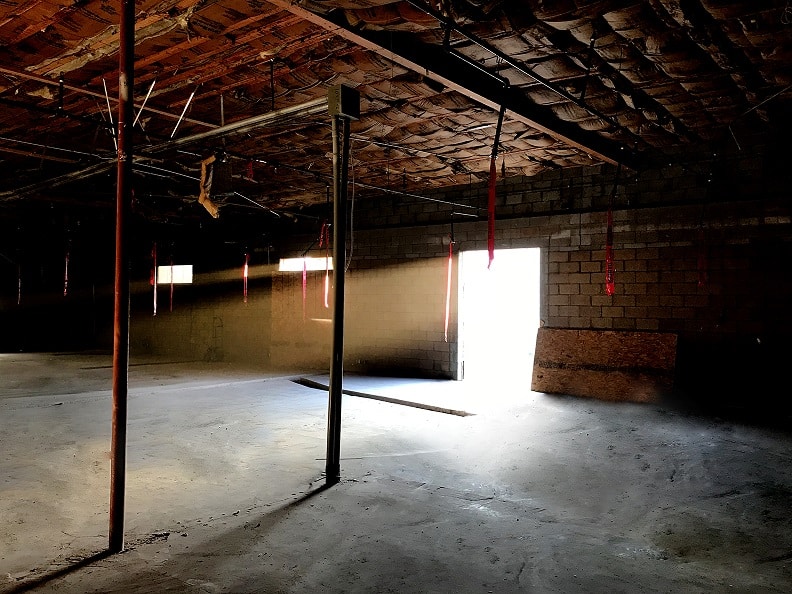 Tenant improvements on the newly acquired building include demolition of interior walls, new ceilings, millwork, flooring, furniture and equipment, electrical, lighting, plumbing, and mechanical improvements to accommodate a new layout (photo taken in August). 
In 1989, a small group of people came together to help at-risk youth overcome difficult life circumstances, including poverty, parent incarceration, drug abuse, and violence. In their first year, the group mentored 40 teens; today, New Pathways for Youth serves over 400 young people per year. After three decades and thousands of changed lives, the motto is still the same: all youth, no matter what, are empowered to fulfill their potential. This means overcoming self-destructive patterns and taking concrete steps toward the future they want. With the success of the program, it's no wonder how quickly New Pathways has grown, and with that growth comes a need for bigger and better facilities.
"It was clear that we'd outgrown our building," said Christy McClendon, President and CEO of New Pathways, whose property was outdated, prone to flooding, and simply too small to accommodate greater numbers. They had twice as many kids coming to them for help than they could serve. The board finally was able to purchase a new building, in large part thanks to a very generous donor. "But then I realized: we need a remodel team—and how fortunate to have all of these general contractors already involved with our organization," said Christy. "So, I naively thought, 'I can't just pick one of them—they're all amazing humans doing amazing work. Let's make this a collaboration.'"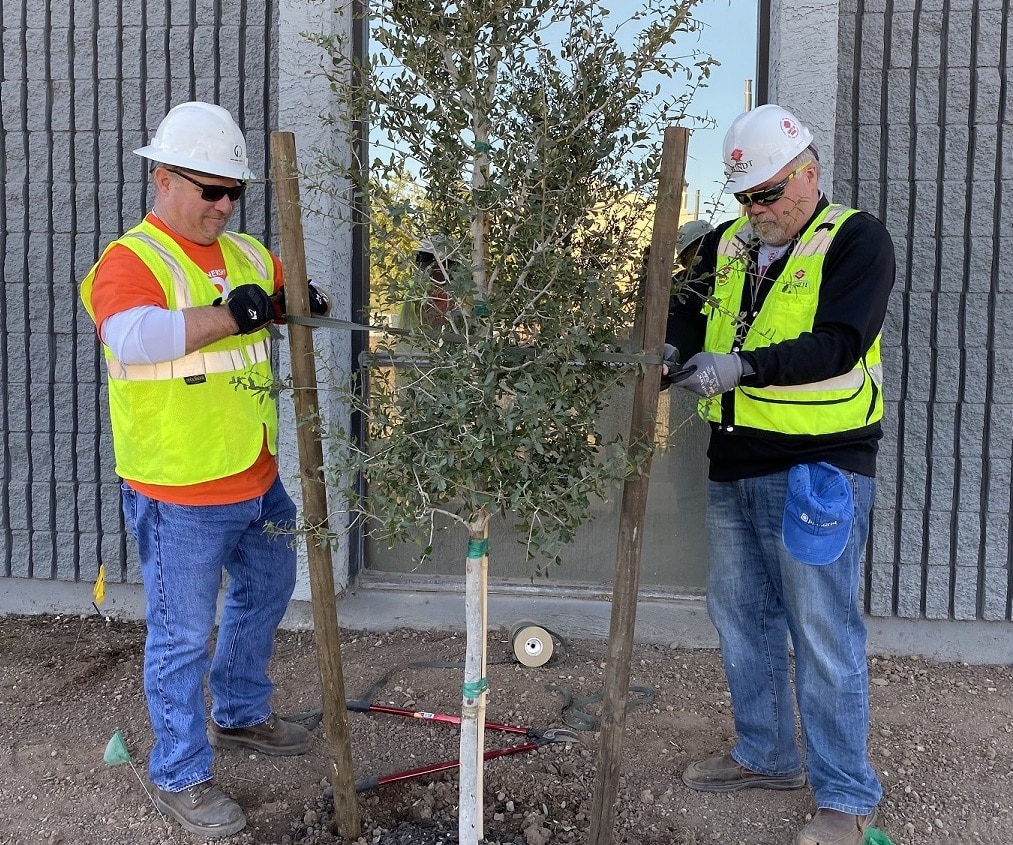 Beginning with DPR, who'd previously served on New Pathways' building search committee, Christy was also able to get leadership from Sundt, McCarthy and Hensel Phelps to sit down at the same table for a conversation. "I'm in the nonprofit world; I didn't know this was kind of taboo in construction," Christy recalled, laughing, "but I just said, 'How can you help?' Everyone just looked at each other for a moment. And then they said, 'We'll figure it out.'"
The mission of New Pathways became the guiding star for the group, allowing them to navigate around typical industry barriers. Christy told the four parties, "At the end of the day, what's most important is that you all work together for our kids—you tell me what roles you'll play." So, the group agreed on leadership roles and responsibilities within the project: Sundt is serving as the general contractor; DPR is the owner's representative; Hensel Phelps has led site concrete work; and McCarthy has supplied labor and marketing vision. Sundt and DPR are carrying out self-perform scopes as well. Various other partners, including architects and several subcontractors, have also participated through in-kind contributions of labor and material. The total market value of the project is over $1.6 million; however, the team is performing it for $1.0 million, which includes over $600,000 in in-kind donations.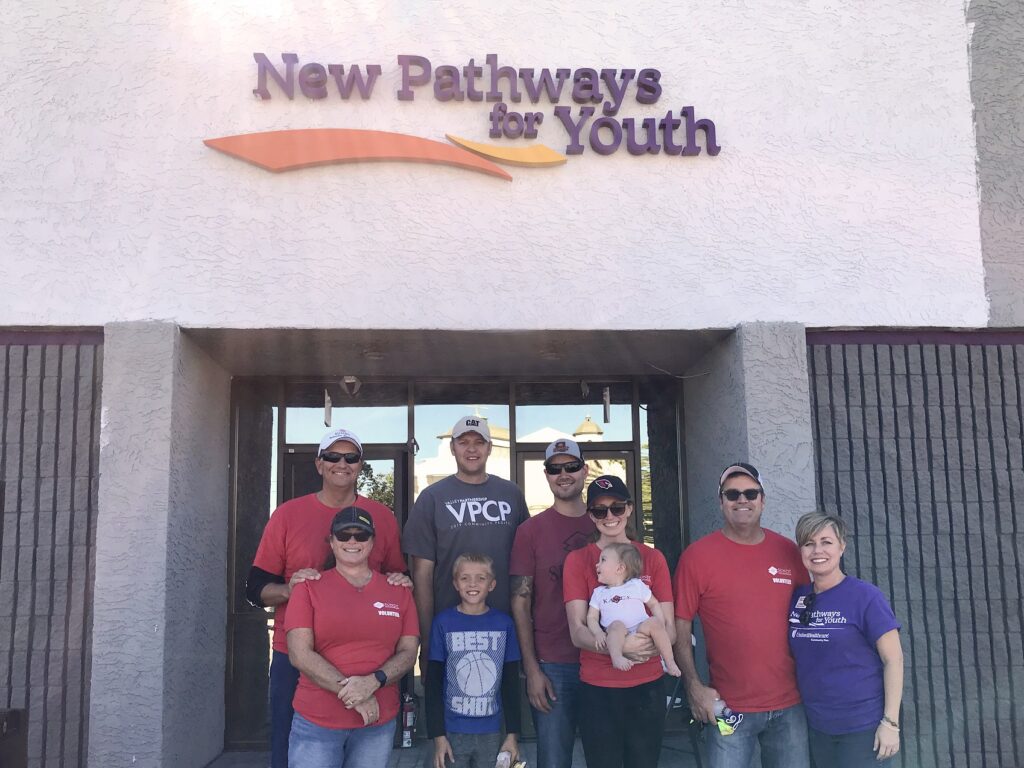 Several Sundt Employee-Owners and their family members volunteered at Valley Partnership's 2019 Community Project. From left to right: Duane Miles and wife Lori, Aaron Bond and son, Chrystine Geele and husband Jon and daughter, Jon Schwab, and New Pathways President and CEO Christy McClendon. Chrystine Geele, who is also serving as Project Engineer for the remodel said, "This project is all about the kids. So there's unique motivation for a unique partnership."
This project is special. No doubt about it. But it's also characteristic of the larger purpose Sundt has set out for its people, according to Project Executive Marty Hedlund. "Our purpose is to build environments where our clients, employee-owners and communities prosper. The New Pathways project is a great example of the latter part of that." Through the Sundt Foundation, employee-owners do a great deal of charitable giving and volunteering, Marty pointed out, but this project presents a new level of giving back. "Giving money is definitely important. They need it! But this is a chance to roll up our sleeves, leverage our skills as a builder, and do something exceptional for the youth in our community." Set to complete just before the new year with move-in in January, the newly improved building will allow New Pathways to double the number of young people they serve.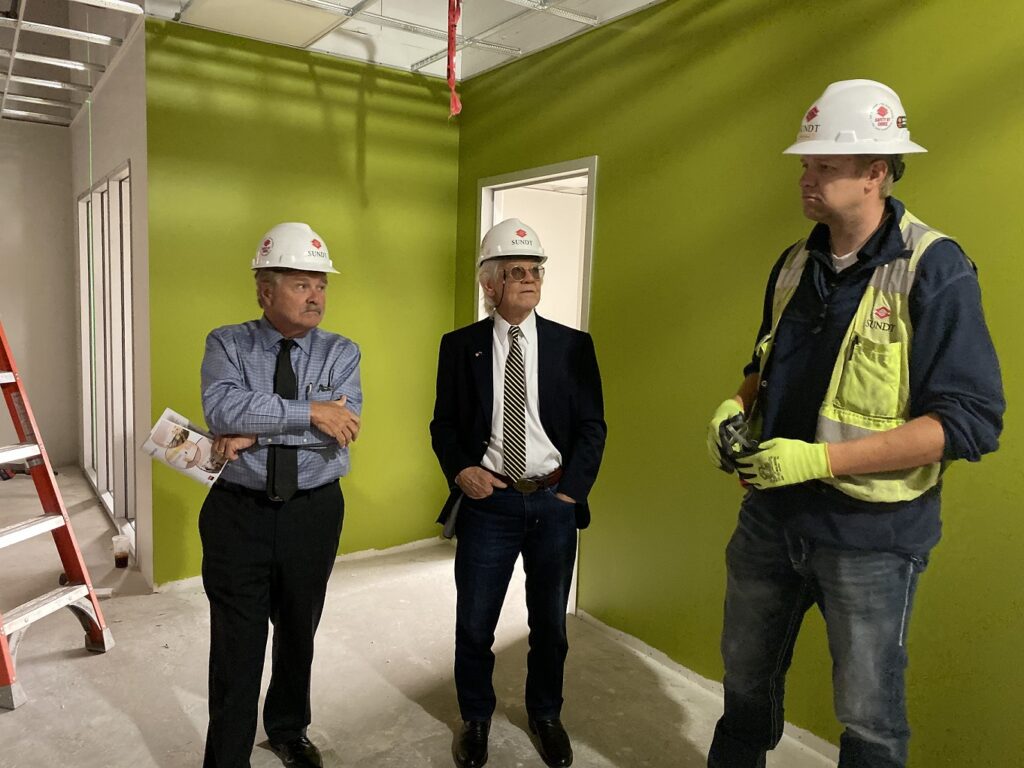 In addition to our colleagues with DPR, Hensel Phelps and McCarthy, a very special thanks goes out to all of the partners involved who have donated services and/or materials to this project:
Able Steel Fabricators, Inc.
Ace Asphalt of Arizona, Inc.
Aero Automatic Sprinkler Company
Aspen Technologies
Barrett-Homes Contractors
Bollinger Consulting Architects, Inc.
Cannon & Wendt Electric Co, Inc.
Classic Roofing, LLC
Dallas Professional Painting
Demers Glass, LLC
Dickens Quality Demolition
DP Electric, Inc.
Grating Pacific
Grounds Control, LLC
HACI Service, LLC
Indwell Woods, Inc.
Inter-Co Restroom & Locker Supply, Inc.
Irontree Construction, Inc.
Karber Mechanical Insulation Inc.
MKB Construction, Inc.
Norcon Industries, Inc.
Parker & Sons Steel Erecting, Inc.
Penington Painting Company
Sun Valley Masonry, Inc.
Susie's Fence, Inc.
Walters & Wolf Construction Specialties, Inc.
Wholesale Floors, LLC
Wilson Electric Services Corp.