FORT WORTH, Texas (November 26, 2019) – Sundt Construction, Inc. (www.sundt.com) recently promoted Bob Aniol to serve as Vice President and Dallas-Fort Worth Regional Director for its Building Group, Texas District. In his new role, Aniol will be responsible for business development, preconstruction and project execution as well as profitability, risk management and talent development.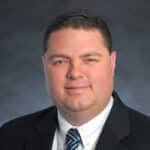 "Bob is an incredible builder, critical thinker, communicator and educator," said Ryan Abbott, Sundt's Senior Vice President and Texas and Southwest District Manager. "His extensive project experience and his ability to problem-solve for his clients is something I'm excited to see him scale in North Texas."
A native Texan, Aniol brings 25 years of experience in the construction industry to his new role, including 10 with Sundt. He started as a project engineer and worked his way up to project executive. Aniol's experience extends to multi-million-dollar projects including Centennial Hall at Midwestern State University, Wichita Falls Regional Airport, Dallas Fort Worth International Airport, Tesoro Data Center and Arizona State University Science and Technology Building.
Aniol is a LEED Accredited Professional in Building Design and Construction. He holds a bachelor's degree in construction science from Texas A&M University in College Station, Texas and has joined Leadership North Texas. He is an active member of the Sundt Foundation and helped establish North Texas as one of the Foundation's dedicated giving areas. Aniol volunteers his time at the HSP Clinic of the Scottish Rite Hospital for Children, Meals on Wheels and JB BBQ.
Sundt has 50 years and nearly $3 billion of project work throughout Texas, with offices in Fort Worth, Irving, San Antonio and El Paso. The company recently completed the University of North Texas Biomedical Engineering Addition in Denton and is working on the Southeast Recreation Center in Arlington, Texas and the Denton County Administration Complex Phase III.
About Sundt
Sundt Construction, Inc. (www.sundt.com) is one of the country's largest and most respected general contractors. The 129-year-old firm specializes in building, transportation, industrial and concrete work and is owned entirely by its 2,000+ employees. Sundt is distinguished by its diverse capabilities and experience, unique employee-ownership culture and depth of self-perform expertise in eight major trades. Half of Sundt's workforce is comprised of skilled craft professionals who, together with the company's administrative employees, enable Sundt to fulfill its mission to be the most skilled builder in America. Sundt has 11 offices throughout California, Arizona, Texas and Utah and is currently ranked the country's 54th largest construction company by ENR, the industry's principal trade magazine.
###
Media Contact:
Kimberley Hoidal
Sundt Construction, Inc.
520.750.4623 (office)
520.282.3018 (mobile)
kahoidal@sundt.com