TEMPE, Ariz. (July 2, 2019) – Sundt Construction, Inc. (www.sundt.com) climbed 11 spots to No. 54 on Engineering News Record's (ENR) 2019 Top 400 Contractors list. ENR, the construction industry's principal trade publication, generates its list of Top 400 Contractors based on the prior year's construction revenue.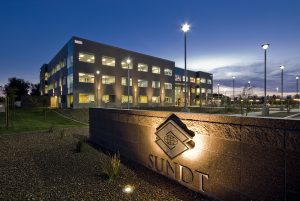 "Last year was exceptional for our company," said G. Michael Hoover, Sundt's President, CEO and Chairman of the Board. "Our employee-owners showed relentless dedication to fulfilling our mission to be the most skilled builder in America, and it is reflected in our ranking."
Sundt reported $1.4 billion in construction revenue during 2018. In addition to being No. 54 on ENR's Top 400 Contractors list, Sundt also ranked No. 36 on the publication's Top 50 Domestic Heavy Contractors for its transportation, sewer and water projects.
In the analysis of the Top 400 list, ENR highlighted recently formed Sundt Infrastructure Development, an affiliate of the business dedicated to developing and investing in project opportunities through partnerships with premier infrastructure companies. "This capability will be applied to our core business lines – transportation, industrial and building," said James Geer, Senior Vice President and leader of Sundt Infrastructure Development.
A few of Sundt's Phoenix-area projects contributing to the 2018 revenue figures include: Arizona State University Sun Devil Stadium (a joint venture with Hunt Construction) in Tempe, Signal Butte Water Treatment Plant in Mesa, Embry-Riddle Aeronautical University Classroom and Laboratory Building in Prescott, the Union Tempe project in Tempe, Valley Metro Gilbert Road Light Rail Extension in Mesa and the Thousand Trails Road improvements for the Arizona Department of Transportation in the Verde Valley north of Phoenix.
Headquartered in Tempe, Ariz., Sundt also ranked second on the 2019 Phoenix Business Journal's list of Commercial Building Contractors.
About Sundt
Sundt Construction, Inc. (www.sundt.com) is one of the country's largest and most respected general contractors. The 129-year-old firm specializes in building, transportation, industrial and concrete work and is owned entirely by its 2,000+ employees. Sundt is distinguished by its diverse capabilities and experience, unique employee-ownership culture and depth of self-perform expertise in more than ten major trades. Half of Sundt's workforce is comprised of skilled craft professionals who, together with the company's administrative employees, enable Sundt to fulfill its mission to be the most skilled builder in America. Sundt has 11 offices throughout California, Arizona, Texas and Utah and is currently ranked the country's 54th largest construction company by ENR, the industry's principal trade magazine.
###