EL PASO, Texas (June 28, 2019) – Sundt Construction, Inc. (www.sundt.com) has added Luis Licón to the company's El Paso office. Licón will serve as a project manager on the Housing Authority of the City of El Paso (HACEP) Sherman Ridge project.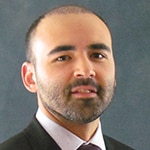 "Adding Luis to our HACEP project will add great support to an already thriving team," said Joe Riccillo, director for Sundt's El Paso office. "He brings a diverse background that will expand our skillset while building the project."
Licón brings years of experience as both a project engineer and project manager working on multiple projects within Texas. His market experience includes higher education, military and civil. Licón holds a civil engineering bachelor's degree from Marquette University; he is also bilingual and is OSHA-30 certified.
Sundt has 50 years and nearly $3 billion of project experience throughout Texas, with offices in El Paso, Fort Worth, Irving and San Antonio. The company is currently busy working on four HACEP renovation and remodel projects, as well as the Texas Tech University El Paso Medical Science Building II and East Side Regional Park Phase 1.
About Sundt
Sundt Construction, Inc. (www.sundt.com) is one of the country's largest and most respected general contractors. The 129-year-old firm specializes in transportation, industrial, building and concrete work and is owned entirely by its 2,000+ employees. Sundt is distinguished by its diverse capabilities and experience, unique employee-ownership culture and depth of self-perform expertise in more than ten major trades. Half of Sundt's workforce is comprised of skilled craft professionals who, together with the company's administrative employees, enable Sundt to fulfill its mission to be the most skilled builder in America. Sundt has 11 offices throughout Arizona, California, Texas and Utah and is currently ranked the country's 54th largest construction company by ENR, the industry's principal trade magazine.
###