Today is Law Day, a national day to celebrate the rule of law and to learn how the legal process protects the freedoms we share as Americans. As such, it's a great occasion to spotlight Ron Stuff, who shared with us his love for the law and his journey to become Sundt Senior Vice President and General Counsel.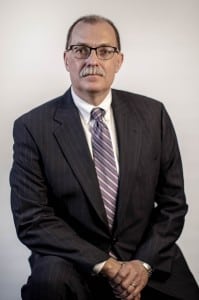 Growing up the son of a carpenter, Ron always knew he wanted to be involved in building things. The law was also something that held his interest with its ever-changing, dynamic nature and its opportunities to make a difference. Following his passion for construction, Ron graduated with a bachelor's degree in Civil Engineering from Georgia Tech. Ron worked as a civil engineer with a construction firm and worked on the front lines. According to Ron, he wouldn't trade his experience spending each day on a construction site for anything in the world.
After four years as an engineer, Ron attended Harvard Law. Not many construction lawyers have the same combination of field experience and education. Ron saw both benefits and challenges being an engineer studying law. "On one hand, engineering is a lot like law," he said. "Both require analytical skills.  Both require breaking large, complex problems down into smaller pieces, and solving them one piece at a time." On the other hand, law required a lot more writing skills than he had. Over the last 30 years, Ron said he has been privileged to bring together his two passions for building and the law.
In 2017, Ron was named Arizona Corporate Counsel of the Year in the Large Private Company category. Upon receiving the award, he said, "In circumstances like this, I'm reminded of the words of an early mentor who told me, 'It's easy to look good when one is surrounded by good people.' The legal team and the entire Sundt organization are the ones who made this possible." Those who know Ron will agree: he readily attributes his success to those around him.
Lawyers in construction can often be seen as the "department of No" or just another hurdle to overcome. Ron hopes that he and his team are useful business partners to everyone in the company. "If they've got a legal question or problem, we want to find a way to help them solve it or answer it.  If we're not, then we need to change what we're doing and how we're doing it."
Looking back, there are many things Ron would count as his greatest accomplishment; from spending 37 wonderful years with his wife, to having three beautiful children, there is a lot to be proud of. Career-wise, Ron feels most accomplished with his current role. Of all his different jobs, Ron said, he has never had one that has felt more rewarding than his time with Sundt.