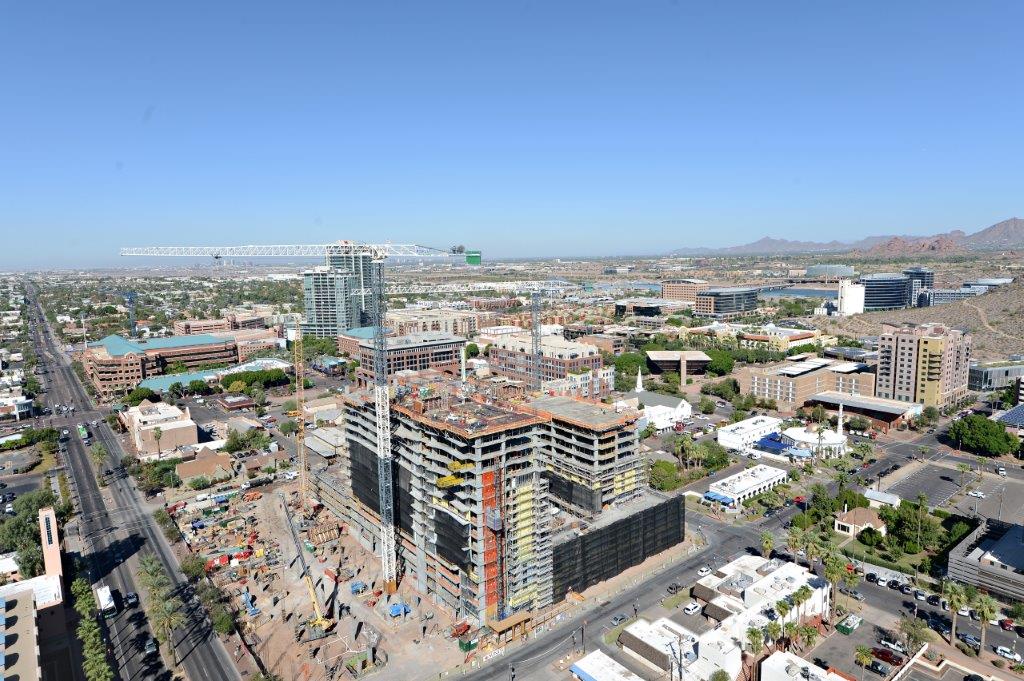 It's a unique project that had us transition from landowner to builder. Few things about Union Tempe Apartments, being built on the site of a former parking lot, will be commonplace for Arizona when the project is finished in July.
We owned the land, located not far from our headquarters in Tempe, for several years before selling it to the developer, The Opus Group. Opus is a family of commercial real estate development, construction and design companies headquartered in Minneapolis with offices and projects across the country.
The 407 residences will "expand the downtown Tempe community to be more walkable, bike-friendly and economically diverse," said Ryan Abbott, our Southwest District Building Group Manager.
Residents will have top-of-the-line amenities including a shared fifth-floor deck with a resort-style swimming pool, grilling area and outdoor lounges with cabanas and fire pits. There will also be a fitness center, dog walk and storage for more than 450 bikes.
The project will cover a city block and feature two towers, one 20 stories and the other 12. The first will have primarily studio, one-bedroom and two-bedroom apartments. The second will have 22 walk-up city homes and flats wrapping the first four stories. The building includes more than 31,000 square feet of retail and restaurant space.
We self-performed the concrete work, which helped in numerous ways. It gave us better control over quality and schedule and further honed our capabilities of constructing quality high-rise buildings. The teams building both towers often held a friendly competition to see which side could complete its work faster.
"Any project of this size brings complexity and I have appreciated Sundt's willingness to plan, execute and problem-solve along the way," said Opus Group Senior Vice President Lawrence Pobuda. "Most importantly, we have developed a real rapport – based on open communication and shared vision. We look forward to delivering this project on time, and on budget, and we feel confident we will do that with Sundt by our side."