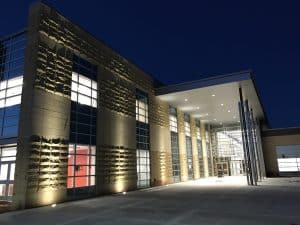 WICHITA FALLS, TEXAS (Nov. 15, 2017) – Trinity Hughes|Sundt, A Joint Venture recently completed construction of a new Career and Technical Education Center for the Wichita Falls Independent School District.
The center features spaces for students to explore a variety of career paths, including a TV studio, an auto-tech shop, construction lab, medical lab and more. Modern educational features include a "learning stair" instead of a traditional auditorium. Students sit on stairs instead of at desks and watch presentations projected on the wall.
The district celebrated the new center with the community at a ribbon-cutting event in August. District superintendent Michael Kuhrt cut the ribbon for the 123,000-square-foot facility in front of a crowd of city officials, district staff and project team members. Attendees took guided tours of the learning spaces after the ceremony.
"We were focused on delivering this project to the district, teachers and students in time for the new school year," said Trinity Hughes|Sundt Project Manager David Musch. "The Career and Technical Education Center is an exciting opportunity for high school students in our community to explore their future careers."
Trinity Hughes|Sundt, A Joint Venture started work on the building in mid-2016. The center is preparing WFISD's high-schoolers for direct entry into careers or college. Students are receiving advanced skills, certification, college credits and the ability to explore their futures.
About Trinity Hughes
Trinity Hughes Construction is a full service general contracting and construction management firm headquartered in Wichita Falls, Texas. The firm has completed more than 90 projects over nearly two decades in the north and west Texas region. Trinity Hughes provides a full range of commercial construction services including pre-construction, general contracting, consulting, project planning, design build services and more. Its portfolio includes commercial retail and office, government, medical, multi-family, senior and retirement living, manufacturing, education and religious buildings.
About Sundt
Sundt Construction, Inc. (www.sundt.com) is one of the country's largest and most respected general contractors. The 127-year-old firm specializes in transportation, industrial and building work and is known for its commitment to quality and innovative approach to construction services. Sundt has 11 offices throughout California, Arizona, Texas and Utah and is 100 percent owned by its approximately 2,200 employees. The company is consistently ranked among the Best Places to Work by business publications in multiple cities and in 2016 it was named the nation's safest construction company by the Associated General Contractors of America for the second time in a decade – an honor no other contractor can claim. Sundt's charitable arm, the Sundt Foundation, recently crossed the $7.9 million mark in grants made to hundreds of nonprofit organizations across the country.
###