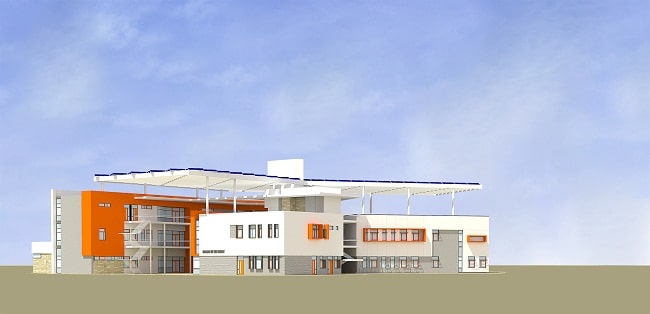 Sundt is playing an instrumental role in the creation of a brand new West Valley campus for the College of the Desert (COD) in Palm Springs, Calif. The district's main campus in Palm Desert serves more than 10,000 students.
The community college construction project is exciting not only because it will expand the college's ability to educate a wide range of students. It's also planned as a model for sustainability, since the site is striving to be substantially "grid neutral," meaning that 100 percent of its electrical power requirements will be generated on site through solar equipment. When complete, the project is anticipated to earn LEED Platinum certification.
The project includes over 50,000 square feet of classroom and lab space that will be provided through two new three-story buildings, a single-story Desert Energy Enterprise Center (DEEC), and a new 5,900- square-foot central utility plant. Full site development, all associated utility work and a new culinary center are also included in the scope of work.
The two classroom buildings, which will be connected by steel bridges, include classrooms, computer and environmental design laboratories, a theater demonstration lecture hall, an instructional bakery/kitchen, conference rooms, faculty and student lounges, a community room, and faculty and administrative offices. The DEEC building consists of tool and machinery teaching space and a storage facility. 
The project, which will be delivered using the CM Multiple Prime approach, is currently in the preconstruction phase. Construction is anticipated to begin this fall and is expected to be complete by summer 2015.