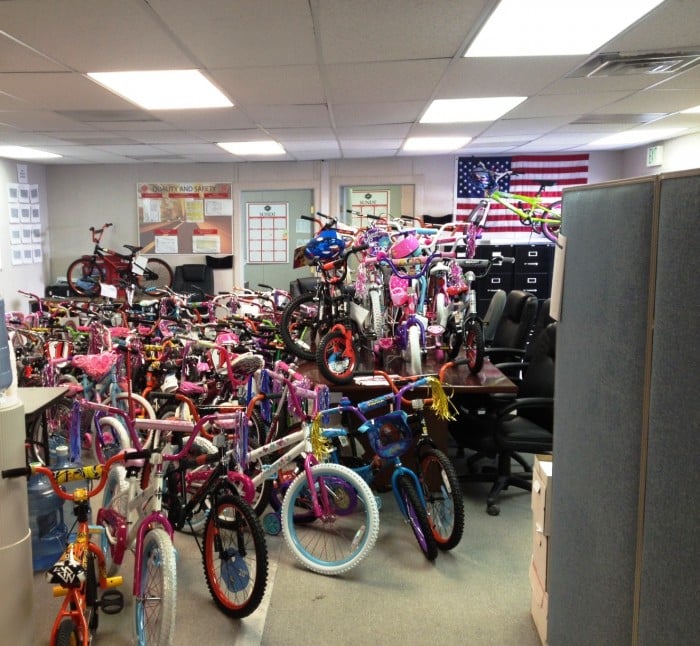 When you're a kid, there's nothing like getting a new bike – especially when it's been left under the tree by Santa Claus.  Seventy-five children in El Paso, Texas, had the thrilling experience of discovering a brand new set of wheels on Christmas morning as a result of a bicycle collection drive led by Sundt for Operation Santa Claus. Operation Santa Claus is a nonprofit organization that has been serving Fort Bliss and El Paso since 1957. Its mission is to provide every needy child in the area with a new Christmas toy.
The bikes were purchased and donated to the organization by Sundt employees working on a $43 million heavy civil construction project at Fort Bliss Army Post, plus several vendors and subcontractors associated with the project. Sundt is performing extensive infrastructure and site development work for the future William Beaumont Army Medical Center at Fort Bliss, which will provide state-of-the-art medical care to our men and women in uniform.
Operation Santa Claus also received a $1,000 grant from the Sundt Foundation, which was used to purchase more bikes in addition to the ones that were donated by Sundt employees. The Sundt Foundation was established in 1999 by Sundt Construction, Inc., as a way for its employee-owners to give back to the communities in which they work. In addition to sponsoring volunteer activities, the Foundation distributes grants every quarter. The money to fund those grants is raised primarily through contributions from Sundt employees, which are then matched dollar-for-dollar by the company.
Since its inception the Foundation has made grants totaling more than $5 million to hundreds of worthy organizations. Most grants are awarded in communities where Sundt has an established office or major project underway. Employees can also direct their donations to charitable organizations that benefit members of the military and their families.