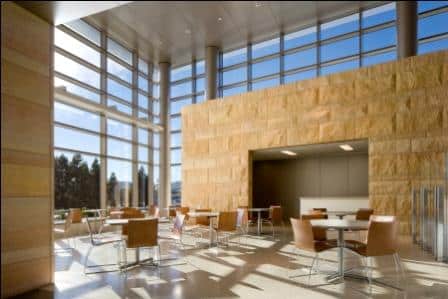 The recently completed Richard E. Arnason Justice Center is a testament to the benefits of alternative project delivery methods, particularly when it comes to building complex projects. The $42 million courthouse facility included a number of challenges that Sundt was able to navigate successfully, thanks to the flexibility and innovation inherent in the Construction Manager at Risk (CM at Risk) approach. The three-story, 73,500-square-foot facility includes seven courtrooms, judges' chambers, administrative space, a library, conference rooms, and in-custody detention areas. The project is located in the City of Pittsburg, Calif., roughly halfway between San Francisco and Sacramento.
"The project's original estimate was quite a bit higher than the budget, but Sundt working collaboratively with the architect was able to save the owner several million dollars through the preconstruction process, which could only happen with an approach like CM at Risk or Design-Build," said Sundt Project Director Steve Humphreys. "Our team made every effort to avoid change orders and we were able to incorporate all of the foreseeable issues into the guaranteed maximum price."
The new Richard E. Arnason Justice Center and the older facility it replaced are located right next door to one another. During the preconstruction process, Sundt learned that the users of the old facility were concerned about construction noise interrupting their court proceedings, so the team responded with an innovative solution.
"We erected a temporary sound wall between the old building and our site, which worked very well," Humphreys explained. "If we had not learned about their concern during the meeting with the user groups, we would have had a big problem. That's exactly what would have happened if this had been a traditional design bid build project."
Courthouse projects are notoriously difficult to build because they usually include many high-end interior finishes, state-of-the art security systems, access control technology and video surveillance systems, complex audio-visual systems – all of which have to be coordinated with each other and with the mechanical and electrical systems. Sundt was able to manage the project's complexities and avoid delays by using a digital records system to keep track of project documents electronically.
"There was so much information to manage. If we didn't have the digital records system, I don't know how we would have done it," Humphreys concluded. "Traditionally, changes and updates are posted to the design drawings by hand, so you would have to look in several places to find the most current information, which could be very time-consuming. But the digital records system allowed us to centralize all of the information and helped us stay on schedule."
Sundt is no stranger to courthouse projects. Here's a look at some of the projects it has been awarded and is currently constructing.
Kings County Courthouse, Hanford, Calif. for the Superior Court of California, County of Kings, by the Administrative Office of the Courts (AOC). Located in the Central Valley, the $100 million courthouse is the largest courthouse project Sundt has been awarded by the AOC to date. Set to launch construction in March 2013, the proposed new courthouse will replace and consolidate five existing facilities. The 144,460-square-foot courthouse will include 12 courtrooms; support space for court administration and public services; a self-help center; improved jury assembly accommodations; as well as building support space.
Mammoth Lakes Courthouse, Mammoth Lakes, Calif. Commissioned by the Administrative Office of the Courts, Sundt is building the $21.5 million facility, located on a 1.8-acre parcel at the intersection of Highway 203 (Main Street) and Sierra Park Road in Mammoth Lakes, an area planned to be a new government center. The new courthouse, whose planning and design were four years in the making, will measure 20,000 square feet and feature two courtrooms. Completion is anticipated for summer 2011.
John M. Roll United States Federal Courthouse, Yuma, Ariz. The $25 million federal construction project will be located on a 2.3-acre lot with secure detention areas, administrative offices and courtroom spaces. The design offers a contemporary take on the traditional American courthouse, featuring a mix sustainable of features such as photovoltaic panels and a living wall. The 57,000-square-foot courthouse is named after U.S. District Judge John Roll, one of six people killed in the January 2011 shooting in Tucson in which Rep. Gabrielle Giffords (D-Tucson) and 12 others were wounded. Completion is anticipated for March 2013.