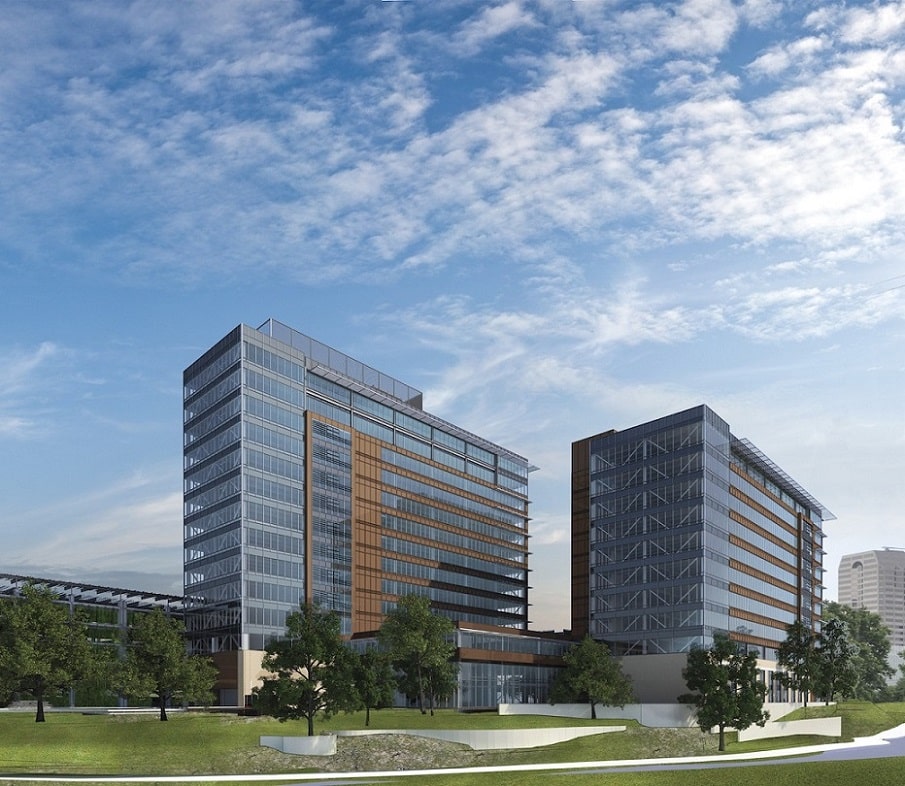 There's more than one way to skin a building. In the case of CPS Energy's Headquarters in San Antonio, Sundt is taking the safest approach.
Our work involves removing the exteriors of two buildings, one 11 stories and the other 14. The 1979 brick structures cover about 460,000 square feet and are located adjacent to the iconic San Antonio River Walk. CPS is the nation's largest municipally owned energy company.
"This is a high-traffic pedestrian and riverboat area that begins the southern portion of the Riverwalk known as the Museum Reach. It's the location of many of San Antonio's popular museums, which are just north of our site," said Regional Director Todd Calder.
The River Walk is the city's biggest attraction. An estimated 11.5 million visitors visit the maze of restaurants, shops and attractions each year, creating an annual economic impact of $3 billion, according to a San Antonio Center City Development and Convention & Visitors Bureau study.
With safety as our top priority, we will be using a contained scaffold system to CPS; it will function as a cocoon-like barrier to ensure that debris doesn't escape the jobsite or have adverse effects on the River Walk or downtown neighbors.
Completing projects safely, without sacrificing quality or efficiency, is part of our culture. Our Safety by Choice program and two AGC Grand Awards are proof.
"This solution, coupled with our safety culture and commitment, was a huge factor in CPS selecting Sundt," Todd said.
Our Transportation Group's efforts on another San Antonio project, the nearby San Pedro Creek, was another factor in securing the CPS work. We are working closely with the San Antonio River Authority (SARA) on both projects, as SARA governs the primary rivers and creeks in Bexar County.
"The ongoing success of San Pedro Creek showed CPS that our team was capable of being a great partner in working with a large group to positively portray the project and to assist in informing the public of the upcoming and ongoing changes," Todd said.