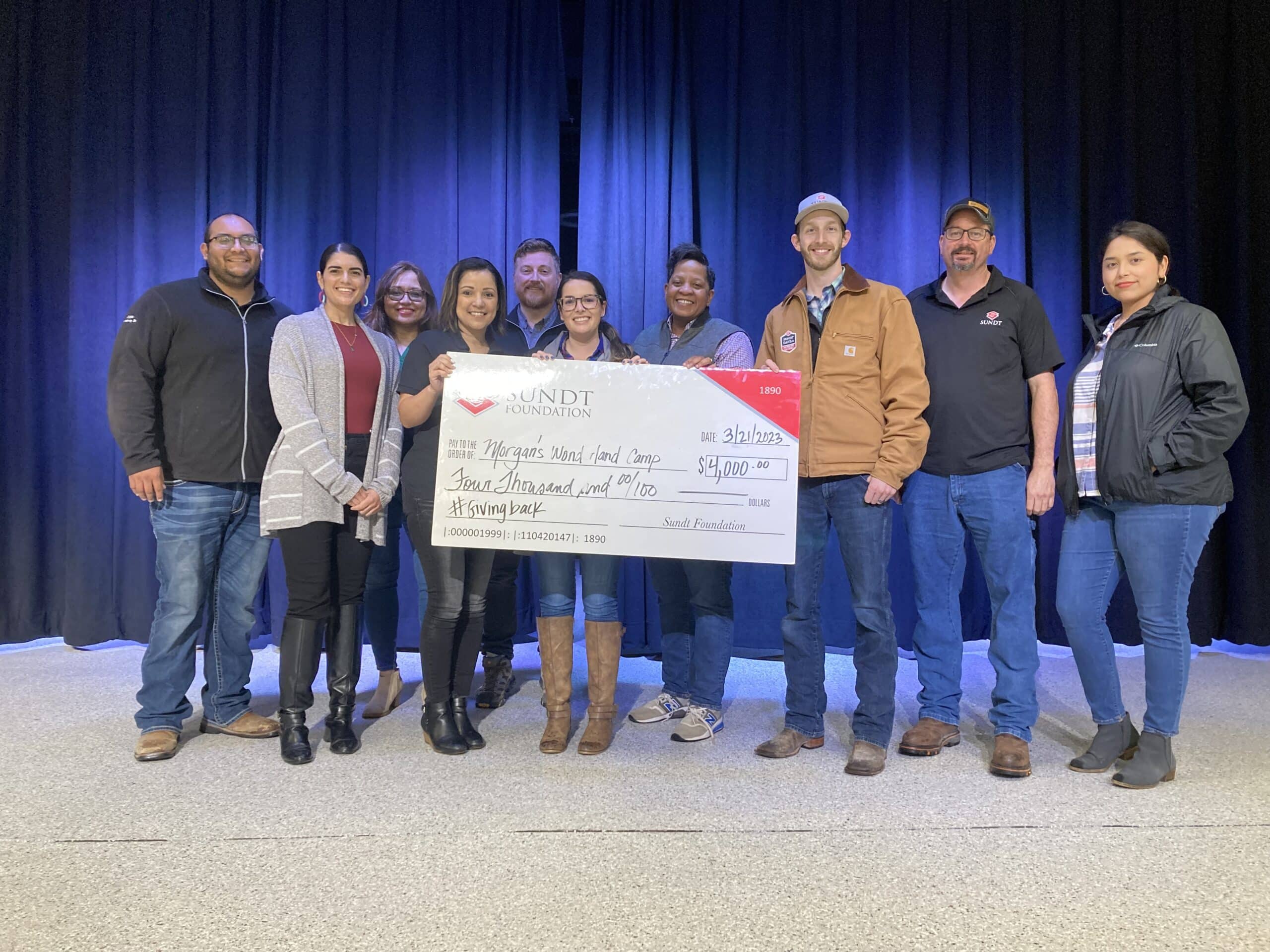 Funds will be used for disadvantaged children and adults in the community.
San Antonio, Texas (April 11, 2023) – The Sundt Foundation recently awarded $20,000 in grants to five Central Texas charities.
"We are amazed by the extraordinary work that these nonprofits are doing," said Chad Yount, the Sundt Foundation's Central Texas board member. "We are happy to make a contribution to their noble causes."
Texas Alliance for Minorities in Engineering (TAME) received a $4,000 grant to create inclusive solutions that reflect and celebrate diversity. The organization creates equitable experiences for students from underrepresented groups to explore futures in engineering by fostering their sense of belonging and equipping them with knowledge, skills, and intergenerational support through statewide programming at no cost to students.
Chosen Care was awarded $3,000 to help children heal from trauma by strengthening foster, kinship, adoptive, and reunified families. Chosen's clinical offerings, model of care, and training are proven methods for preventing foster and kinship disruptions as well as adoption dissolution.
South Alamo Regional Alliance for the Homeless (SARAH) collaborates with, listens to, and collects data from the housing and homeless community to ensure everyone has a place to call home. It received $4,000 to support its work of ensuring everyone has a place to call home in San Antonio and Bexar County.
The Sundt Foundation awarded $5,000 to San Antonio Food Bank to fight hunger in Southwest Texas through food distribution, programs, education, and advocacy. The San Antonio Food Bank believes no child should go to bed hungry, adults should not have to choose between a hot meal and utilities, nor should a senior sacrifice medical care for the sake of a meal.
Morgan's Wonderland is an accessibility-focused theme park in San Antonio, Texas founded in 2010. Unfortunately, countless children and adults with special needs do not have access to theme parks and other outdoor recreation facilities. Morgan's Wonderland caters to everyone including people with special needs and was awarded $4,000 to support their cause.
The Sundt Foundation awards quarterly grants to local Central Texas charities that support disadvantaged children and adults. Nonprofits are selected through an application and review process led by a committee of local Sundt employee-owners.
About the Sundt Foundation
Sundt's purpose is to build environments where its clients, employee-owners and communities prosper. The Sundt Foundation was established in 1999 as a way for employee-owners to give back to the communities in which they live and work. The organization is funded primarily by contributions from Sundt employees, which are matched by the company. To date, the Foundation has awarded more than $12 million in donations. Nonprofit organizations interested in applying for a grant may call (480) 293-3000 or visit www.sundtfoundation.org for more information. Sundt has offices in Tempe and Tucson, Arizona; Salt Lake City, Utah; Charlotte, N.C., San Antonio, Dallas and El Paso, Texas; Sacramento, San Diego and Irvine, California; and Vancouver, Washington.
About Sundt
Sundt Construction, Inc. (www.sundt.com) is one of the country's largest and most respected general contractors. The 133-year-old firm specializes in transportation, industrial, building, concrete and renewable energy work and is owned entirely by its approximately 2,000 employees. Sundt is distinguished by its diverse capabilities and experience, unique employee-ownership culture, and depth of self-perform expertise in nine major trades. Much of Sundt's workforce is comprised of skilled craft professionals who, together with the company's administrative employees, enable Sundt to fulfill its mission to be the most skilled builder in America. Sundt has 12 offices throughout Arizona, California, North Carolina, Portland metro, Texas and Utah and is currently ranked the country's 61st largest construction company by ENR, the industry's principal trade magazine.
Media Contact:
Stefanie Teller
Sundt Construction, Inc.
520.750.4611 (office)
media@sundt.com