Joseph Riccillo, Sundt Vice President and Regional Director for the El Paso Building Group, has a personal connection with the University of Texas at El Paso (UTEP); not only did he receive his undergraduate and master's degrees from the university, but both his parents worked at UTEP and he played football on an athletic scholarship. Now, as a Sundt employee-owner, Joseph has the opportunity to extend his relationship with UTEP and continue investing in the people of El Paso as an educator. With one active project, and one recently awarded project on campus, Joseph's master's level course allows students to become familiar with the ins and outs of the construction process, all while gaining hands-on experience.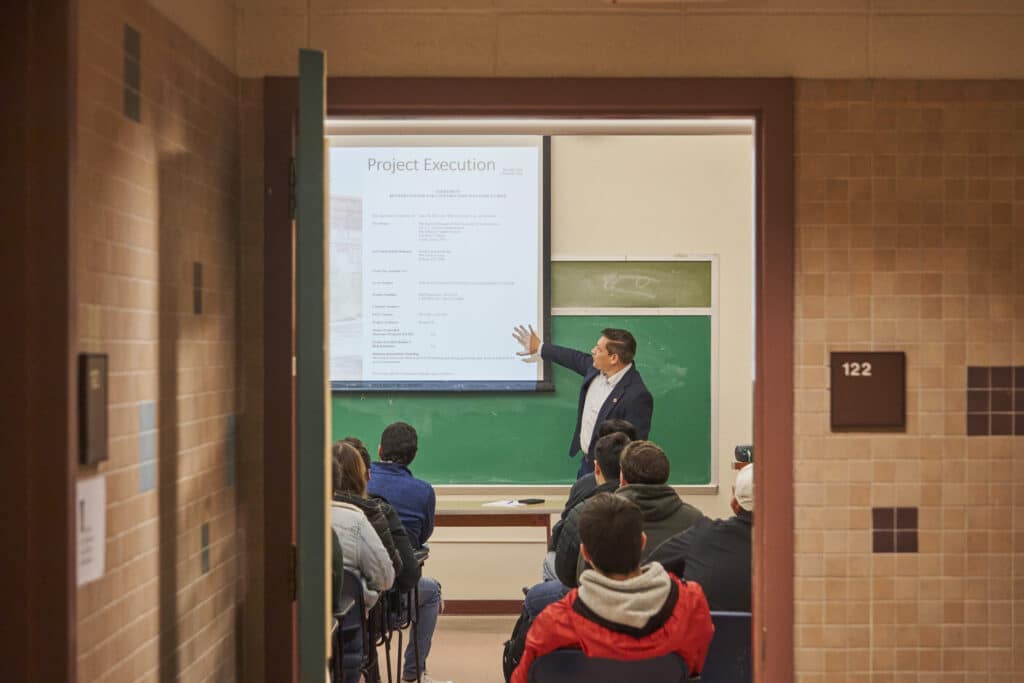 How was Sundt's partnership with UTEP initiated?
Our partnership with UTEP began with Sundt's internship program; our project sites have taken on some fantastic interns from the university's Construction Management program, many of whom work for us now, but we had the desire to do more for the students. When Sundt was awarded the Advanced Manufacturing and Aerospace Center (AMAC) on UTEP's campus, the opportunity became clear: students could not only get classroom instruction, but they could be hands-on in the field, contributing to an active project. Just recently, Sundt was awarded a new project on campus, the Advanced Teaching and Learning Complex (ATLC), which will extend our opportunity to educate students.
"It was important to Sundt to demonstrate to students that they could have a tangible impact on their community by working on the AMAC project through their participation in the master's class." —Joseph Riccillo, Sundt Vice President and Regional Director, Building, El Paso
What did the first semester's curriculum include?
We're trying to get students to understand what the construction process looks like—both inside and outside the office. Each semester will look slightly different because the class mirrors the progress of our work on the AMAC—this means students can potentially take the class numerous times and continue learning new skills. In the first semester, we took students step-by-step through preconstruction in a construction manager at risk process. Other Sundt employee-owners came to El Paso as guest lecturers. From legal to safety and human resources, students had access to many Sundt experts. For spring semester, our class sized has doubled, so we're excited to see that students have an interest in what we're offering.
Why is it crucial that Sundt develops partnerships like this within higher education?
Even in 2023, there are preconceived notions about what a career in our industry looks like. With partnerships such as Sundt's with UTEP, students are placed right on our "playground," so to speak. It's tangible and students discover that there's various avenues a career in construction can provide for them. It also creates a huge advantage for Sundt because we're able to further our mission, purpose and core values. We show students that we're a great company to work for, and hopefully, recruit them after they graduate.
What's on the minds of construction students today?
Students are very engaged in AI, and they love seeing our drones in action. In last semester's course surveys, students expressed that they wanted to see more of the software packages and the technology that Sundt uses in construction. They're engaged in that because it's familiar to them, which is good. That's how you change an industry; that's how you improve it from one generation to the next.
"Students are engaged in construction technology because it's familiar to them, which is good. That's how you change an industry; that's how you improve it from one generation to the next."—Joseph Riccillo, Sundt Vice President and Regional Director, Building, El Paso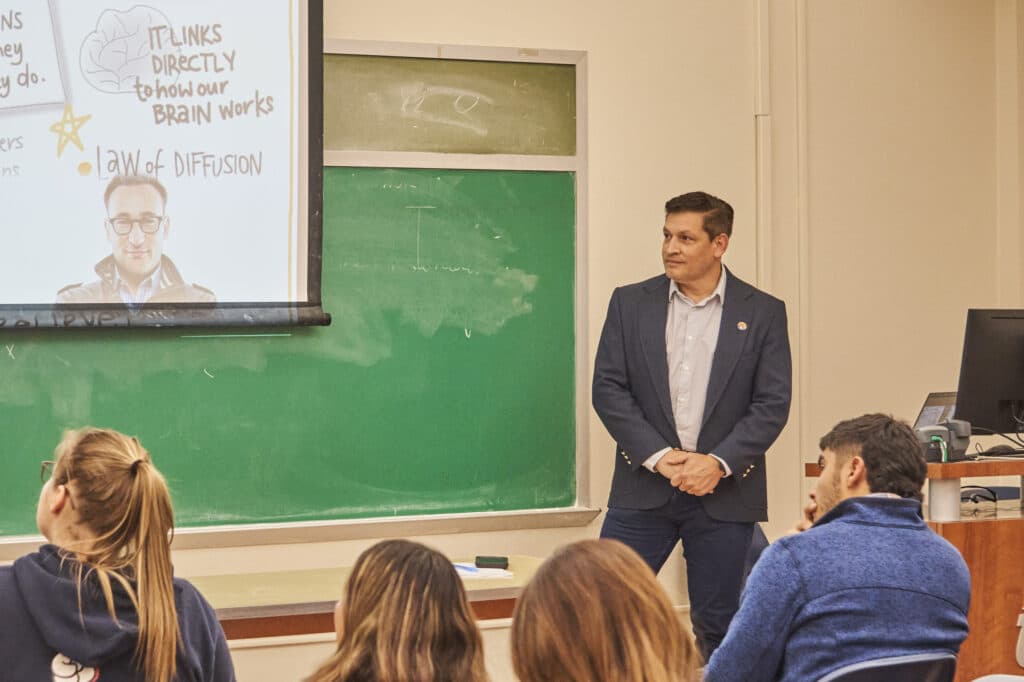 How can we continue to engage the next generation in our industry?
Programs should focus on educating students at younger ages, high school and, even, middle school students. By the time students go to college, a majority have selected a degree program and they bring preconceptions about what an industry looks like, making them less likely to start something completely new. If students are aware of the potential prosperity that a career in construction could offer them at a young age, there will be less of a barrier, and more opportunities for diversifying the industry.
What advice do you have for students pursuing construction-related degrees?
The greatest advice I have is to "be the sponge"—learn everything you possibly can and give things a chance. We often assume that we're going to be good at a new skill right away, but it's not true. The more you work at something, the better you become, and the result is an enjoyable career. The construction industry comes with challenges, but so many rewards—you just have to be willing to be a perpetual student.
El Paso Newsletter Sign-up
Subscribe to our quarterly email newsletter to receive the latest news and updates about Sundt's activities in the El Paso area.