After finishing lecture halls and high-tech labs for the Ernest E. Tschannen Science Complex, Sundt's team at California State University, Sacramento was tasked with constructing six four-story buildings hosting 284 apartments. Now on track to finish in time for the fall semester, it's clear that Sundt's team at Sac State has stepped up to the plate.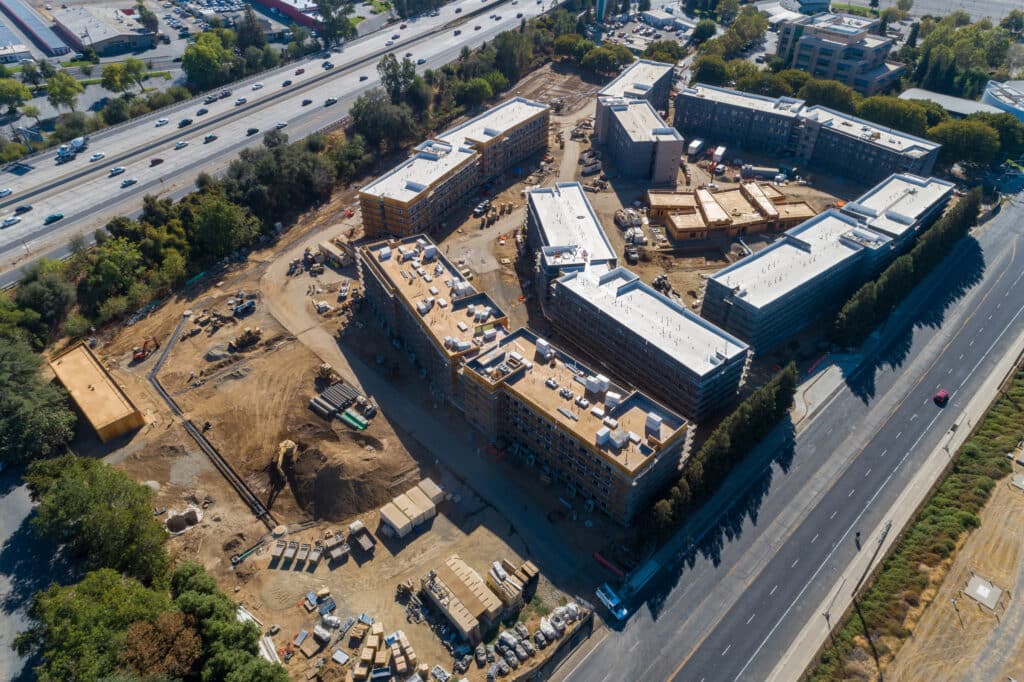 Previously home to the Dan McAuliffe Memorial Ballparks, the 11.5-acre site was part of a land swap and public-private partnership (P3) between the university, the city of Sacramento and Greystar Real Estate Partners. The finished project will add 1,100 beds and boost on-campus housing by 33% in time for students' return in August. According to Sr. Project Manager Sean Falvey, Hornet Commons will be a high-quality product that upper-division and graduate students will be proud to call home.
At Sac State, the Learning Process Never Ends
"The key with a project like this is getting past that initial learning curve," said Sean. "For any inefficiencies you run into on building 1, you adapt quickly so you don't repeat them on buildings 2 through 6." This curve gets much steeper, though, when the margin for error is slim.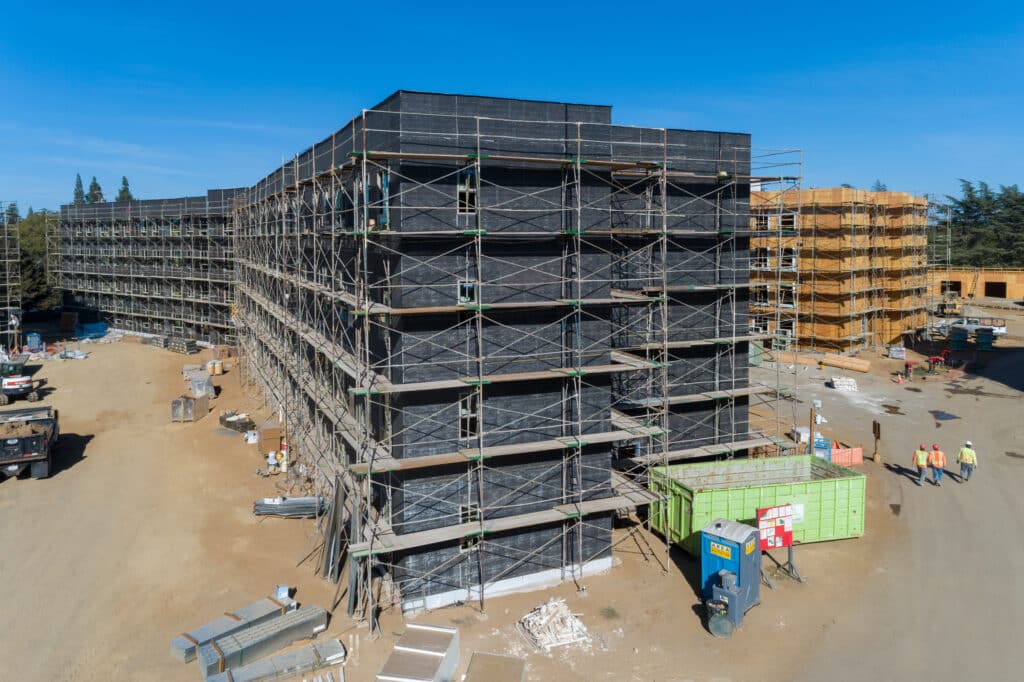 According to Sean, "This team has been asked to do a lot. They've taken changes and new responsibilities in stride—it's just part of our culture on this job. Each time the project has shifted gears, or a new need has come up, someone has stepped up to take on that responsibility." Using every resource at their disposal, the team has made massive improvements to their quality process and overall understanding of assemblies.
I Get By with a Little Help from My Friends—and New Software
If project planning is macro-planning, then production planning is micro-planning. Think of it this way: the design of these buildings themselves is not highly complex, but there are so many individual tasks, materials, tools, equipment, and people to manage, and only so many hours in a day. Tools like PlanGrid and Touchplan software have enabled Sean and his team to keep everyone on the same page when it comes to quality and schedule.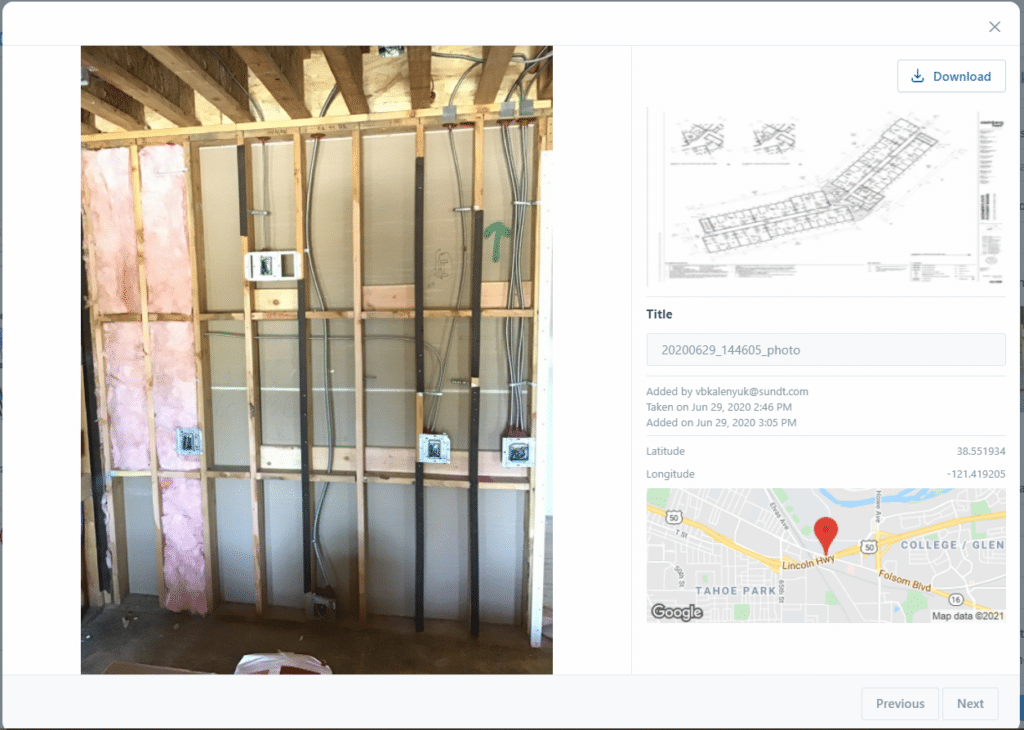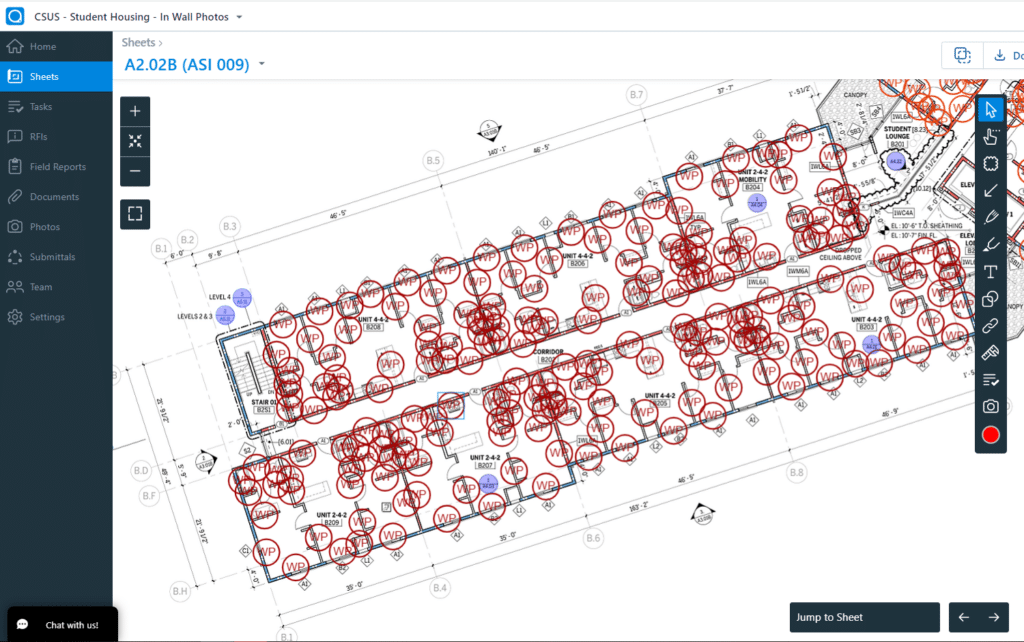 With PlanGrid, the team has built up a bank of MERC and SOQ "Smart Forms" to track quality data and images from across the jobsite and store them in one place. When a flooring issue surfaced early in the job, the team leveraged the software to document temperatures, moisture levels and pH counts in each unit to eliminate these environmental factors from the discussion. Another use has been "in-wall" photos: a map-based photo library that shows where MEP are roughed in for every room. So, if an electrical issue arises after a room is finished, an electrician doesn't need to rip out loads of drywall to find it and fix it.
A common struggle on projects this size is the transition between trades and planning adequate manpower. Using Touchplan for scheduling, our team has replaced massive, complex spreadsheets and now has a more user-friendly dashboard. The real difference-maker? Subs use the tool as well to set their own milestones for weekly work plans. "This way, we have both field superintendents and subcontractors not just communicating, but thinking analytically and planning ahead together," said Sean.
As GCs go, Sundt is very involved with technology, including Touchplan which is a great tool. Everyone has the same visual for pull-planning, and it's a live document. You're able to see what the predecessor trade is doing, so you can make adjustments rather than waiting for an update. It helps us as a subcontractor for longer-term planning as well because, depending on how far out the GC wants to plan, we can schedule alongside them and make sure our manpower matches that need.

– Gus Beas, General Foreman for Berg Electric
The Hornet Commons Team has leveraged a lot of technology, which has helped all stakeholders work and communicate more efficiently. It's also complemented Sundt's expanded quality control efforts, which have been significant. According to Sean, this is huge—but it all comes back to our team's willingness to learn new things and take on new responsibilities. "With the work this team has put in and the checks and balances we have in place, I can go to sleep at night knowing these scopes are getting done right the first time. Over a thousand college students are going to call this place their home. That's a responsibility we don't take lightly."