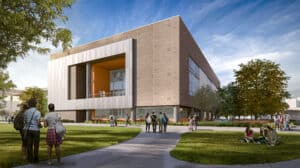 HUNTINGTON BEACH, Calif. (June 8, 2021) – Sundt Construction, Inc., recently started work on the new language arts complex for Golden West College near the main entrance of its Huntington Beach campus.
"We are excited to continue working on the Golden West campus," said John Messick, Sundt's Project Director for its California District Building Group. "Building infrastructure to support remote, in-person or hybrid learning is critical to the success of today's students."
The three-story, 72,251-square-foot building includes new classrooms and a spacious reading, writing and resource center. The project also will add gathering, office and support spaces customized to the growing needs of the school's language arts programs.  Sundt is currently overseeing the demolition of the existing health sciences and humanities buildings to make way for the new complex.  The project will reduce energy consumption on campus by utilizing natural daylighting, modern LED fixtures, cutting-edge HVAC design components and native landscaping.
HMC, the project architect, designed the complex as two separate wings conjoined by a second-floor and third-floor internal bridge. Three landscape zones are tied together with a series of banded concrete paths that weave their way throughout the complex to represent the six language arts skills.
"Guided by the principle of 'connection,' we designed the building to not only connect with the campus aesthetic but also to provide opportunities for students to connect with campus touchpoints and classmates," said HMC Design Principal Brett Leavitt.
The language arts complex will be Sundt's third project on the Golden West campus and the fourth project for its district Coast Community Colleges. In 2018, Sundt teamed again with HMC Architects to build Golden West's mathematics and science building, located southwest of the current project's location.
Sundt has over 70 years of diverse project work throughout California and is a known leader in higher ed construction with a portfolio of more than 200 college and university projects throughout the state. The company has built a reputation as a sustainable, collaborative builder, especially in community college construction. It has offices in Orange County, San Diego and Sacramento.
About Sundt
Sundt Construction, Inc. (www.sundt.com) is one of the country's largest and most respected general contractors. The 130-year-old firm specializes in transportation, industrial, building, concrete and renewable power work and is owned entirely by its 2,000-plus employees. Sundt is distinguished by its diverse capabilities and experience, unique employee-ownership culture and depth of self-perform expertise in nine major trades. Half of Sundt's workforce is comprised of skilled craft professionals who, together with the company's administrative employees, enable Sundt to fulfill its mission to be the most skilled builder in America. Sundt has 11 offices throughout California, Arizona, Texas and Utah and is currently ranked the country's 58th largest construction company by ENR, the industry's principal trade magazine.
About HMC
Founded in 1940 with the purpose of anticipating community needs, HMC Architects aims to create designs that have a positive impact, now and into the future. We focus primarily on opportunities to have the most direct contribution to communities—through healthcare, education, and civic spaces. HMC has 290 employees and six offices throughout the state of California. To learn more, visit hmcarchitects.com.
###
Media Contact:
Kimberley Hoidal
Sundt Construction, Inc.
480.293.3001 (office)
520.282.3018 (mobile)
kahoidal@sundt.com