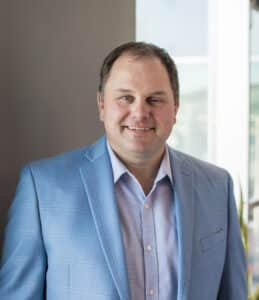 PHOENIX (June 7, 2021) – Sundt Construction, Inc., recently added David Rieken as a project executive to its Industrial Group. Rieken will focus on the growth of Sundt's water and manufacturing markets in Florida and the surrounding region in his new role.
"David brings an impressive set of skills and expertise to his position along with a focus on providing clients and partners with effective solutions and project execution," said Shad Bowman, Vice President, Business Development Manager for Sundt's Industrial Group. "His experience on several large water and wastewater projects along with his experience in the renewable energy market, is a great addition to support the continued growth of our industrial markets and our Sundt Renewables group."
Rieken brings 25 years of experience in construction and engineering in large water and wastewater resource and infrastructure facilities nationwide and experience in utility-scale renewable energy projects in the Southeast. He has successfully delivered these projects using collaborative delivery methods like design-build, construction manager at risk, and engineer-procurement-construct.
"I am excited to take on this role for Sundt in Florida and the Southeast," said Rieken. "Sundt is a nationally recognized leader in delivering reliable water/wastewater facilities and critical infrastructure projects that our communities rely on daily. I look forward to introducing Sundt's capabilities to new clients and partners in the Southeast and building upon our existing reputation here locally."
Rieken is a certified design-build professional and received his Envision-SP certification from the Institute for Sustainable Infrastructure and is a licensed professional engineer in Washington state.   He earned his bachelor's degree in civil engineering from the University of Washington in Seattle
As an industrial construction expert for over 100 years, Sundt has raised the bar on scheduling, safety and efficiency as well as innovations to reduce natural resource consumption, minimize environmental impact and improve our overall quality of life. A recognized leader in critical infrastructure, the firm is ranked nationally by Engineering News-Record, the industry's leading publication.
About Sundt
Sundt Construction, Inc. (www.sundt.com) is one of the country's largest and most respected general contractors. The 131-year-old firm specializes in transportation, industrial, building, concrete and renewable energy work and is owned entirely by its approximately 2,000-plus employees. Sundt is distinguished by its diverse capabilities and experience, unique employee-ownership culture and depth of self-perform expertise in nine major trades. Much of Sundt's workforce is comprised of skilled craft professionals who, together with the company's administrative employees, enable Sundt to fulfill its mission to be the most skilled builder in America. Sundt has 11 offices throughout California, Arizona, North Carolina, Utah and Texas and is currently ranked the country's 58th largest construction company by ENR, the industry's principal trade magazine.
###
Media Contact:
Kimberley Hoidal
Sundt Construction, Inc.
480.293.3001 (office)
520.282.3018 (mobile)
kahoidal@sundt.com