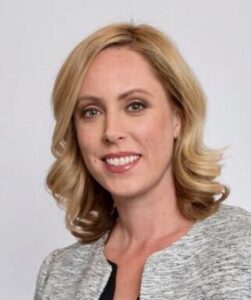 SAN DIEGO (June 3, 2021) – Regina VanderWerff has joined Sundt Construction, Inc., as a business development representative in its Southern California office. She will provide support to the district's leadership with client engagement and community relations.
"We are excited to have Regina join our Southern California team," said Ryan Nessen, Sundt's Senior Vice President and California District Manager for the Building Group. "She brings important skills and relationships to our group, and I look forward to seeing the positive impact she will have."
VanderWerff brings extensive market knowledge from her seven years of business development experience throughout the Southern California region. Her sector experiences include hospitality, senior housing, K-12 education, higher education, science and technology, office, civic, aviation and affordable housing.
She has cultivated strong industry relationships by participating in many organizations, including Urban Land Institute, Commercial Real Estate Women and the National Association of Office and Industrial Properties.
Sundt has over 70 years of diverse project experience throughout the state of California. The company has offices in San Diego, Irvine and Sacramento. The company recently broke ground on a student housing complex at CSU Fullerton and a language arts complex at Golden West College in Huntington Beach, Calif.
About Sundt
Sundt Construction, Inc. (www.sundt.com) is one of the country's largest and most respected general contractors. The 131-year-old firm specializes in transportation, industrial, building, concrete and renewable power work and is owned entirely by its approximately 2,000-plus employees. Sundt is distinguished by its diverse capabilities and experience, unique employee-ownership culture and depth of self-perform expertise in nine major trades. Half of Sundt's workforce is comprised of skilled craft professionals who, together with the company's administrative employees, enable Sundt to fulfill its mission to be the most skilled builder in America. Sundt has 10 offices throughout California, Arizona, Texas and Utah and is currently ranked the country's 58th largest construction company by ENR, the industry's principal trade magazine.
###
Media Contact:
Kimberley Hoidal
Sundt Construction, Inc.
480.293.3001 (office)
520.282.3018 (mobile)
kahoidal@sundt.com