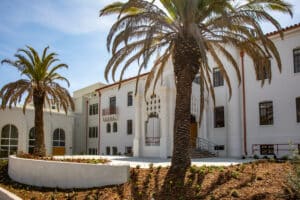 NOVATO, Calif. (April 12, 2021) – Sundt Construction, Inc., recently completed the historic renovation on Elegance Hamilton Hill, a senior living community in southwest Novato, Calif. The property is situated on the former site of the Hamilton Army Airfield used during World War II.
"We are excited to complete this historic project," said Jim Larrieu, Vice President and Northern California Regional Director for Sundt's Building Group. "Our team was able to use their vast senior living knowledge to help the owner fulfill its vision for the property."
The assisted living and memory care residential community's architectural integrity was preserved and rehabilitated during construction. Admired for its Spanish-inspired architecture, the four-story hospital sits on a nearly four-acre site in the Hamilton neighborhood.
The $27 million project features 48 assisted-living rooms and 32 memory care rooms. The facility has a total floor area of 71,702 square feet, inclusive of a new addition of 56,533 square feet.  The new property will open for residents later this Spring.
Partners Elegance Living, Capital Health Group and Bay-Area-based Avesta Development Group worked with local Novato officials to modernize the community landmark. The architect on the project is LPAS.
Sundt has over 70 years of project work throughout California and has worked extensively with senior living partners to build a contemporary residence reflective of today's retirees.  Much of the company's work has helped create safe, healthy communities creating peace of mind for residents and staff. One of many such examples is its work at Carlton Plaza of Davis, where Sundt championed the "Hambro" system as a cost-effective, fire-rated structural floor option. Working side-by-side with the City of Davis and the structural engineer, Sundt, successfully implemented the system.
About Sundt
Sundt Construction, Inc. (www.sundt.com) is one of the country's largest and most respected general contractors. The 131-year-old firm specializes in transportation, industrial, building, concrete and renewable power work and is owned entirely by its approximately 2,000-plus employees. Sundt is distinguished by its diverse capabilities and experience, unique employee-ownership culture and depth of self-perform expertise in nine major trades. Much of Sundt's workforce is comprised of skilled craft professionals who, together with the company's administrative employees, enable Sundt to fulfill its mission to be the most skilled builder in America. Sundt has 11 offices throughout California, Arizona, Texas and Utah and is currently ranked the country's 52nd largest construction company by ENR, the industry's principal trade magazine.
###
Media Contact:
Kimberley Hoidal
Sundt Construction, Inc.
480.293.3001 (office)
520.282.3018 (mobile)
kahoidal@sundt.com