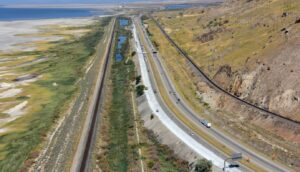 SALT LAKE CITY (January 19, 2021) – Sundt Construction, Inc., earned two awards for its work on the Utah Department of Transportation (UDOT) Interstate 80 (I-80) Westbound highway improvement project. The project was recognized as the Associated General Contractors of America (AGC) Utah Chapter's Highway Project of the Year for projects under $5 million and by the publication Utah Construction and Design as its Highway Project of the Year for projects under $10 million.
"Our team is extremely grateful to receive this recognition from both AGC and Utah Construction and Design," said Jasen Bennie, Intermountain Area Manager. "Our team's execution of this project is a true example of how planning, attention to safety and quality can result in a successful project."
The project has helped improve traffic flow between State Road 201 and State Road 36 in western Salt Lake and eastern Tooele Counties by adding a new exit-only lane on westbound I-80 and an auxiliary lane off-ramp of State Road 201 to the on-ramp of State Road 36.  To reduce environmental impacts, the team crushed more than 3,600 cubic yards of existing concrete and repurposed it to build the new auxiliary lane. The team worked closely with local governments and organizations, including the Daughters of the Utah Pioneers, to move two historical Oregon Trail markers to a new site nearby after they were impacted by the closure of viewing areas along the westbound I-80.
Additionally, Sundt was recently awarded the prestigious Diamond Safety Award by AGC of Utah for the second consecutive year. The award, the highest safety award handed out annually by the AGC of Utah, compares same-sized contractors' total work hours and safety incidents against the national average.
For more than two decades, Sundt has expanded and improved infrastructure in the Beehive State. The company completed the award-winning Redwood Road and I-215 Interchange project. In 2019, Sundt broke ground on the new Water Reclamation Facility for Salt Lake City's Department of Public Utilities located in northern Salt Lake City. The $528 million facility will serve more than 200,000 customers over a 110-square-mile service area.
About Sundt
Sundt Construction, Inc. (www.sundt.com) is one of the country's largest and most respected general contractors. The 130-year-old firm specializes in building, transportation, industrial and concrete work and is owned entirely by its 2,000-plus employees. Sundt is distinguished by its diverse capabilities and experience, unique employee-ownership culture and depth of self-perform expertise in nine major trades. Half of Sundt's workforce is comprised of skilled craft professionals who, together with the company's administrative employees, enable Sundt to fulfill its mission to be the most skilled builder in America. Sundt has 11 offices throughout California, Arizona, Texas and Utah and is currently ranked the country's 54th largest construction company by ENR, the industry's principal trade magazine.
###
Media Contact:
Kimberley Hoidal
Sundt Construction, Inc.
480.293.3001 (office)
520.282.3018 (mobile)
kahoidal@sundt.com