Whether you celebrated New Year's with good cheer or good riddance, 2020 will not be missed. Yet 2021, like any other year, will bring challenges of its own. Across the country, severe weather events continue to trend upward in both intensity and frequency. More flooding and increased development within floodplains have left cities and rural areas alike looking to build, expand or repair their flood control infrastructure.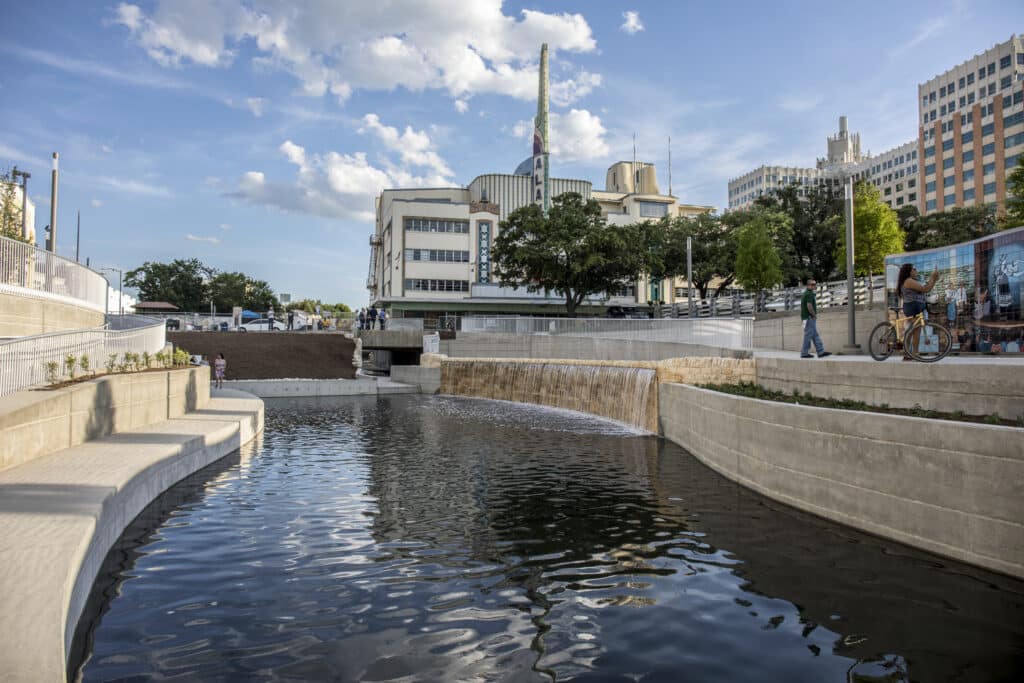 Sundt is familiar with the high-stakes nature of these projects, having earned high marks from clients and industry peers. Since our first dam project in 1910, we've been discovering better ways to plan and build flood control structures, from bank protections to site drainage improvements, to linear parks. These innovations have carried forward into our current work, including the San Pedro Creek Improvements and Seeling Channel Reconstruction in downtown San Antonio, as well as the McMicken Dam Rehabilitation west of Phoenix currently in design. In our experience, successful flood control construction boils down to a few key factors.
We Build at the Speed of Trust
All fast-track projects are inherently difficult and risky. Some push the boundaries of what is considered possible. When a forest fire in New Mexico left a nuclear reactor complex vulnerable to flooding in June of 2000, the U.S. Army Corps of Engineers (USACE) called upon Sundt to build a flood control dam as quickly and safely as possible. To expedite the process, the Corps entered an emergency design-build agreement with Sundt, and we mobilized within 24 hours.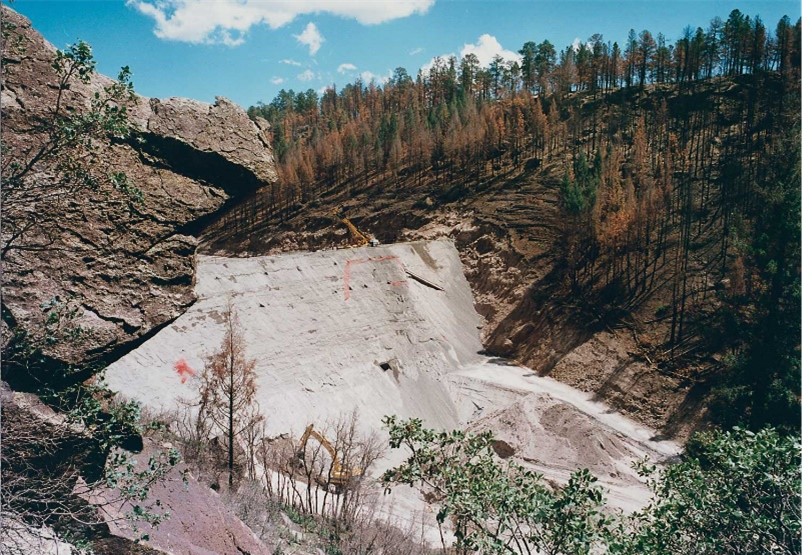 The deadline was tight, but the work was most challenging due to tight security measures and the physical challenges of building a structure at the bottom of a steep canyon. For faster access, the team built a temporary road leading to the canyon edge, where workers accessed the site by rappelling down a steep trail. The $13 million project was designed and completed within 90 days, and it went on to win the prestigious AGC Build America Award.
A Team Mindset Is a Winning Mindset
Building solid relationships with agencies like the National Resource Conservation Service (NRCS), regional flood control districts, and top design firms has allowed Sundt to leverage a network of expertise and perform collaborative, innovative work. One example is the White Tanks Flood Retarding Structure (FRS) rehabilitation in Buckeye, Arizona, winner of the 2018 AGC Marvin M. Black award for excellence in partnering.
The White Tanks FRS was classified as the state's highest-risk flood control structure. During peak floods, large amounts of sediment would clog the canal, holding back vital water from crops and livestock. The existing storage dam, a 6,000-foot-long, 25-foot-high, 472-million-gallon structure, needed to be raised two feet to address subsidence and maintain flood protection.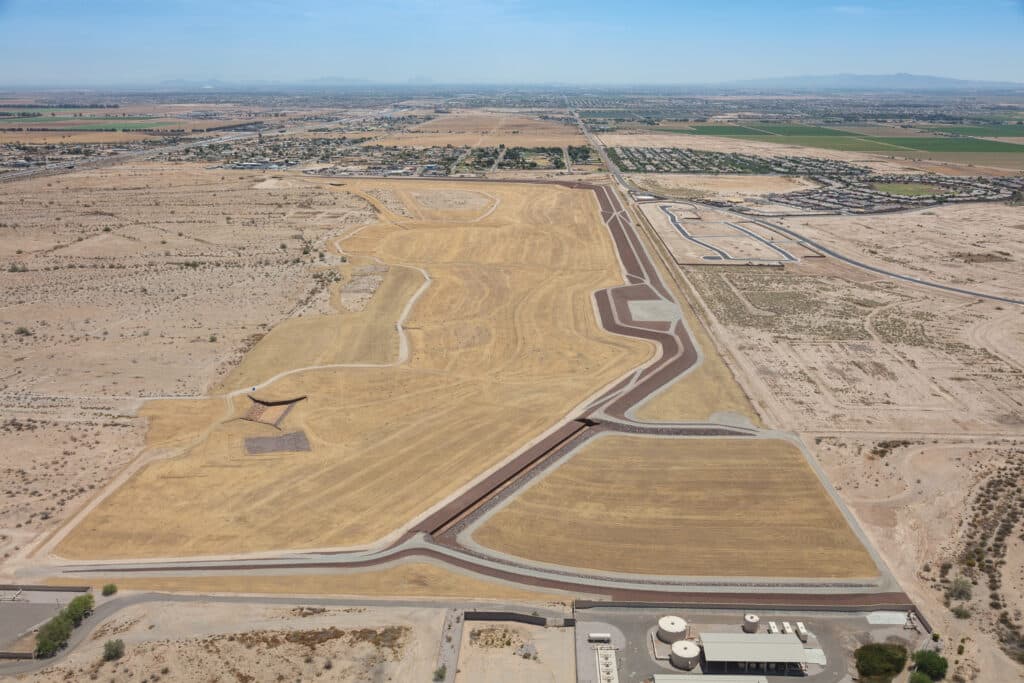 This being one of the client's first construction manager at-risk projects, the flood control district hoped to eliminate change orders brought on by claims due to outside agency inspection as well as impacts to construction progress. By entering the design process early on, Sundt and joint-venture partner Rummel Construction were able to develop work plans and provide constructability comments to the special provisions. The team performed test excavations and substantiated value-engineering ideas that saved the project $1.2 million, as well as allocated risk, which proved essential to maintaining the budget and schedule.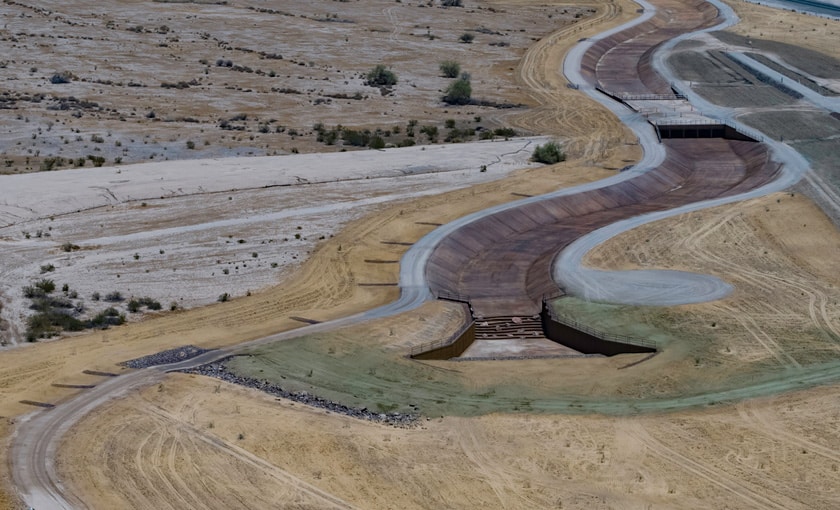 "The quality of the work performed by Sundt was excellent. This all stemmed from their pre-construction involvement—specifically, the development of a detailed work plan that described each construction component. Through the advancement of this plan, both the owner and Sundt were able to exchange ideas, challenges, and opportunities to improve the overall quality of the project, and it paid off."

– Steve Nowaczyk, PE, Managing Principal Engineer of Ninyo & Moore, geotechnical and environmental sciences consulting firm and White Tanks FRS designer
There's No Shortcut for Quality or Safety
Since 2016, Sundt and joint-venture partner Davila Construction have been gradually transforming San Pedro Creek in one of the most innovative and wide-reaching public projects the city of San Antonio has seen in recent history. Running through downtown San Antonio, the creek work has included revitalizing habitats and water quality, replacing bridges and creating a linear park.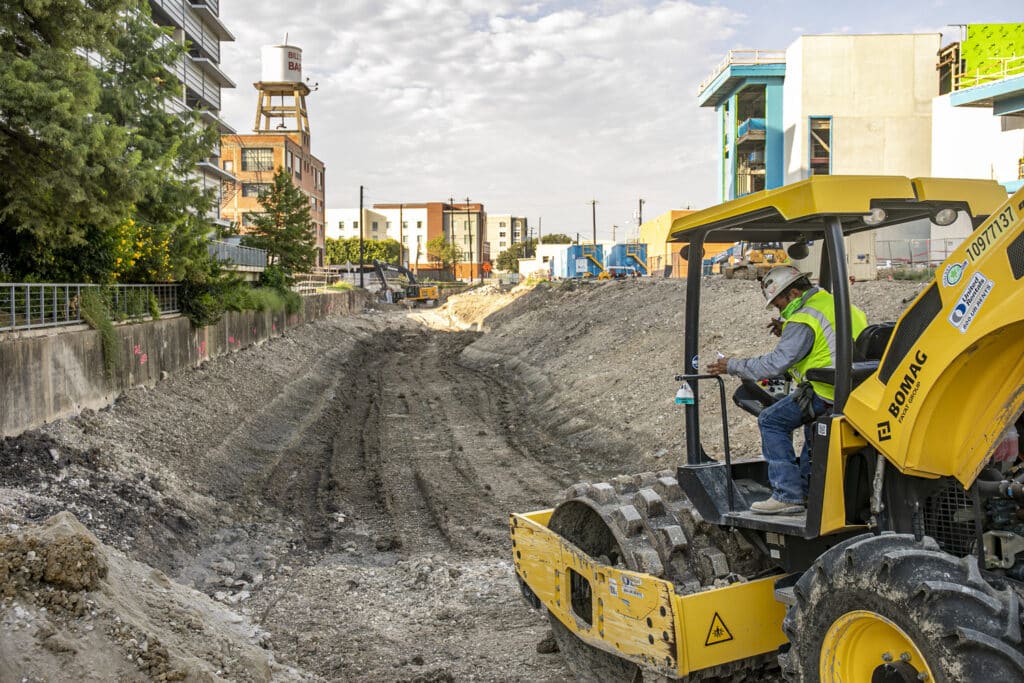 After Phase 1.1 wrapped up just in time to host the tricentennial celebration in 2018, a steady stream of construction progress has flowed through the project's latter phases. There's a lot more to this work than meets the eye when it comes to quality, according to Senior Project Manager Ryan Silbernagel.  "This is not your typical flood control project. We're self-performing all of the excavation, drainage, and concrete structures. But the finishing work here is meticulous; every inch has to look good for the community who will use this space."
Operating in a dense urban area, the project team must coordinate with several stakeholders. "Altogether, we have eight different design partners on this project, and five neighboring contractors building adjacent developments—many of which we're trying to coordinate our completions with for that section of the creek," said Ryan. "We're also surrounded by constant vehicle, bicycle and pedestrian traffic. Communication is key."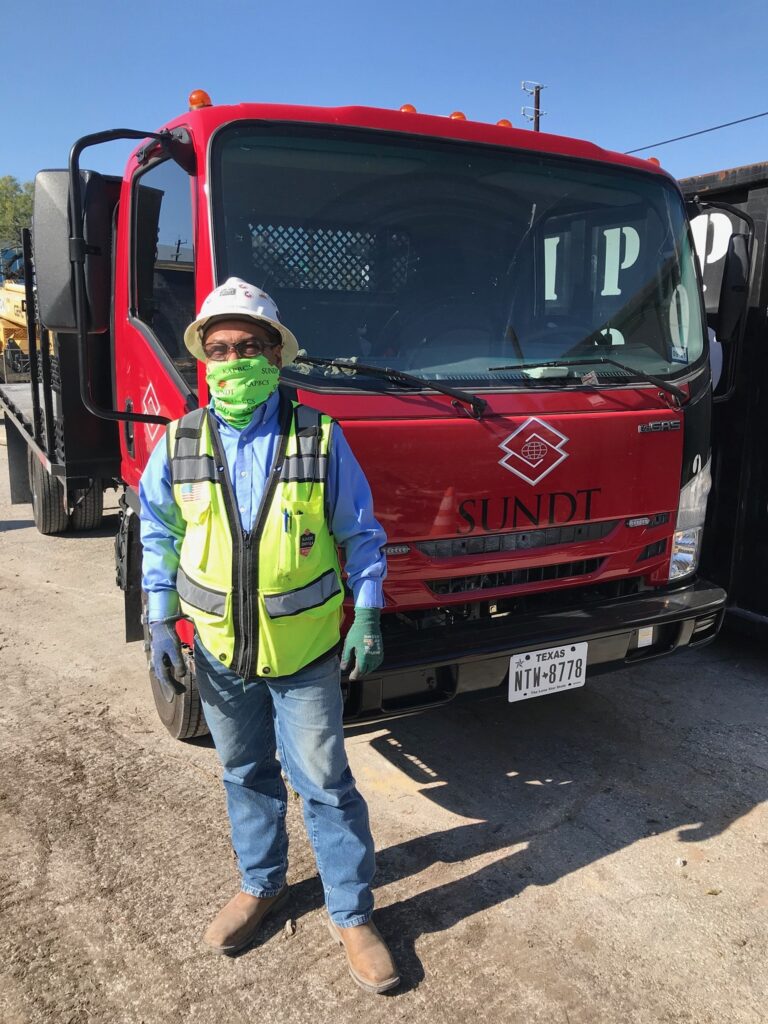 Traffic management on this project has been extremely important. Few Sundt employee-owners on site think about this more than longtime San Antonian and Traffic Control Foreman José Prudente. "Every morning, we meet and make sure everyone's aware of the dangers around us," said José. "The jobsite is always changing, and there are so many things and people constantly in motion. The vigilance we share as a team is just as important as the barricades and safety measures we put in place."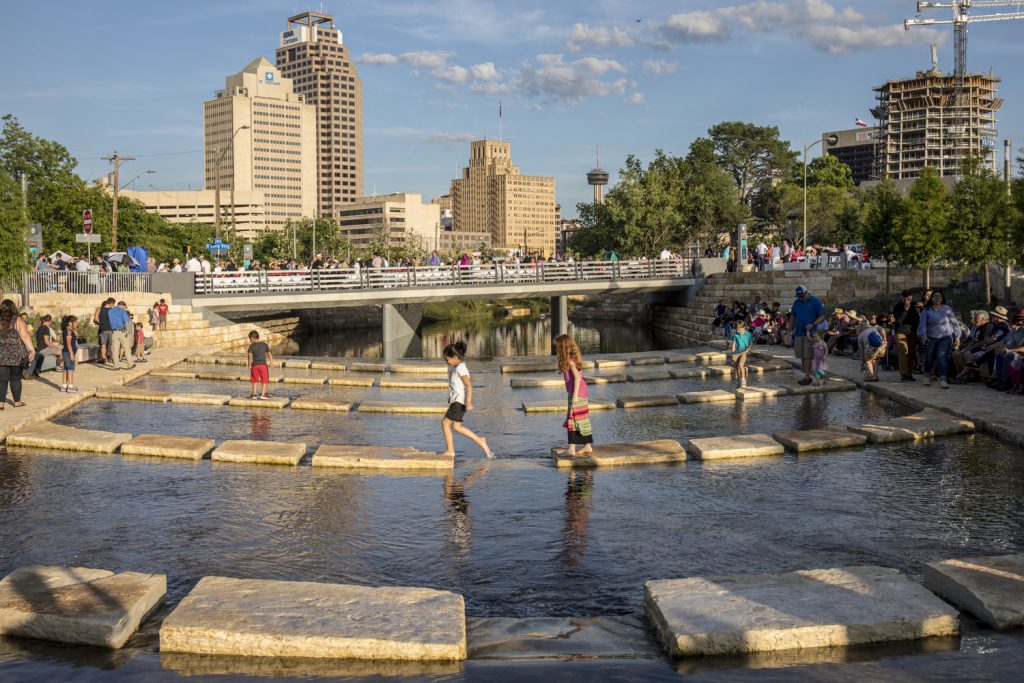 "Sundt's focus on delivering a high level of service on our flood control work includes addressing four major challenges: risk, quality, safety and partnering. We address each of these categories thoughtfully in the preconstruction/design phase on all flood control projects, which enables our construction crews and subcontracted team members to successfully deliver our projects."

Jeff Hamilton, Project Director for Sundt's Transportation Group