SUN CITY, Ariz. (October 8, 2020) – Sundt Construction, Inc. recently started expanding the campus of Royal Oaks, a Sun City, Ariz. retirement community.  This is the fifth time Sundt has worked on the Royal Oaks campus. In 2015, the company built the award-winning Friendship House.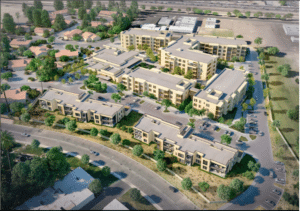 "We are excited to continue working with Royal Oaks as they expand their community," said Tucker Macon, Sundt's project director. "This project will bring the latest innovation to Royal Oaks and help them continue to expand their services and add amenities."
Sundt will help shape Royal Oaks' newest neighborhood, Inspirata Pointe, by adding four new independent living buildings and new pavilions to the westside neighborhood. The enclosed pavilions will include first-class amenities for residents.
"Sundt was the catalyst for saving money throughout the design process while consistently maintaining the quality and design intent of the project," said Gretchen Cobb, Chief Operating Officer for Royal Oaks. "Sundt's staff ensured we were getting the best value even when external factors affected the cost of the project."
On the eastern edge of the campus, Sundt will return to the Friendship House to expand the space and build two new therapy buildings for rehabilitation and wellness services. "In our previous work with Sundt, their abilities and performance exceeded our expectations. We look forward to entering the construction phase of this project knowing Sundt's integrity, ethics and craftsmanship will lead to a successful addition to our campus," added Cobb.
For more than two decades, Sundt has built the full spectrum of modern senior living. The company's innovative approaches have helped create safe, healthful communities with an understanding of the details that impact efficiency and care delivery. Recently, Sundt remodeled Sun Health's Grandview Terrace and repurposed its La Loma Care Center.
Sundt has been building critical infrastructure across Arizona for more than 90 years. Headquartered in Tempe, the company continually ranks in the top five of ENR Southwest's Top Contractors. Sundt's current work in the Valley includes expansions for Gila River Hotels & Casinos – Wild Horse Pass and the Royal Oaks Community. Recently, the company completed the Canopy by Hilton Tempe and the award-winning Gilbert Road Light Rail Extension.
About Sundt
Sundt Construction, Inc. (www.sundt.com) is one of the country's largest and most respected general contractors. The 130-year-old firm specializes in transportation, industrial, building, concrete and renewable power work and is owned entirely by its 2,000-plus employees. Sundt is distinguished by its diverse capabilities and experience, unique employee-ownership culture and depth of self-perform expertise in nine major trades. Half of Sundt's workforce is comprised of skilled craft professionals who, together with the company's administrative employees, enable Sundt to fulfill its mission to be the most skilled builder in America. Sundt has 11 offices throughout California, Arizona, Texas and Utah and is currently ranked the country's 52nd largest construction company by ENR, the industry's principal trade magazine.
###
Media Contact:
Kimberley Hoidal
Sundt Construction, Inc.
480.293.3001 (office)
520.282.3018 (mobile)
kahoidal@sundt.com