Big things are happening in Utah these days. As new development surges along the Wasatch Front, multiple infrastructure projects have been under way to support the area's growing population. These include the I-215 and Redwood Road Interchange in North Salt Lake, which Sundt has completely rebuilt for the Utah Department of Transportation (UDOT). Project Manager Thiago Bezerra, who operates out of Sundt's Salt Lake City office, gave us a recap of the project.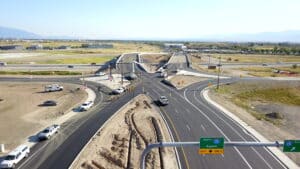 In terms of scope, what has this project accomplished? The project had four major components: first, the resurfacing of Redwood Road from 500 S to Center Street and Recreation Way to County line; second, the I-215 roadway; third, the full widening and reconstruction of Redwood Road; and fourth and finally, the new bridge and Diverging Diamond Interchange (DDI).
The DDI is relatively new and unfamiliar to many drivers in the U.S. How does it work, and how was it introduced to the surrounding community? The DDI temporarily routes vehicles to the left side of the road—which seems counter-intuitive, but this allows for higher volumes of traffic to cross, enter, or exit the freeway. Drivers have less wait time and fewer chances for collisions. UDOT's Public Involvement team did a great job understanding and then explaining the DDI to the public and updating them as work progressed. This helped to create a smoother transition with the final changeover this past Sunday.
What were some challenges we had to overcome? We built a brand-new interchange alongside live traffic, so the work phasing had to be detailed out, literally down to the inch. For the resurfacing along I-215, there was only one foot of "extra" space to build five miles of new PCCP highway. Also, the project sits on top of what once was the prehistoric Lake Bonneville, which makes for very soft sub-grade to build on—that and we're coming off of Utah's second wettest spring on record.
How did you do it? What were some keys to the project's success? Our partnership with UDOT was second-to-none, and our level of communication allowed for some pretty intense problem-solving. As a project team, we took it upon ourselves to demonstrate the "Sundt Way"—to prove ourselves as partner, from our safety program to our company culture, to our collaborative approach. Also, our team really gave us their best, including our general superintendent Tim Kelly, structures superintendent Celso Holguin, their team of skilled builders, and inspector Mac Estrada.
Any final thoughts on the project? I could not be more proud of the project we're giving our client, and the employee-owners who helped build it. This project has given us an opportunity to showcase Sundt's culture to a new owner and market, and we've shown UDOT and other future clients why Sundt is a contractor of choice.