SAN ANTONIO (June 26, 2019) – Sundt Construction, Inc. (www.sundt.com) has promoted Chad Yount to Area Manager for the Transportation Group with a focus on San Antonio and South Texas.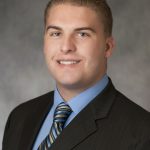 "We are proud to promote such a well-deserving individual," said Jeff Williamson, Senior Vice President and Manager of Sundt's Transportation Group. "Chad is well prepared to procure and execute new projects that will support our future growth and success in Texas."
Yount has been in the construction industry since 2006, beginning his career with Sundt in 2008 after graduating with a bachelor's degree from the University of Arizona in engineering management with a focus in civil engineering. During his time with Sundt, he has served in various roles including senior estimator, project engineer, project manager, and senior project manager.
Most notably, Yount has served as senior project manager on the award-winning San Pedro Creek Culture Park project. Under his leadership, the team finished the initial phase of the project in time for the City of San Antonio's 300th Anniversary in May 2018. He is currently guiding the Sundt/Davila joint venture team on the next phases of reconstructing the existing creek into a world-class urban linear park.
Prior to his work in San Antonio, he served as senior project manager on the Sellwood Bridge project in Portland, Oregon. This project required reconstructing a 2,000-foot bridge over the Willamette River while maintaining existing traffic lanes. This project earned multiple awards including Build America Award and the Best New Highway and Transportation project from the Associated General Contractors of America.
About Sundt
Sundt Construction, Inc. (www.sundt.com) is one of the country's largest and most respected general contractors. The 129-year-old firm specializes in transportation, industrial, building and concrete work and is owned entirely by its 2,000+ employees. Sundt is distinguished by its diverse capabilities and experience, unique employee-ownership culture and depth of self-perform expertise in eight major trades. Half of Sundt's workforce is comprised of skilled craft professionals who, together with the company's administrative employees, enable Sundt to fulfill its mission to be the most skilled builder in America. Sundt has 11 offices throughout Arizona, California, Texas and Utah and is currently ranked the country's 54th largest construction company by ENR, the industry's principal trade magazine.
###