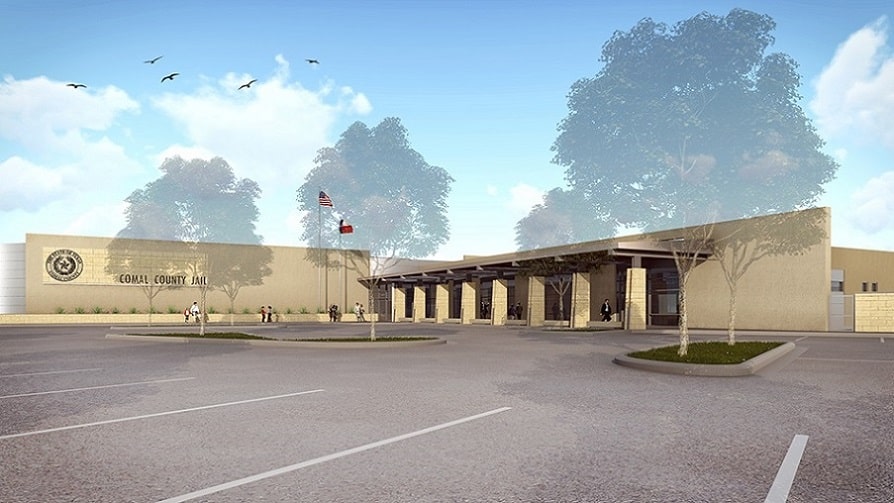 The ceremonial groundbreaking shovels have been put away and construction has started on the $62 million Comal County Jail in New Braunfels, Texas. The project, on which we are serving as construction manager, will take place over three phases.
Phase 1: The 155,000-square-foot county jail will be constructed, containing 589 beds, a booking area with temporary holding cells, a detention administration area and visitation spaces for attorneys and families.
Phase 2: After completion of the jail and relocation of inmates, the interior of the existing jail will be demolished and renovated into new space for the Sheriff's Office.
Phase 3: After relocation of the Sheriff's Offices, the existing office will be demolished and renovated into approximately 68,000 square feet of administrative space.
The facility will accommodate 408 men and 124 women, with options including a range of custody levels — separate, single, double occupancy, quad cells and open dorms. Supervision will include a second-level control room overlooking housing pods and exercise yards.
Housing units will have natural light, outdoor recreation and on-unit treatment and programs. The facility also will have a medical and mental-health infirmary with inpatient and mental-health crisis beds, administration space, magistrate functions, visitation areas, a commissary, kitchen and laundry support.
Our team is on site and is beginning installation of storm-water controls, earthwork and utilities. We're still in the preconstruction phase developing the remainder of the packages for the second Guaranteed Maximum Price that includes major trades including concrete, steel, mechanical, electrical and plumbing.