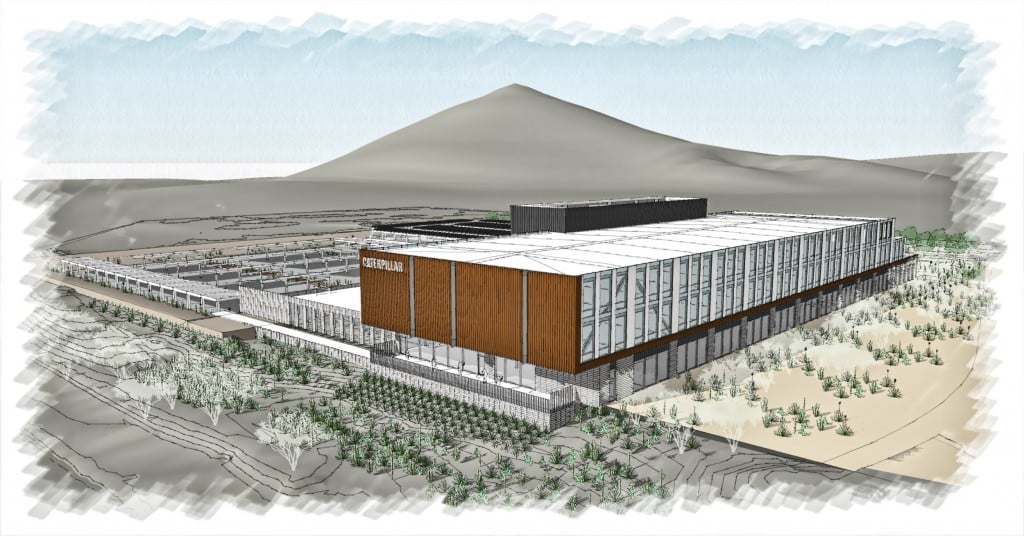 The Sundt team at the new Caterpillar Surface Mining and Technology Building near Downtown Tucson is using advanced contracting and design principles to deliver this important project.
From the outset, meeting project timelines required by Caterpillar has been critical. The project team is using the Construction Manager at Risk delivery model to allow for phased guaranteed maximum prices (GMP). This phased approach has enabled the team to start the project earlier than a traditional approach.
"In a traditional delivery method, this project would never have met the aggressive timelines needed," said Sundt Regional Director Ian McDowell. "Using phased GMPs will allow us to finish seven months faster than conventional contracting would have allowed."
The building has been designed with a narrow floor plate and high ceilings, which maximizes the amount of light that reaches the interior of the building. It has also been designed with flexibility in mind. Few walled offices exist in the building, allowing for a dynamic workspace that maximizes communication among team members.
The creation of collaboration spaces throughout the building is also key to the project concept. Conference rooms of varying sizes spaced throughout the building allow for spontaneous interaction among team members. This concept of collaborative spaces has been extended to dining and exterior spaces, as monitors are installed to allow for impromptu meetings almost anywhere employees might gather.
The building entry focuses on Caterpillar's customers. The lobby is designed to celebrate work performed around the world using the company's equipment. Design elements in the entry incorporate meeting spaces and equipment displays and use advanced display technology to show how customers are using Caterpillar equipment.
The building exterior incorporates numerous finishes that speak to traditional Tucson design and uses elements that reflect Caterpillar's work. The exterior has been designed to allow employees to take advantage of the beautiful Tucson weather.