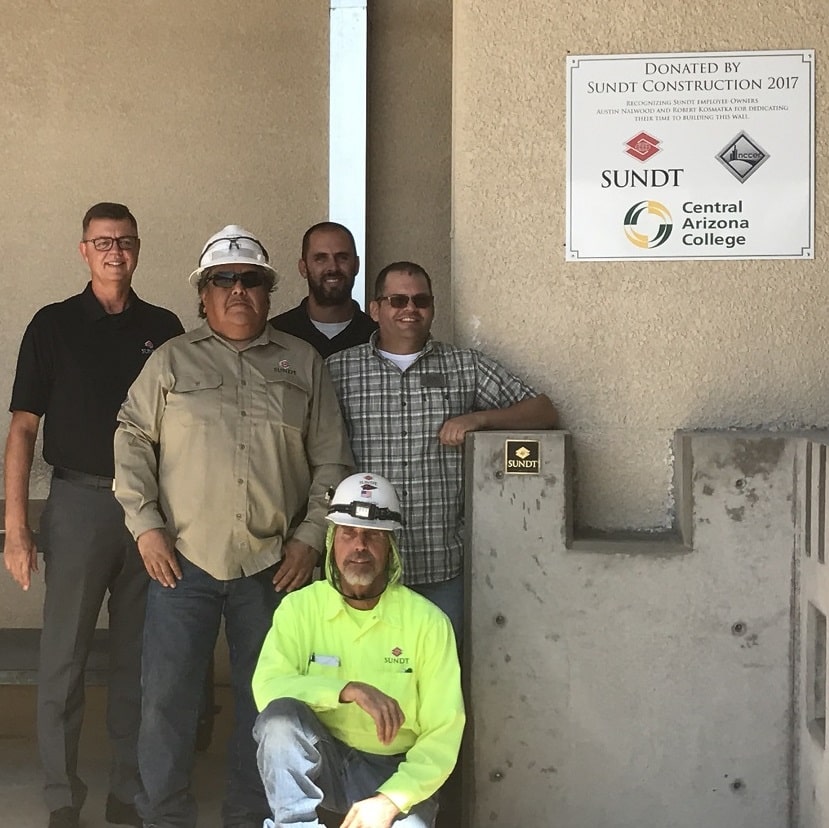 An innovative partnership between Sundt and Central Arizona College (CAC) will soon begin training the next generation of construction professionals.
In conjunction with Sundt, CAC will offer five pre-employment one-year certificates and one three-year academic apprenticeship program that will lead to certifications, certificates and degrees that prepare students for workforce needs including heavy equipment operator, structural welding, pipefitting, industrial construction and concrete construction technology.
The construction industry offers excellent pay. According to buildyourcareer.com, heavy equipment operators and pipefitters nationally make almost $30 an hour and welders earn $33 per hour.
"The construction industry presents many opportunities for exciting, rewarding careers," said Sundt Craft Workforce Development Manager Sean Ray. "There is growing demand for skilled workers in many areas. Our partnership with CAC will help develop a curriculum that meets today's construction industry needs and standards, setting students up for successful careers."
The courses meet National Center for Construction Education and Research standards, American Welding Society requirements and Occupational Safety and Health Administration 30-hour requirements. Students who complete the Associate of Applied Science can pursue a Bachelor of Applied Science degree in Industrial Technology Management at Northern Arizona University or a related degree at universities throughout Arizona.
Programs matching the public and private sectors are important. The Associated General Contractors reported that 73 percent of construction companies surveyed expect to have trouble finding qualified help this year even as the industry's needs are increasing.
To mark the partnership, the College on July 13 dedicated the Sundt Training Wall, which was built by two of our craft workers. The wall will provide real-life construction situations for CAC's Welding Department students.
"The concrete training wall provides great possibilities," said CAC Welding Professor Brent Couch. "Our AutoCAD students will be able to create fabrication, structural and construction drawings for creating structural connections. So many of our students are visual learners and this wall will allow them to visualize their work while replicating construction conditions."