PHOENIX (May 9, 2022) – Sundt Construction promoted Travis McCarthy to senior vice president and Southwest regional manager for its Transportation group.
"It has been a pleasure to witness Travis' growth throughout his time at Sundt," said Jeff Williamson, President of Sundt's Transportation Group. "He has always played an important role within the company, and we are all looking forward to his continued diligence and success in his new position."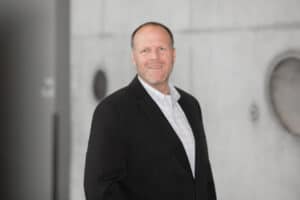 A construction industry veteran, McCarthy has been with Sundt for over 20 years and has worked on well over $2 billion in transportation projects. He will continue to oversee business development, preconstruction and operations in Arizona, Southern California, El Paso, Texas and New Mexico for the Transportation Group.
Prior to his leadership of the Southwest region, McCarthy served as operations manager. He also led the operations of award-winning projects such as the I-10 Ruthrauff Interchange in Tucson, Ariz., and the I-10 Connect project in El Paso.
McCarthy worked on many influential projects early on in his career, including Phoenix's Loop 101 and 202 projects. He has been a part of the Transportation Group for the last eight years and was previously vice president and division manager of Sundt's Concrete Division.
Sundt has been building critical infrastructure across Arizona for more than 90 years. Headquartered in Tempe, the company continually ranks in the top five of ENR Southwest's Top Contractors. Sundt's Transportation Group has been recognized as one of the safest contractors in transportation construction. It has shaped much of the infrastructure across the Southwest including delivering key roadways, bridges, rail and transit and aviation projects.
About Sundt 
Sundt Construction, Inc. (www.sundt.com) is one of the country's largest and most respected general contractors. The 132-year-old firm specializes in transportation, industrial, building, concrete and renewable energy work and is owned entirely by its approximately 1,500-plus employees. Sundt is distinguished by its diverse capabilities and experience, unique employee-ownership culture and depth of self-perform expertise in nine major trades. Much of Sundt's workforce is comprised of skilled craft professionals who, together with the company's administrative employees, enable Sundt to fulfill its mission to be the most skilled builder in America. Sundt has 12 offices throughout Arizona, California, North Carolina, Oregon, Texas and Utah and is currently ranked the country's 58th largest construction company by ENR, the industry's principal trade magazine.
###
Media Contact:
Kimberley Hoidal
Sundt Construction, Inc.
480.293.3001 (office)
520.282.3018 (mobile)
kahoidal@sundt.com