Complacency breeds failure for both individuals and organizations, especially when it comes to construction safety. When people feel they've "arrived"—and no longer ask questions or seek ways to improve—an already-dangerous job becomes even riskier. At the same time, humans are still creatures of habit, and we become what we repeatedly do.
So how do we get better? It's a question that safety professionals like Area Safety Manager Reese Fortin are faced with every day. One answer that Reese and fellow members of Sundt's Health, Safety and Environment (HS&E) team have found is to focus on small changes that make big impacts over time. Often, that means going against the industry grain.

As of October 1, Sundt is requiring all employee-owners to wear a four-point chinstrap helmet or modified hard hat when working on jobsites. In some places, the change has been met with enthusiasm. In others, it's seen some head-scratching (though not while removing any head protection, of course). This week we sat down with Reese to talk about the motivation and the science behind this change.
Reese, how long have hard hats been around? And, as importantly, when did they become required in construction?  
The first hard hat was called the "Hard-boiled hat" and was made of steamed canvas and leather, covered with black paint and featured a suspension system. It was invented by Edward W. Bullard in 1919. As an Army lieutenant, Bullard was inspired by how soldiers' helmets protected them during World War I. But it took a long time for them to be required on a project, let alone industrywide. The first project with a documented requirement of hard hats was the Golden Gate Bridge in 1933, and in 1970 the Occupational Safety and Health Act required them on most jobsites.
Why is Sundt moving away from the traditional hard hat now and using a four-point chinstrap helmet instead?
We're constantly investing in new ways to provide better protection for the people working on our projects. Injuries to the head, either from heights, slips and falls, or dropped objects, can be irreversible or even fatal. Because of these life-threatening or life-altering consequences, Sundt is taking steps to require additional protection.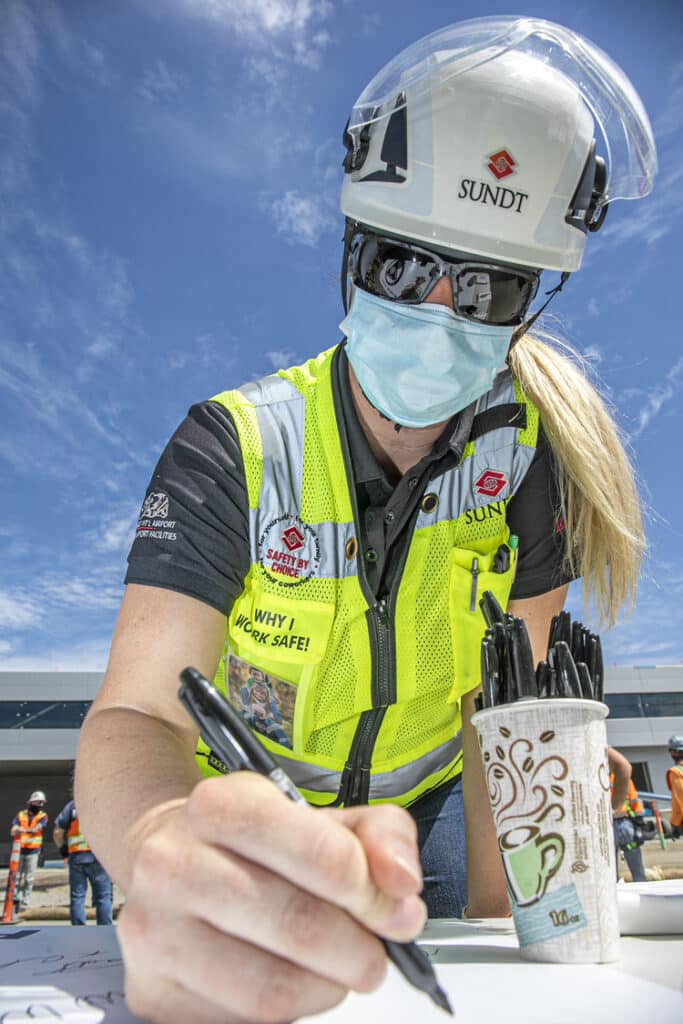 But for the chinstrap specifically—why not ask just those working at heights to use these new helmets?
So, yes, people working at heights are at greater risk of injuries from falls. But there are other actions including material handling, being struck by falling objects, or simply slipping and tripping that can cause the traditional helmet to come off, which can all lead to serious injuries.  And these include secondary head injuries—which I've illustrated in a short video. Having a four-point strap ensures that the helmet stays in place regardless of the task being performed.
Which new hard hat model did we eventually select and why? What kind of testing and comparison did we do?
We settled on the MSA V-Gard H1 because we found that it had the lowest effect on the wearer's body heat, the most comfort after long hours of use, and the best overall safety performance related to cost per unit.
What have the responses been from employee-owners? If there has been any pushback, how has your team responded?
Since wearing a helmet or hard hat with a chinstrap is not super sexy, some employee-owners have felt like their style will be cramped. However, when it came down to rolling them out and wearing them on October 1, our employee-owners have responded quite positively. The positive reception is likely because of the materials and Q&A that we shared during the rollout, which brought awareness to the importance of upping our head protection game.
Your colleague Mark Bakeman talked during Safety Week about Sundt's focus on STCKY (the Sh—That Can Kill You), i.e. the most fatal hazards on a jobsite. How does this hard hat change fit into our larger STCKY program?
This hard hat change completely fits into our larger STCKY program since falls are the number-one killer of construction workers and even a same-level fall can be fatal, if not severe. In fact, one of our STCKY "Fatal 8" is Sh— Built at Heights, a critical activity that we focus on with planning and innovation. Our new hard hats come with our updated "Stop the STCKY" logos, too!
For more info about STCKY and other Sundt safety programs, visit our safety page at sundt.com/why-sundt/safety.