School's back in session and that means Sundt's college recruiting specialist Marissa Anderson is back on the road. This fall, she and other employee-owners will visit 35 universities—and counting—to recruit Sundt's next class of interns. Sundt's internship program stands out from competitors because of the structured environment and real-world, hands-on experience. The program also offers room to grow, as eight out of ten senior interns stay with Sundt in full-time positions. We sat down with Marissa to hear about her career journey, and what qualities she looks for in an intern.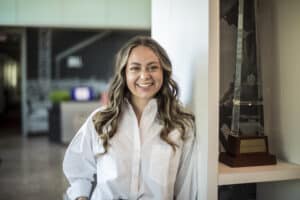 What led you to a career with Sundt?
I've been surrounded by the industry since I was young. My dad works in construction software, and I interned with a CRM software company while I studied Business Management at Grand Canyon University. At first, I didn't consider recruiting as a career path, but I felt a pull to do this work because of how pivotal my internship was in my own career journey.
What does college recruiting season look like for you?
In my role as college recruiting specialist, I handle all registration and coordination of the career fairs we attend. This year, we're attending 35 universities across the United States. I review the resumes of potential interns and hold on-campus interviews. Beyond this, I make sure interns are fully set up in their role and have the tools they need. Working with seniors is rewarding as 83% of Sundt senior interns end up staying on in a full-time position.
"Once I began to work with interns, I realized how fulfilling it is to see their enthusiasm to join the industry. I love recruiting with Sundt because I know our interns will be placed in the right hands with people who care about their personal and professional success."- Marissa Anderson, Sundt College Recruiting Specialist
What skills/qualities are you looking for when reviewing resumes and interviewing for potential interns?
We emphasize that our interns do not need to have construction experience; if you have confidence and enthusiasm about the industry, that's enough for us to look at your resume. We also want to see how involved students are on campus. For example, has the student joined industry-related clubs or chapters? In an interview, students should tell us why they're passionate about construction. Most of all, it's impressive when an intern comes to us having done research on Sundt and is familiar with our mission and purpose.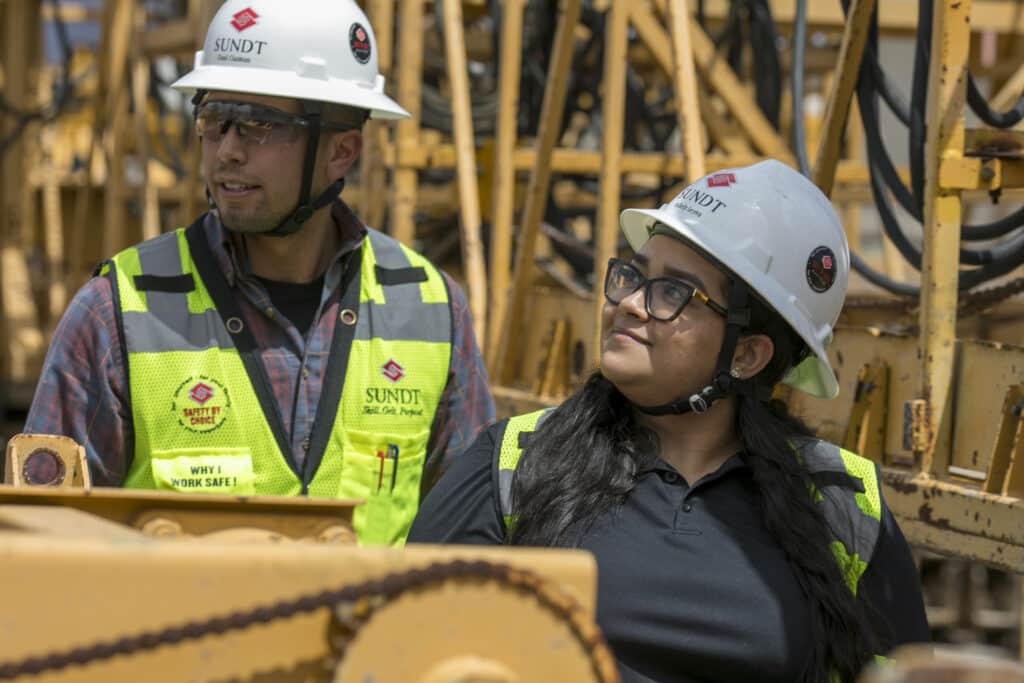 How does an internship with Sundt differ from other internships?
When interns join our team, they know exactly what to expect for the summer. Interns develop site work plans with their supervisors, mapping out the focus of each week of their internship. Our interns aren't doing menial tasks; supervisors trust their interns to take on challenging assignments and provide guidance to ensure interns are confident in their skills. Our supervisors also encourage students to speak up, ask for help, and contribute to team meetings and decisions. Overall, it's a robust program with lots of opportunities.
"I have amazing mentors on the jobsite. I don't feel nervous to ask any questions; my team is invested in my growth and they always consider my perspective."- Ciria Palacios, Intern Engineer
Is Sundt coming to your university this fall? Marissa will hold intern interviews in the following states: South Dakota, Texas, California, New Mexico, Iowa, Michigan, Idaho, Utah, Arizona, Wisconsin, Washington, Louisiana, and Oregon.
Have questions about internships? You can reach Marissa at mnanderson@sundt.com. For more information, visit our internship page.