PHOENIX (August 3, 2022) – Sundt Construction recently hired Brent Knezacek to join its Transportation Group as a project director in Phoenix.
"Brent is an innovative thinker with strong problem-solving skills," said Travis McCarthy, senior vice president and Southwest regional manager of Sundt's Transportation Group.  "He brings a unique skill set and will greatly fit into his new role."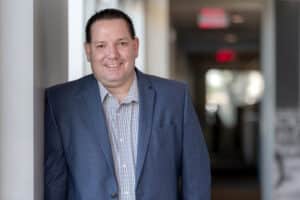 Knezacek has over 23 years of experience in the construction industry. Throughout his professional career, he has worked as a project designer and senior project manager across the United States and Canada. Knezacek specializes in highways, interchanges, bridges, rail and landside aviation projects.
Knezacek's project experience includes the Maricopa County Department of Transportation's Gilbert Road Bridge at the Salt River, Florida Department of Transportation's Interstate Four Ultimate and the US 60 Widening for the Arizona Department of Transportation.
Knezacek received a bachelor's degree in civil engineering from the University of Arizona. He holds professional engineer certifications in numerous states and Canadian provinces.
Sundt has been building critical infrastructure across Arizona for more than 90 years. Headquartered in Tempe, the company ranks No. 3 on ENR Southwest's Top Contractors list. It has shaped critical infrastructure across the Southwest, including key roadways, bridges, rail and transit and aviation projects.
About Sundt
Sundt Construction, Inc. (www.sundt.com) is one of the country's largest and most respected general contractors. The 132-year-old firm specializes in transportation, industrial, building, concrete and renewable power work and is owned entirely by its approximately 2,000-plus employees. Sundt is distinguished by its diverse capabilities and experience, unique employee-ownership culture and depth of self-perform expertise in nine major trades. Much of Sundt's workforce is comprised of skilled craft professionals who, together with the company's administrative employees, enable Sundt to fulfill its mission to be the most skilled builder in America. Sundt has 11 offices throughout California, Arizona, North Carolina, Texas, Oregon and Utah and is currently ranked the country's 61st largest construction company by ENR, the industry's principal trade magazine.
###
Media Contact:
Kimberley Hoidal
Sundt Construction, Inc.
480.293.3001 (office)
520.282.3018 (mobile)
kahoidal@sundt.com