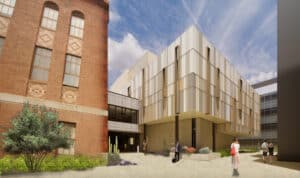 TUCSON, Ariz. (June 15, 2021) – Sundt Construction, Inc., recently returned to the University of Arizona campus to renovate the Old Chemistry Building it originally built in 1936.  The renovations will be Sundt's 59th project on the campus.
The Chemistry-Physics building, now called "Old Chemistry," was one of five buildings Sundt constructed on the UArizona campus in the late 1930s as part of a building program funded by the Works Progress Administration (WPA). Old Chemistry, Centennial Hall, the Nugent Building, and the Sonnett Space Science Building are still in use today. Designed by the late Tucson architect Roy Place, the Chemistry-Physics building was originally a two-story red brick structure with two main entrances. It has since had additions.
"We are excited to return to a building that we constructed in the late 1930s," said Dave Ollanik, Project Director for Sundt. "Just as important as it was back then, today being able to provide students with a vibrant hub for learning and collaboration is critical."
Centrally located on the campus, the design-build project consists of renovating the existing historic Old Chemistry Building and the north and south wing, added in 1948.  The renovation will consist of 55,000 square feet. Additionally, the team will add a new three-story, 23,000-square-foot building consisting of offices, classrooms and a relocated machine shop and nuclear magnetic resonance space. The new building will connect to the south side of the existing building.
Construction is scheduled for completion towards the end of 2022. Shepley Bulfinch is the architect on record and Poster Frost Mirto will consult on historic preservation. Old Chemistry is part of the campus' 18-building historic district listed on the National Register of Historic Places.
Sundt opened its Tucson office in 1929. In the decades since, it has built notable UA landmarks including McKale Center, Centennial Hall and the Arizona Stadium skyboxes. Sundt most recently completed the award-winning remodel of Old Main and is currently working on the Student Success District.
About Sundt
Sundt Construction, Inc. (
www.sundt.com
) is one of the country's largest and most respected general contractors. The 131-year-old firm specializes in transportation, industrial, building, concrete and renewable power work and is owned entirely by its approximately 2,000-plus employees. Sundt is distinguished by its diverse capabilities and experience, unique employee-ownership culture and depth of self-perform expertise in nine major trades. Half of Sundt's workforce is comprised of skilled craft professionals who, together with the company's administrative employees, enable Sundt to fulfill its mission to be the most skilled builder in America. Sundt has 10 offices throughout California, Arizona, Texas and Utah and is currently ranked the country's 58th largest construction company by ENR, the industry's principal trade magazine.
###
Media Contact:
Kimberley Hoidal
Sundt Construction, Inc.
480.239.3001 (office)
520.282.3018 (mobile)
kahoidal@sundt.com