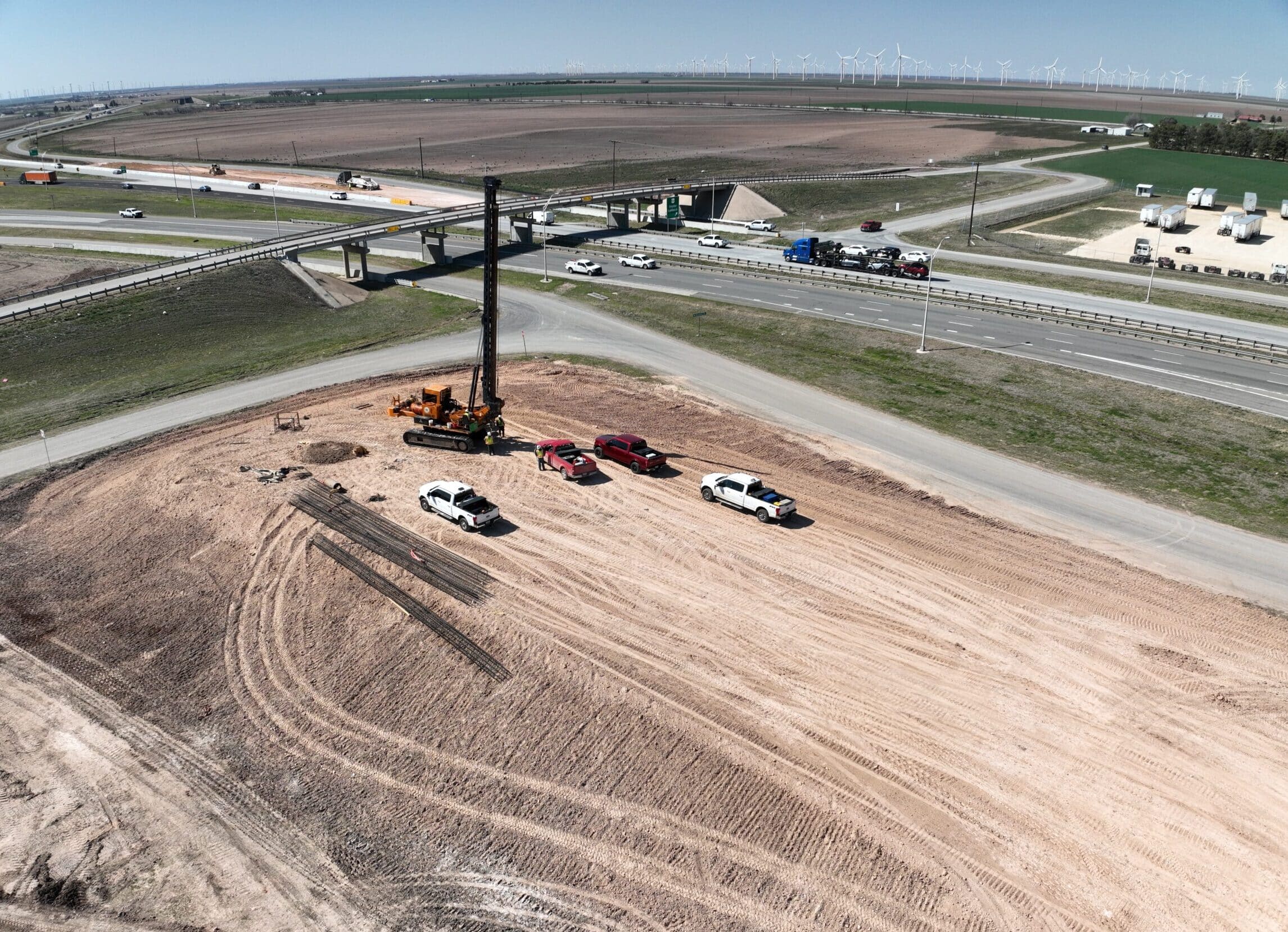 The improvements will enhance safety for motorists near the towns of Roscoe and Sweetwater.
Roscoe, Texas (May 9, 2023) – Sundt Construction recently started construction of the TxDOT IH 20/US 84 Traffic Interchange project. Sundt has begun constructing a new traffic interchange at IH-20 and US-84 from east of Farm Road 608 to the west of Loop 170 to make the route safer for motorists and leave room for increased traffic as the use of the IH-20 corridor increases.
"We are excited to partner with the Texas Department of Transportation (TxDOT) on another project, creating safer Texas roadways, highways, and bridges," said Mark Soyster, Sundt Area Manager. "We're fortunate to be constructing improvements that ensure safer traveling routes for the residents of Nolan County."
The project updates the interchange layout to meet today's design standards and improve public safety. It will re-align a portion of IH-20 main lanes and frontage roads, provide direct connections between IH-20 and US-84 main lanes, and update ramp configurations along IH-20. Once complete, the interchange will be able to accommodate present traffic numbers and future traffic growth. Sundt will be self-performing earthwork, structures, drainage, utilities, bridge demolition, and concrete paving for the Nolan County project.
"Texas is witnessing unprecedented population growth leading to a rise in traffic on the roads," said Brian Smith, Senior Project Manager. "We are happy to work with TxDOT on yet another transportation project focused on reducing traffic congestion and ensuring safety."
Sundt is currently also working on the I-10 widening project in El Paso and in 2022 completed the I-10 Connect project, making the final adjustments for smoother traffic flow between the TxDOT El Paso loop systems. Its GO 10 collector-distributor lanes project, completed in 2019, has been awarded numerous awards, including the prestigious Build America Award, honoring the construction industry's most impressive projects.
About Sundt:
Sundt Construction, Inc. (www.sundt.com) is one of the country's largest and most respected general contractors. The 133-year-old firm specializes in transportation, industrial, building, concrete, and renewable power work and is owned entirely by its approximately 2,000-plus employees. Much of Sundt's workforce is comprised of skilled craft professionals who, together with the company's administrative employees, enable Sundt to fulfill its mission to be the most skilled builder in America. The company has won 27 AGC Build America awards, which is more than any other general contractor in the nation. Sundt has 12 offices throughout California, Arizona, North Carolina, Texas, Portland-metro, and Utah and is currently ranked the country's 61st largest construction company by ENR, the industry's principal trade magazine.
Media Contact:
Stefanie Teller
Sundt Construction, Inc.
520.750.4611 (office)
media@sundt.com