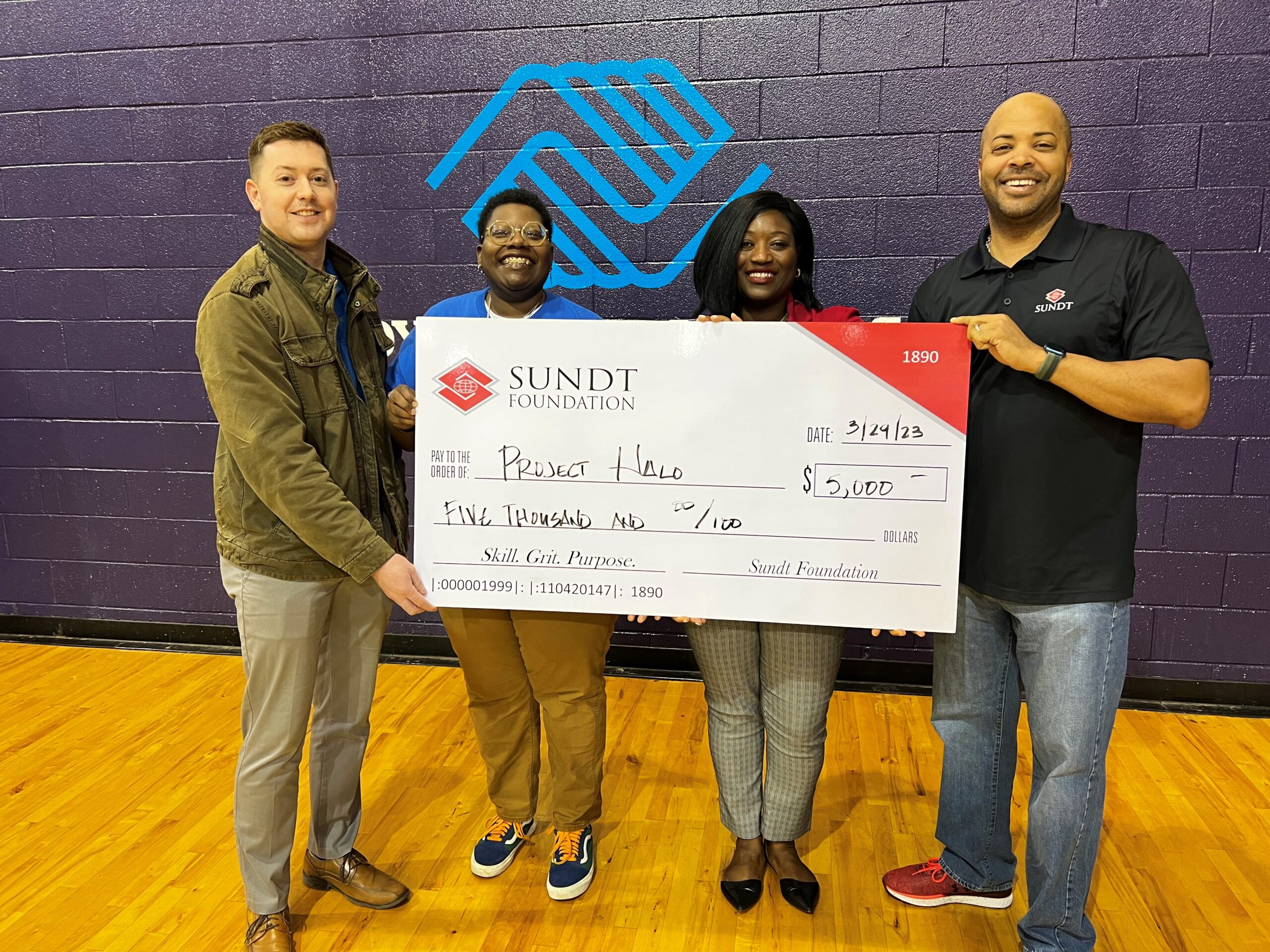 Funds will be used to help local communities.
Charlotte, N.C. (April 18, 2023) – The Sundt Foundation recently awarded $20,000 in grants to four Southeast region charities.
"We are happy to once again help local communities through these wonderful nonprofits," said Andre Castaneda, the Sundt Foundation's Charlotte region board member. "Our employee-owners are committed to supporting individuals in need."
The following four nonprofits received $5,000 each to help them with their cause.
Warrior Moms works toward empowering single mothers living in poverty. The nonprofit provides alternative tools to assist with negative emotions that arise as a single mother living in poverty. It offers a curriculum that includes unlimited coaching for personal and business life and transforms the poverty mindset.
Project Helping Americans Live Organic (HALO) is a member-owned nonprofit food network designed to offer individuals in low-income rural and urban communities access to organically grown produce and other whole foods.
Friends of the Tucker County Animal Shelter takes in stray animals in need, owner-surrendered companion animals when the owner is no longer willing or able to care for them, and animals who have been seized or taken into custody by animal control. It accepts all companion animals from Tucker County who need care, regardless of health, age, temperament, or history.
The Hope Connections Program (HCP) of House of Hope CDC focuses on addressing urgent, unmet needs in the community for resources that promote social support, financial literacy, and job placement skills for those trying to enter the workforce. They also focus on computer literacy, resume development, interview skills, and money management.
The Sundt Foundation awards quarterly grants to local charities in the Southeast region. Nonprofits are selected through an application and review process led by a committee of local Sundt employee-owners.
About the Sundt Foundation
Sundt's purpose is to build environments where its clients, employee-owners, and communities prosper. The Sundt Foundation was established in 1999 as a way for employee-owners to give back to the communities in which they live and work. The organization is funded primarily by contributions from Sundt employees, which are matched by the company. To date, the Foundation has awarded more than $12 million in donations. Nonprofit organizations interested in applying for a grant may call (480) 293-3000 or visit www.sundtfoundation.org for more information. Sundt has offices in Tempe and Tucson, Arizona; Salt Lake City, Utah; Charlotte, N.C., San Antonio, Dallas and El Paso, Texas; Sacramento, San Diego and Irvine, California; and Vancouver, Washington.
About Sundt
Sundt Construction, Inc. (www.sundt.com) is one of the country's largest and most respected general contractors. The 133-year-old firm specializes in transportation, industrial, building, concrete and renewable energy work and is owned entirely by its approximately 2,000 employees. Sundt is distinguished by its diverse capabilities and experience, unique employee-ownership culture, and depth of self-perform expertise in nine major trades. Much of Sundt's workforce is comprised of skilled craft professionals who, together with the company's administrative employees, enable Sundt to fulfill its mission to be the most skilled builder in America. Sundt has 12 offices throughout Arizona, California, North Carolina, Portland metro, Texas and Utah and is currently ranked the country's 61st largest construction company by ENR, the industry's principal trade magazine.
Media Contact:
Stefanie Teller
Sundt Construction, Inc.
520.750.4611 (office)
media@sundt.com