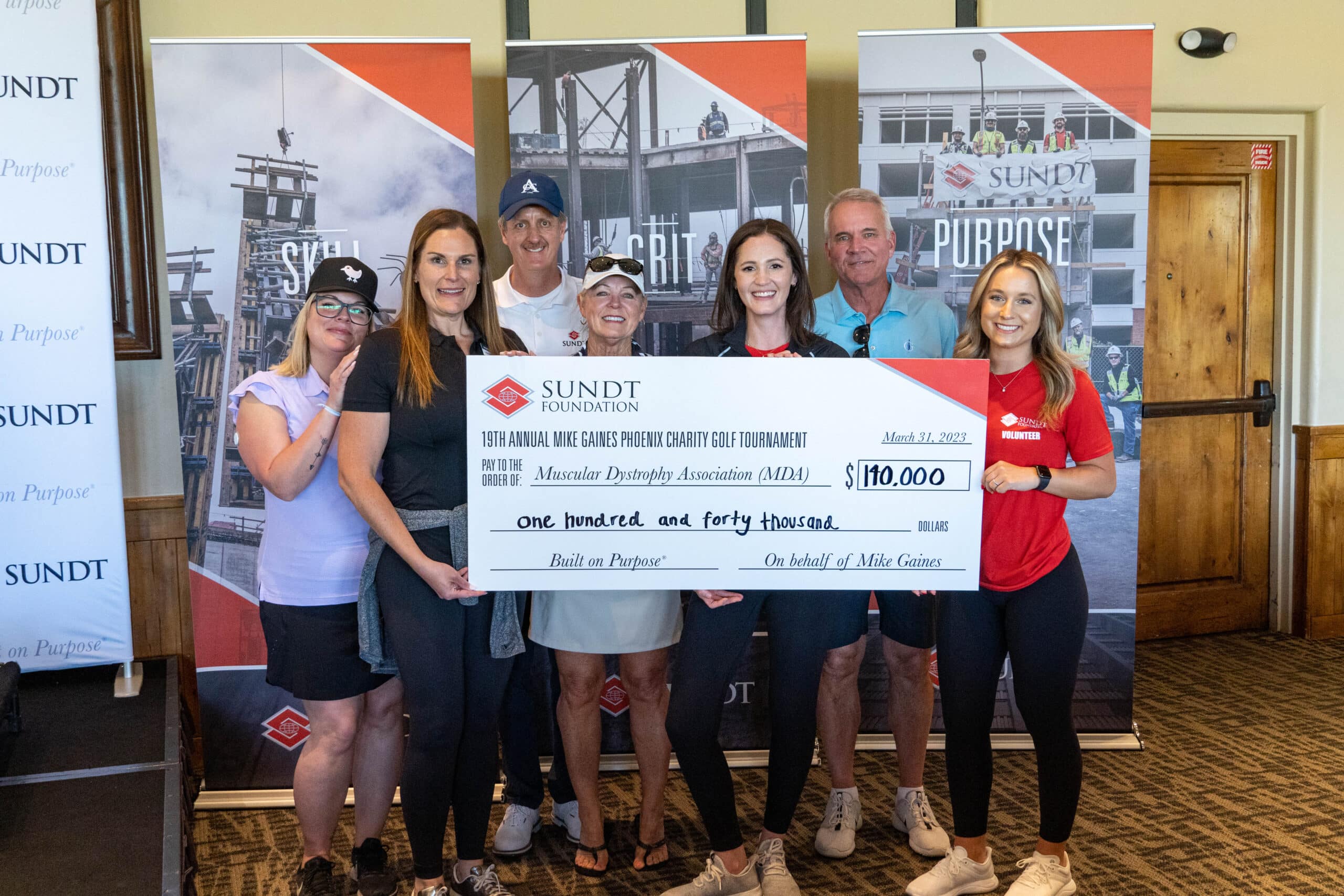 Sundt Construction hosted the event to donate to the Muscular Dystrophy Association (MDA).
Tempe, Ariz. (April 6, 2023) Sundt Construction hosted the 19th Annual Mike Gaines Golf Tournament at the Grayhawk Golf Club in Scottsdale, Ariz. With 256 golfers participating in the event, a record-breaking total of $140,000 was raised for the Muscular Dystrophy Association (MDA). Fifty-five companies showed representation through participation and sponsorship including Sundt Construction's employee-owners.
"The generosity and service of Sundt's employee-owners are beyond compare and evident in the record-breaking total of $140,000 raised this year for ALS research," said Mike Hoover, President and CEO of Sundt Construction. "Service is one of our company's core values, and I am thankful to our employee-owners for promoting our culture and coming forward to support the Muscular Dystrophy Association in their fight against ALS."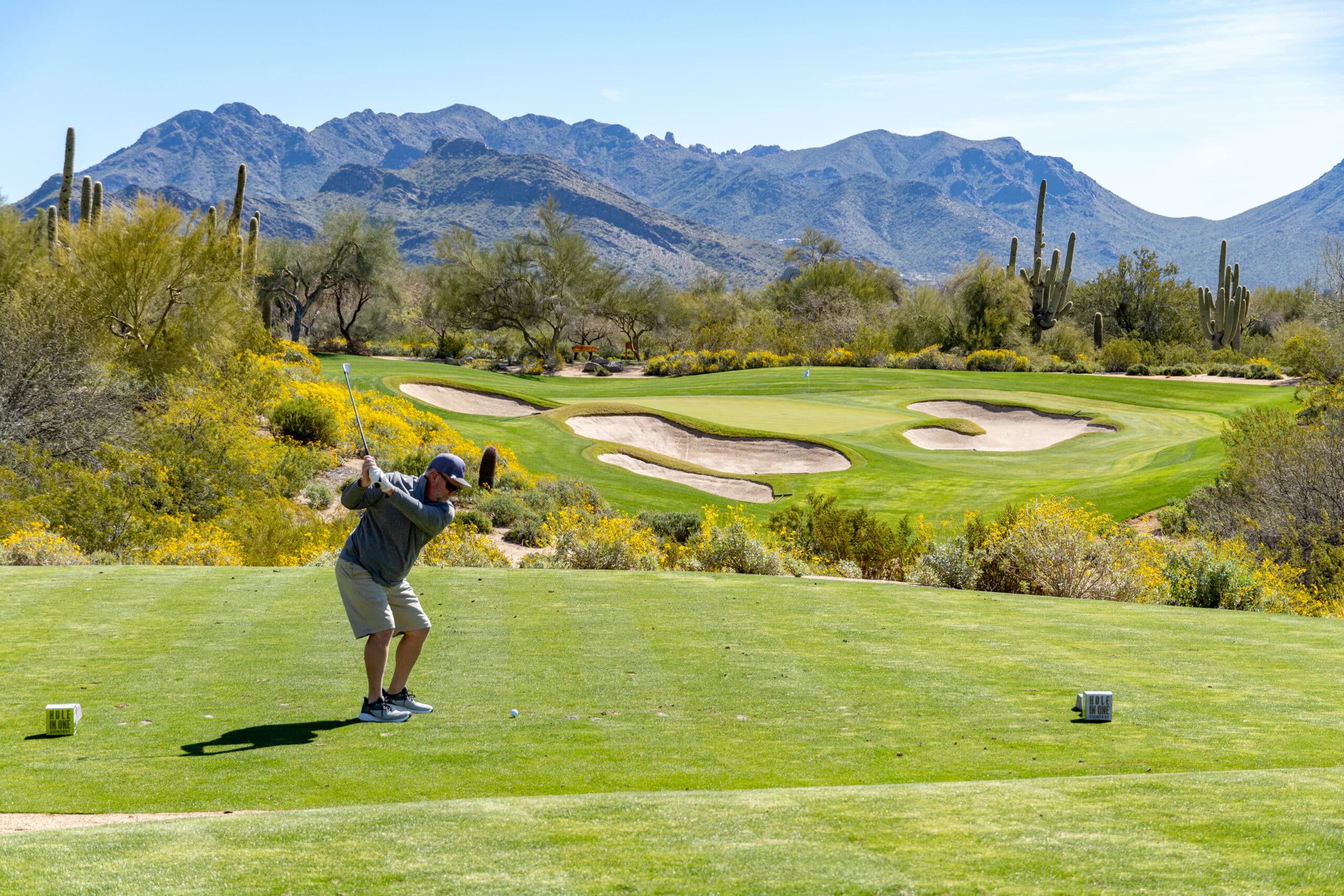 All costs for organizing and hosting the Mike Gaines events are covered by Sundt Construction. Proceeds are then directed to the Sundt Foundation, the company's nonprofit charitable arm, which donates them to the MDA.
Mike Gaines, a senior project manager and valued employee-owner with Sundt, was diagnosed with ALS (also known as Lou Gehrig's disease) in January 2000 and lost his life to the disease at age 49. Mike wanted to raise money for ALS research so that no one else would have to suffer. Therefore, in his honor, Sundt continues to raise money for ALS research through sporting events across the western U.S.
"We would like to thank Sundt Construction and its partners for their continued support over the years," said Sarah Levine, National Vice President of Consumer Product Services at the Muscular Dystrophy Association. "We are grateful to everyone who came forward this year to help us in our mission to develop a cure for ALS."
After last week's tournament, the Mike Gaines Charitable Fundraising Events initiative has raised over $2.2 million dollars, with funds donated to ALS research. This year the Platinum Sponsors were Kimley Horn and Global Facility Solutions and Gold Sponsors were Gallagher, United Rentals, Complete Fire AZ, Rosendin, and Canyon State Electric.
About the Sundt Foundation
Sundt's purpose is to build environments where its clients, employee-owners, and communities prosper. The Sundt Foundation was established in 1999 as a way for employee-owners to give back to the communities in which they live and work. The organization is funded primarily by contributions from Sundt employees, which are matched by the company. To date, the Foundation has awarded more than $12 million in donations. Nonprofit organizations interested in applying for a grant may call (480) 293-3000 or visit www.sundtfoundation.org for more information. Sundt has offices in Tempe and Tucson, Arizona; Salt Lake City, Utah; Charlotte, N.C., San Antonio, Dallas, and El Paso, Texas; Sacramento, San Diego, and Irvine, California; and Vancouver, Washington.
About Sundt
Sundt Construction, Inc. (www.sundt.com) is one of the country's largest and most respected general contractors. The 133-year-old firm specializes in transportation, industrial, building, concrete, and renewable energy work and is owned entirely by its approximately 2,000 employees. Sundt is distinguished by its diverse capabilities and experience, unique employee-ownership culture, and depth of self-perform expertise in nine major trades. Much of Sundt's workforce is comprised of skilled craft professionals who, together with the company's administrative employees, enable Sundt to fulfill its mission to be the most skilled builder in America. Sundt has 12 offices throughout Arizona, California, North Carolina, Portland metro, Texas and Utah and is currently ranked the country's 61st largest construction company by ENR, the industry's principal trade magazine.
Media Contact:
Stefanie Teller
Sundt Construction, Inc.
520.750.4611 (office)
media@sundt.com