Donations will support 19 organizations working for children and families in need.
Tempe, Ariz. (March 29, 2023) – The Sundt Foundation recently awarded $104,000 in grants to 19 Phoenix-area charities.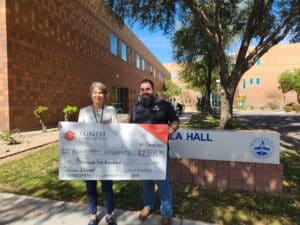 "The work these nonprofits are doing for the education and betterment of the community is incredible!" said Scott LaPoint, the Sundt Foundation's Tempe/Phoenix region board member. "One of our core values is service, and it is great to witness our employee-owners work together for the Sundt Foundation's initiatives and serve a common goal of helping our local communities."
The following organizations each received $10,000. CDT Kids is a charitable organization providing home health pediatric therapy services to 100+ kids a week with special needs in the Phoenix area. Catholic Charities Community Services runs various programs to help women, children, families, youth, veterans, and refugees. Sojourner Center is an organization that provides shelter and support services to adults and children affected by domestic violence. Hope & A Future serves abused and neglected children in the Arizona foster care system, and Aster Aging empowers and supports older adults and their families to remain independent and engaged.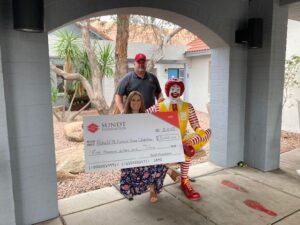 Other organizations that have received donations are Midwestern University, R.O.S.E. Resources/Outreach to Safeguard the Elderly, Corbin's Legacy, Arizona Food Bank Network, Cortney's Place, La Mesa Ministries, Dignity House, Paradise Valley Emergency Food Bank, Homeward Bound, Arizona Humane Society, Tempe Community Action Agency, Ronald McDonald House Charities of Central & Northern Arizona, Free Arts for Abused Children of Arizona, and RaeRae of Light Foundation.
The Sundt Foundation awards quarterly grants to the Valley's charities supporting disadvantaged children, individuals and families. Nonprofits are selected through an application and review process led by a committee of local Sundt employee-owners.
About the Sundt Foundation
Sundt's purpose is to build environments where its clients, employee-owners, and communities prosper. The Sundt Foundation was established in 1999 as a way for employee-owners to give back to the communities in which they live and work. The organization is funded primarily by contributions from Sundt employees, which are matched by the company. The Foundation has awarded more than $12 million in donations to date. Nonprofit organizations interested in applying for a grant may call (480) 293-3000 or visit www.sundtfoundation.org for more information. Sundt has offices in Tempe and Tucson, Arizona; Salt Lake City, Utah; Charlotte, N.C., San Antonio, Dallas and El Paso, Texas; Sacramento, San Diego and Irvine, California; and Vancouver, Washington.
About Sundt
Sundt Construction, Inc. (www.sundt.com) is one of the country's largest and most respected general contractors. The 133-year-old firm specializes in transportation, industrial, building, concrete and renewable energy work and is owned entirely by its approximately 2,000 employees. Sundt is distinguished by its diverse capabilities and experience, unique employee-ownership culture, and depth of self-perform expertise in nine major trades. Much of Sundt's workforce is comprised of skilled craft professionals who, together with the company's administrative employees, enable Sundt to fulfill its mission to be the most skilled builder in America. Sundt has 12 offices throughout Arizona, California, North Carolina, Portland metro, Texas and Utah and is currently ranked the country's 61st largest construction company by ENR, the industry's principal trade magazine.
###