Donations will support nine organizations focused on children and families in need.
Tucson, Ariz. (March 21, 2023) – The Sundt Foundation recently awarded $52,500 in grants to nine Tucson charities.
"These nonprofits are tirelessly working towards the betterment of the people of Southern Arizona," said Rick Buchanan, the Sundt Foundation's Tucson region board member. "We are happy to award these grants and contribute to their initiatives."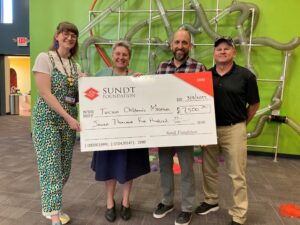 Interfaith Community Services received $10,000 to help people in need achieve stable, healthy, and independent lives. The nonprofit is one of Tucson's largest food banks and provides programs such as emergency financial assistance, self-sufficiency programs, senior services, and community health assistance.
Children's Museum Tucson provides fun, play-based, interactive, hands-on learning experiences for children and their families. Sundt employee-owners have volunteered at many events, and the Foundation continues that history of support with a $7,500 grant. The grant award ensures the museum can continue to offer its services at discounted rates to families facing financial hardships.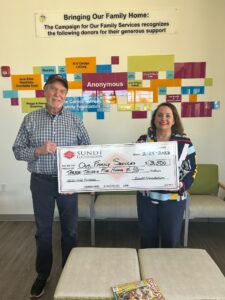 Children's Clinic for Rehabilitative Services is a comprehensive medical home offering Southern Arizona families a unique environment to meet the healthcare needs of their children. The nonprofit hosts more than 25 medical and dental specialty clinics, primary care, behavioral health, and therapy services under one roof. It was awarded $7,500 to support programs for children struggling with serious medical conditions. Children's Clinics is located at the Square and Compass building on the TMC campus.
Sister Jose Women's Center received a $5,000 grant to help fund its emergency overnight shelter program, which provides safe overnights, 24-hour staffing for safety and crisis support, and community dinners.
Three organizations received a donation of $5,000 to help with their unique efforts. Los Charros Foundation invests in the education of disadvantaged youth and communities in rural Southern Arizona communities. Boys and Girls Clubs of Tucson run academic programs for young people in the community. Arizona Burn Foundation, located at Fire Central in downtown Tucson, provide services for burn injury survivors and their family members.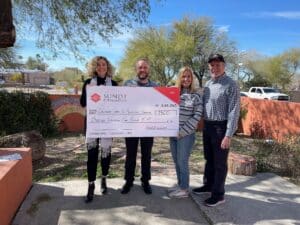 Since 2013, Angel Heart Pajama Project has gifted new pajamas and books to 35,000 children who are either homeless, abused, neglected, seriously ill, or living in foster care or poverty in Tucson. The organization received $4,000 to purchase more pajamas and books.
Our Family Services aims to eliminate homelessness, especially for vulnerable and disadvantaged children. The organization was awarded $3,500 to help with its effort of offering flexible housing options that can meet a person's short- and long-term needs.
The Sundt Foundation awards quarterly grants to local Southern Arizona charities that support disadvantaged children and families. Nonprofits are selected through an application and review process led by a committee of local Sundt employee-owners.
About the Sundt Foundation
Sundt's purpose is to build environments where its clients, employee-owners, and communities prosper. The Sundt Foundation was established in 1999 as a way for employee-owners to give back to the communities in which they live and work. The organization is funded primarily by contributions from Sundt employees, which are matched by the company. To date, the Foundation has awarded more than $12 million in donations. Nonprofit organizations interested in applying for a grant may call (480) 293-3000 or visit www.sundtfoundation.org for more information. Sundt has offices in Tempe and Tucson, Arizona; Salt Lake City, Utah; Charlotte, N.C., San Antonio, Dallas, and El Paso, Texas; Sacramento, San Diego, and Irvine, California; and Vancouver, Washington.
About Sundt
Sundt Construction, Inc. (www.sundt.com) is one of the country's largest and most respected general contractors. The 133-year-old firm specializes in transportation, industrial, building, concrete, and renewable energy work and is owned entirely by its approximately 2,000 employees. Sundt is distinguished by its diverse capabilities and experience, unique employee-ownership culture, and depth of self-perform expertise in nine major trades. Much of Sundt's workforce is comprised of skilled craft professionals who, together with the company's administrative employees, enable Sundt to fulfill its mission to be the most skilled builder in America. Sundt has 12 offices throughout Arizona, California, North Carolina, Portland metro, Texas and Utah and is currently ranked the country's 61st largest construction company by ENR, the industry's principal trade magazine.
 ###